Heather Morris Was Advised Against Joining Search for Naya Rivera for Safety Reasons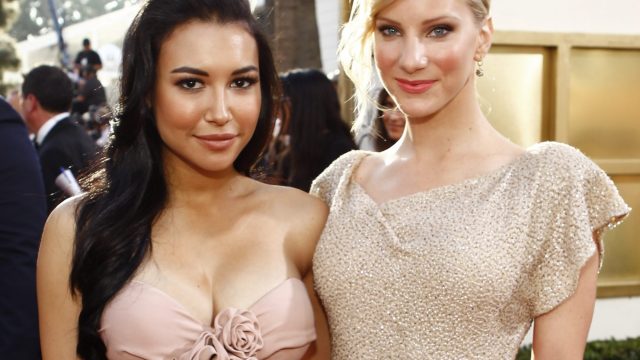 In the wake of Glee star Naya Rivera's disappearance after a boating trip with her 4-year-old son, the actress's fans and loved ones alike are understandably looking for ways to help in any way they can with recovery efforts. Her longtime friend and co-star Heather Morris reached out to the Ventura County Sheriff Department on Twitter over the weekend to express her desire to help in Rivera's recovery, but the sheriff's office explained that it's unsafe for Morris—or any other citizen volunteers—to do so.
In the early hours of Sunday, July 12th, the Sheriff's office tweeted that the search for Rivera was "winding down" for the day and resuming the next morning, and the Glee alum responded to the tweet.
"My name is Heather Morris, I'm Naya's close friend and co-worker, and I'm trying to conduct an on foot search and rescue mission along with a small group of friends at Lake Piru." She added, "I understand your team is doing EVERYTHING in their power, but we are feeling helpless, powerless and want to help in any way."
In a second tweet, Morris continued, "I have left a message with the department of Rescue and Air today, and I will call again tomorrow. Thank you."
While it's understandable that Rivera's loved ones, including Morris, want to help, the conditions at Lake Piru
make it dangerous for non-rescue personnel to join the recovery efforts.
The sheriff's department responded shortly after Morris's tweet.
"For those intent on searching for Naya Rivera on your own, 1. The lake is closed. 2. Temps are already in the 90's. 3. The terrain around the lake is very steep and rugged. Our teams are well equipped and highly trained. We don't want to have to rescue you."
Lake Piru is the reservoir in Southern California's Los Padres National Forest where Rivera and her son, Josey, were boating at the time of her disappearance on Wednesday, July 8th. It's dangerous, with strong winds and low visibility, according to many reports, including via People.
Morris then shared that she'd spoken to Sheriff Eric Buschow and that everyone could, "rest assured they are using every single one of their resources to locate our Naya. I have full confidence that they're doing everything they can, and probably more. We will hold off on the citizen search and rescue until we get the go-ahead that they'll allow volunteers."
She added, "Understand it's 110 degrees here and if you're not highly trained in search and rescue, this could end up a much more dangerous situation for everybody involved. Please be kind, compassionate, and caring for those who are looking for our Naya."
Our hearts are with Rivera's friends and family as professional authorities continue their search and recovery efforts.