Heath Ledger landed his "10 Things I Hate About You" role in a very unusual way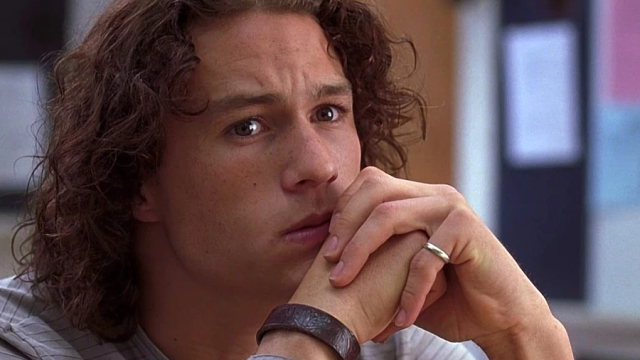 While we can relive him through his incredible movies, it's just not the same. And hearing about how Heath Ledger got his starring role in 10 Things I Hate About You just reminds us that he really pursued acting in a completely different and refreshing way. Ledger passed away in 2008, and we have no clue how many movies would have turned into classics based on his presence.
10 Things I Hate About You hit theaters back in 1999, and it's how most of us became familiar with Ledger. Playing the role ofPatrick Verona, his on-screen romance with Julia Stiles remains to be one of our ultimate favorites.
We mean, remember this scene?
https://www.youtube.com/watch?v=S7N6kB11GpE?feature=oembed
Hearing about how he got the role is actually pretty incredible.  Spike TV is getting ready to air the documentary I Am Heath Ledger, so more and more information is coming out regarding Ledger as an actor. His friend and filmmaker Matt Amato shed some light on the role that started his impressive career.
"My friend had just written 10 Things I Hate About You and they were just lacking young actors to read for it," Amato said."I talked to my friend who wrote it and said, 'This kid is staying here, and he's unemployed and no one really wants an unemployed roommate.' I was quickly developing a scheme to get him moving … The next day he said, 'I like your friend's script. I would like to play Patrick.' That was the lead."
While many people might have scoffed at Ledger's tenacity, Amato felt a bit differently about it.
"It kind of dawned on me who we were dealing with right away … I didn't discourage him, I just kind of came to my own conclusions about his confidence and his ambition — that it was well placed," he said.
Since we can't imagine anyone else as Patrick, we're so happy that things played out the way they did.
https://www.youtube.com/watch?v=jsPDpsAWf0g?feature=oembed
The documentary, which will feature more information about the life of Ledger, will be airing on Spike on May 17th. There'll also be a one-night theatrical viewing on May 3rd. From the trailer above, we can tell that it'll have some amazing footage. We really can't wait to see Ledger rule the screen once again.