The heartfelt note this fifth grade teacher got from his student will make you feel A LOT of things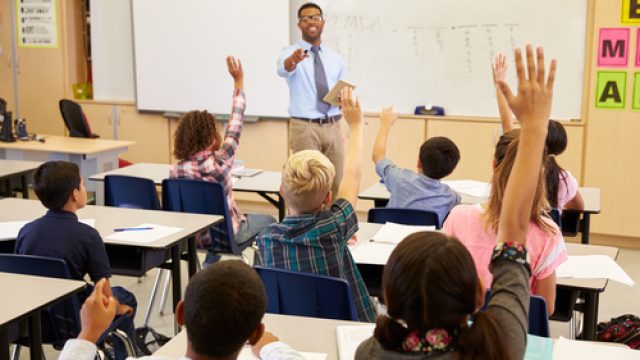 It's Mr. Jermaine's very first year teaching, but he's already made a major impact on his fifth-grade class. In particular, one student's note to the teacher will give you all the feels. Earlier this week, Mr. J discovered a letter from a little boy named Markus who wanted to let his teacher know just how much he means to him.
"I look at you like my dad. I never met my real dad, but it's okay because you treat me like I'm your son," Markus wrote. "You make me so happy. Always feeding me when I am hungry and hug me when I am sad."
false
Although the school year is winding down and Markus won't be in Mr J's class next year, he made sure to tell his teacher that he'll "never forget" about him.
https://twitter.com/udfredirect/status/856551337202503684
He's not the only one tearing up — the post has been shared over 141,000 times over the past three days. The replies show that the internet is collectively weeping right now.
https://twitter.com/udfredirect/status/856629596321705985
Although a number of people asked if they could donate items for Mr J's classroom, he responded that he appreciates the offer but doesn't need anything. He did make sure to thank everyone for their love and support.
"I always try to make an impact on every child. I want to be more than just a teacher. I want to be a role model and someone that they look up to," Jermaine told Good Housekeeping. "I just love to help kids and make them happy. I can't impact every child but if I can impact a few or the best that I can then I know I'm doing something right in love."
After just one year in the classroom, it seems like he's already achieved his goal and then some.