HBO is hiring an "intimacy coordinator" to supervise all sex scenes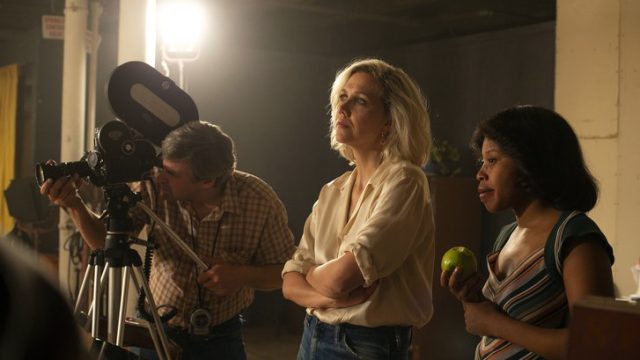 It's been one year since the #MeToo movement took hold, igniting a national conversation about sexual harassment and assault. And while sexual abuse remains all too common, #MeToo is slowly changing attitudes about consent and sexual misconduct. In one recent sign of progress, HBO has adopted a policy of hiring "intimacy coordinators" to prevent abuse during sex scenes.
Rolling Stonereports that the network hired its first intimacy coordinator to work on Season 2 of The Deuce, a show about the porn industry in 1970s New York. Actress Emily Meade, who plays a porn star on the show, reportedly asked for the on-set addition after being inspired by the #MeToo movement. Network executives listened, and eventually hired Alicia Rodis, founder of a nonprofit called Intimacy Directors International.
Rodis was apparently a huge asset on set, which led HBO to hire intimacy coordinators for all of its shows. The network confirmed the news in an October 25th tweet from its PR account.
"As reported in @RollingStone, all @HBO programs with intimate scenes will be staffed by intimacy coordinators," the tweet read.
According to The Hollywood Reporter, Rodis has already started to work on the HBO series Crashing and Watchmen, as well as the movie Deadwood. She is also training other intimacy coordinators to follow in her footsteps on the sets of the crime drama Jett and the high school coming-of-age story Euphoria.
In an interview with HBO's Ashley Morton, Rodis said that her job primarily involves communicating with actors to "ensure there are no surprises to anyone on set." She also coordinates with the costume department to make sure actors have proper barriers, and she provides small items, like breath mints, to help them feel more comfortable.
Meanwhile, Meade told Morton that she's been acting in sex scenes since she was 16, and acknowledged that she often felt uncomfortable while doing them. She said she realized that stunt coordinators are always on hand even for small stunts, but there's never anyone there to help support performers through highly intimate and vulnerable moments.
"And yet when it comes to sexuality, which is one of the most vulnerable things for all humans, men and women, there's really no system," she said. "There's never been a person required to be there to protect and bring expertise."
Meade said things became much more comfortable on set after Rodis was hired. "You know there's somebody making sure lines don't get crossed so you don't have be worried about it while naked and performing," she said.
HBO's new policy of hiring intimacy coordinators seems like a welcome change—and one that's long overdue. We hope other networks are taking note.