Hayley Williams from Paramore just got married and it was the most early 2000s wedding ever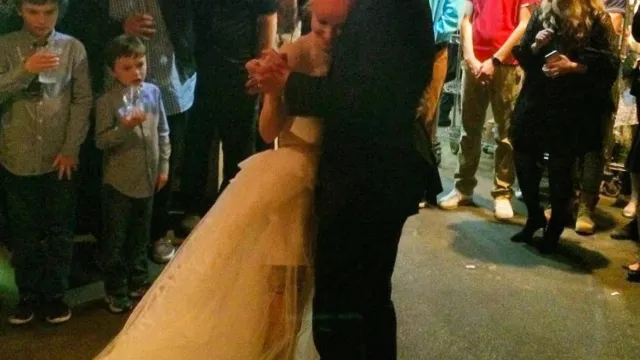 Ah, the early 2000s. What a time to be alive. Brad Pitt was married to Jennifer Aniston, we got from Point A to Point B using our trusty Razor Scooters, and Britney Spears released new music videos basically very week. Essentially, everyone was just so grateful that we didn't all perish in a post-Y2k meltdown that life was pretty great. So why not use that greatness as a wedding theme? That's exactly what Hayley Williams did.
The Paramore singer married her beau of eight years this weekend, New Found Glory guitarist Chad Gilbert. The two wed at the Franklin Theater in Nashville this past Saturday. Hayley and Chad are both very punk rock, and their wedding celebration was too.
If you aren't invited to a wedding, what do you do? Search on Instagram for pics, of course. Friends and fans of the couple have posted many photos from the ceremony and the reception, and it looked like they had THE best time.
Hayley looked beautiful a white chiffon dress, and Chad looked dapper in an all-black suit.
Later, she changed into a striped sheer skirt and a white tee with "Chad" scrawled across the front. Aww.
Their wedding cake was seriously a work of art.
The couple also served doughnuts with fun expressions written on them like "You're So Punk Rock" and "I Like Your Butt."
Basically, it was a magical punk rock affair.
Congratulations, Hayley and Chad!