Riverdale's Hayley Law Was "So Relieved" When Vanessa Morgan Called Out The Show's Representation
"I felt comforted that she said something, because I definitely felt the same way, but I didn't feel like I had a voice to talk about it," Law tells HelloGiggles.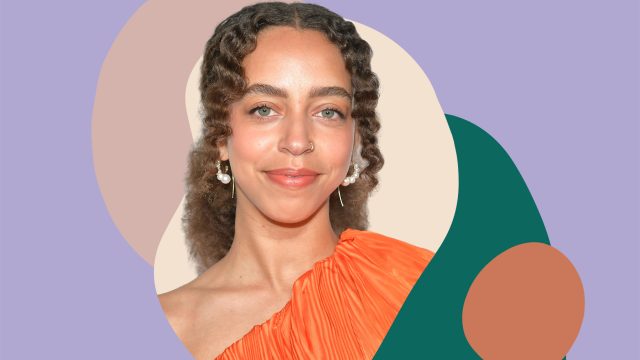 When Riverdale premiered in 2017, the teen drama based on the famous Archie Comics appeared to have a diverse cast. Although Betty Cooper remained the blonde-ponytailed girl next door and Jughead Jones kept his iconic crown, the onscreen version of Veronica Lodge was Latina, Reggie Mantle was Korean, and Josie and the Pussycats were all Black. But despite that representation, most of the show's actors of color didn't get much character development over four seasons—with Vanessa Morgan, who plays series regular Toni Topaz, also receiving less pay than her non-Black costars.
Morgan called this out in June, but as it turns out, she isn't the only person of color who felt misrepresented behind the scenes of Riverdale. Hayley Law, who played Valerie Brown on the first two seasons of the hit show, tells HelloGiggles over a November phone call that Morgan's frustration regarding the series' representation of minorities resonated with her strongly.
"When Vanessa started talking about it, I felt so relieved," Law, whose new movie Echo Boomers premiered last week, reveals. "I just felt comforted that she said something, because when I was on the show, I definitely felt the same way, but I didn't feel like I had a voice to talk about it."
Law's character was a member of the band Josie and the Pussycats and briefly dated Riverdale's male lead, Archie Andrews (KJ Apa), in Season 2. But that's about as in-depth as Valerie's storyline went. On our call, Law explains why, even though she had similar concerns about diversity as Morgan while working on Riverdale, she refrained from speaking out.
"I wasn't really a main character and I kind of felt too scared to say anything about it," Law says. "I felt like people would tell me I was wrong." She adds that she also didn't want to seem like she was "complaining," because, she explains, "I was so happy to be on the show and I'm still so grateful for it."
"But, it felt like something wasn't right," Law continues. "So, I'm really grateful for Vanessa for starting that conversation—and that people took it seriously and talked about it afterward, because I know a couple of us were feeling that way… that was such a big step in the right direction."
Two days after Morgan started that important conversation, Riverdale showrunner Roberto Aguirre-Sacasa publicly validated her comments and promised to "do better to honor all of our actors and characters of color." This promise hasn't come to fruition onscreen yet, as Riverdale has been off the air due to the pandemic (Season 5 is currently being filmed)—but Law has an idea for what kind of work needs to be done.
"I don't think anyone is intentionally trying to segregate the cast, but you just have to be mindful of that," the actress says. "I think that people aren't mindful of people of color having substantial roles."
Since her days on Riverdale, Law has taken on roles in a wide variety of projects, from rom-coms like the 2018 film The New Romantic to sci-fi series like Netflix's Altered Carbon. Most recently, the 27-year-old dipped her toes in the action genre, starring alongside Patrick Shwarzenegger and Michael Shannon in Echo Boomers, out on demand now.
The crime drama tells the story of five college graduates who, while struggling to find jobs, decide to get back at the economy by robbing Chicago's richest households. Law calls the story "almost like a fantasy reaction to how the world is functioning right now." And although working with Shannon was what initially drew Law to the role—"I got the script, saw his name, and was like, 'oh my god!'"—the powerful nature of her character, who often stands up to the men in her life, also excited her. "I thought it was cool that Allie is the only woman in the group and is just kind of holding it down," Law says. "She's a badass."
For the role, Law got to experiment with some fun physical stunts, like shattering glass china cabinets with crow bars (which sounds like a blast, TBH). "Who knew I had so much anger built up?" she says, laughing. "Smashing stuff felt great! Everybody should do that." But although she enjoyed diving into an action film, smashing scenes and all, ideally, she would "love to do comedy forever and ever;" she calls Emma Stone's La La Land character her "ultimate dream role."
In addition to acting, Law is busy making a name for herself as a pop solo artist, otherwise known as Hayleau, whom she calls, "a more fearless version of [herself]". Her self-titled debut album was released in 2016, and she's put out numerous singles since then; her latest, the seductive and confident "Dangerous," is a far cry from the tambourine-littered tracks she sang as Valerie on Riverdale. And although Law calls her on- and offstage personalities "very similar", she says performing lights a particular fire inside her.
Whether she's singing onstage, living out her action hero dreams in movies, or speaking out for better representation on TV, we're glad that Law seems to have found her voice.