Here's what Hayley Kiyoko has to say about people thinking she sings about queer girls for views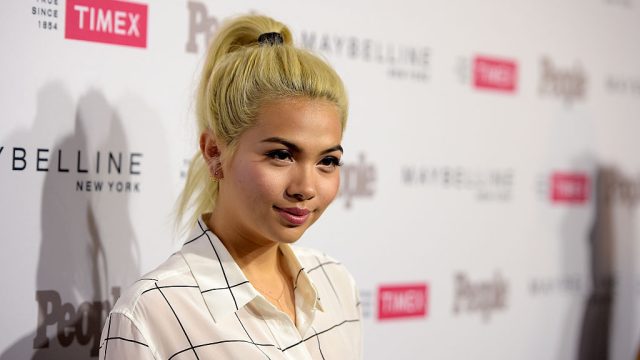 We may have made progress as a society when it comes to LGBTQ+ representation in some ways, but in others, we still have so far to go. As a result, queer celebs end up feeling a huge amount of pressure to be the "right kind" of queer celeb, as if there is such thing. Recently, the incredibly iconic Hayley Kiyoko opened up about just that, and we're listening, because Hayley Kiyoko's sexuality is hers and hers alone, and we're glad she's making this important point.
In a video posted to Instagram, she shared her struggle with dealing with criticism, saying that some people even go as far as to say she's only singing about queer girls to "get views," and other gross stuff that attempts to undermine her sexuality.
She captioned the video with some general wisdom that we definitely appreciate, writing,
"Don't let anyone belittle your cause or what you believe in, Love ya 💚
Just a few months ago, Hayley Kiyoko's sexuality became public knowledge when she talked coming out and queerness in this a piece for Paper Magazine, writing,
"Growing up, everything I did was always about girls. I took dance because of girls. I got involved in student council because of girls. Not that I ever expected any of them to like me back, but I just felt comforted being around them, even if I could never date them. So there we were. The song "Girls like Girls" was born."
And if you haven't heard "Girls like Girls," you seriously have to. It'll change your world.
https://www.youtube.com/watch?v=I0MT8SwNa_U?feature=oembed
Her own struggle with her sexuality is a huge part of why she's working so hard to be open, now. She continued, writing,
"But the problem is you feel like you can't share these true feelings with anyone for fear of outing yourself and facing judgement. So you struggle. And feel alone. Growing up, there were some [out] celebrities who were much older than I was and I wondered if I had to wait until then to be happy. I didn't have role models who I could relate to at the time, where I could think, if they can do it, I can do it."
And she's done just that. We look up to Hayley Kiyoko in a big way, and we stand with her. Sending nothing but love your way, superstar.