We can't stop watching Hayden Panettiere lip sync "Lady Marmalade"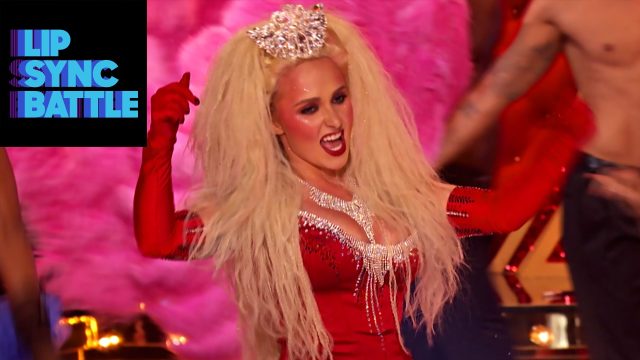 Lip Sync Battle always makes us feel as if we just accidentally walked in on an old friend lip syncing to her favorite song, but with way better choreography, costumes, makeup and set design. We keep watching, though, because it's too good not to watch, and we want everyone we know to also watch so we can talk about all the amazing things we just saw.
Last night's Lip Sync Battle was no exception. It was Eva Longoria vs. Hayden Panettiere, and they didn't fail to deliver. Eva Longoria paid homage to Nicki Minaj by lip syncing to "Anaconda," while Hayden Panettiere rocked out to "Lady Marmalade" from Moulin Rouge!. 
Oh, and did we mention there was a special guest? Christina Aguilera made a grand entrance towards the end of Panettiere's performance, because who better to help seal the "Lady Marmalade" deal than Xtina herself?
Panettiere may have had a bit of an advantage, given that she has had plenty of practice being a pop star since she plays a country pop star on Nashville, and the whole Xtina thing probably didn't hurt either. But it was Panettiere herself who we just couldn't stop watching. That hair, those moves, all of it. She looked just like Xtina. Until Xtina showed up and looked more like Xtina than Panettiere. But still. So good.
Even though we thought Panettiere doing Xtina and Xtina doing Xtina would be pretty hard to beat, the audience named Longoria the winner. Longoria didn't drop in from the ceiling on a leather-bound swing, but she did sport some serious padding underneath her pink booty shorts while nailing her performance.
All in all, it was a good night for Lip Sync Battle and definitely worth watching.
https://www.youtube.com/watch?v=mJbgJ7Jv9tU