Hayden Panettiere has an edgy new modern pixie cut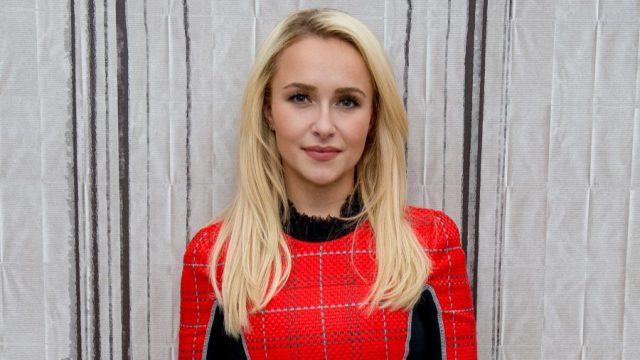 As far as social media activity goes, Hayden Panettiere tends to be a bit more reserved. Her new haircut, however, is anything but. The Nashville star took to Twitter on Wednesday to share her new edgy pixie cut, and we are so grateful for this content.
Panettiere's blonde pixie features longer strands swooping over to one side, with a shaved undercut. In the photo, the actress is all bundled up out in the snow with her hairstylist (who is maybe also her bestie?), and we can't help but get flashbacks to her iconic role in one the classic early-2000s film Ice Princess.
Panettiere showed off the new look by tweeting a picture of herself and her hairstylist Naomi Szloboda, writing, "Thank you to my girl for my bomb hair cut!!!"
Whether you best know Panettiere as Ice Princess's ice skater, Nashville's country singer, or the cheerleader that everyone was always trying to save on Heroes, you likely recognize her most with long layers and bouncy curls. But the actress is feeling herself in her short, modern look and we are so here for all of her contagious confidence. Check out Panettiere's new pixie cut in the photo below.
Panetierre is clearly loving her new style because she also tweeted out two more photos yesterday. One of the tweets showed the comfy, relaxed-looking haircut process itself. Panettiere called it a "Girls day!!!"
The most recent tweet was a selfie of Panettiere and her hairstylist, and we honestly envy the fun friendship they seem to have.
The Heroes star first made the move to pixie short hair back in December, when she tweeted for the first time in 10 months. The look channeled her character, Kirby, from Scream 4.
At the time, her stylist, Leonard Zagami, told E! News that Panettiere was looking for a "radical change" and that the cut was a "collaborative idea." Given her seeming closeness with her current stylist, Szloboda, we imagine this look was another mind-meld vision. After being tied to her long hair for TV roles, which Zagami said held her back from the cut for so long, it seems like Panettiere isn't ready to let her pixie go for a while, and we love it.