Lady Gaga created cat-eye stickers to make eyeliner easier, but do they work?
There's no denying that Lady Gaga has always been the queen of avant-garde style, and while it's true that she's known for her unique and unapologetic fashion sense—like her meat dress—I've always focused more on her bold beauty moments. Who here remembers her surprise pastel blue hair at the 2019 Academy Awards, or the time she wore a David Bowie-inspired makeup look complete with eye crystals to the 2016 Grammys, or when she recently matched her hair color to her bridesmaid dress? I, for one, still think about the mile-long tinsel lashes that adorned her eyes at this year's Met Gala, and the eyeliner stickers she launched a few months later—more on that in a bit.
I could go on forever, but the fact of the matter is that Lady Gaga isn't afraid of a bold expression of beauty (to put it rather mildly). In fact, I would argue that she's drawn to them, which is why I was so excited to hear about the launch of her beauty brand, Haus Laboratories, earlier this year. After all, it seems only fitting that Gaga should share her boundary-breaking beauty philosophy with her die-hard fans.
https://www.instagram.com/p/B32I70jF-b_
When Haus Laboratories launched back in September, I remember perusing the site, happily checking out its bold, Gaga-esque liquid shadows and lip liners. It wasn't until much later, though, that I discovered something called the Eye Armor Kit. It's a bundle that combines the brand's liquid eyeliner with cat-eye eyeliner stickers. They're meant to be placed on the outer corner of the eye to mimic traditional cat eyeliner without any mess or hassle. As someone who struggles with winged eyeliner constantly (I can never match up the wings), I was instantly intrigued. I was even more intrigued when I saw that they look undetectable on the eye. I had to know if they actually worked, so I tried them.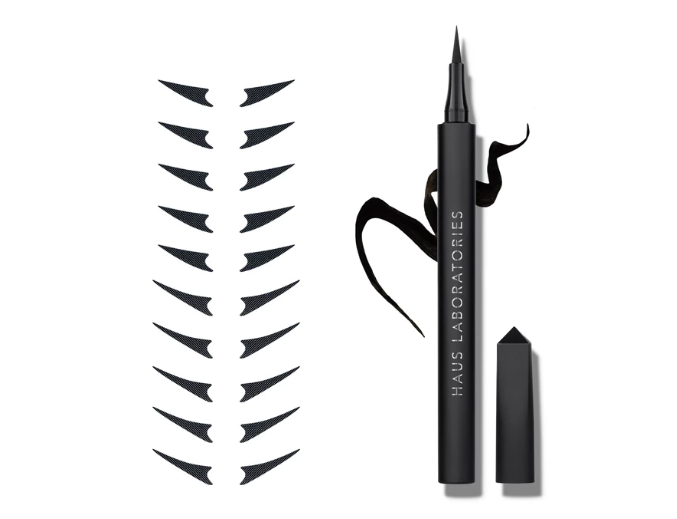 First things first. The actual stickers are a collaboration between Haus Laboratories and Face Lace by Phyllis Cohen, a brand that creates stick-on art to use in lieu of traditional makeup. The brand promises that these particular stickers are "undetectable," as they are designed to mimic the look of traditional liquid eyeliner.
At first glance, the eyeliner stickers are sharp and angled, which is exactly how I like my actual liquid eyeliner to look. Upon further inspection, though, the shapes of the stickers are slightly different, so you can decide what kind of cat-eye you want—super sharp cat-eye, upturned cat-eye, classic cat-eye, etc.  I was happy to see that the set comes with 20 reusable stickers in total, so ten for each eye.
I started by applying a thick line of the liquid eyeliner along my lash line, stopping at the outer corner of each eye, where I'd usually begin the long and arduous process of painting on a winged shape. Thanks to the sharp-pointed tip of the eyeliner pen, and its smooth, inky formula, I was able to paint the line with control and precision. After the base eyeliner was on, I peeled one of the cat-eye stickers off of the backing and placed it on my eye so it overlapped just a little with the liquid liner. It's worth noting that the brand recommends applying them in the reverse order (in other words, apply the sticker first and then just connect it to the inner corner of the eye in one stroke of liquid eyeliner). I tried it that way next, and it was worked just as well, if not better, than the way I initially tried it.
https://www.instagram.com/p/B6Bc58xlIna
The whole process took me about 30 seconds, which is half, if not a third, of the time it takes me to apply winged eyeliner the traditional way. The end result was seamless and undetectable. The matte black liner blends beautifully with the matte black stickers. All in all, it was the easiest application of winged eyeliner that I have ever experienced in my entire life.
My only caveat is that it definitely feels like you have something on the outer corners of your eyes. It's not exactly a heavy or uncomfortable feeling, it's just…there. However, I became used to it after about an hour or so and didn't notice it again for the rest of the night until I peeled the cat-eye stickers away and began removing my makeup.
At $35, I think this is kit is definitely worth it. All in all, this is a major win for me and my love of eyeliner. All I have to say is good on you, Gaga.