Women are sharing their abortion stories with the hashtag #OneInFour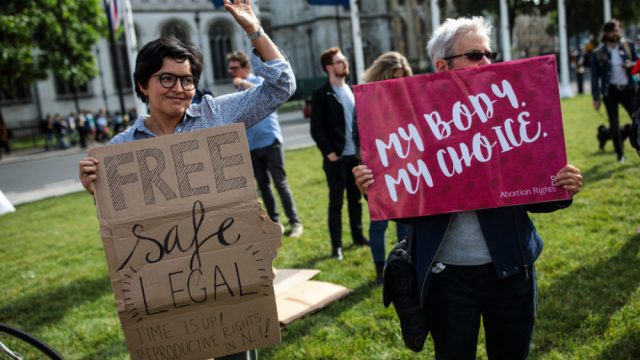 On July 9th, President Donald Trump announced Judge Brett Kavanaugh as his Supreme Court pick to replace retiring Supreme Court Justice Anthony Kennedy. If Kavanaugh is approved, the balance of the court will shift, with five solidly conservative justices to four liberal ones. This impending change has caused supporters of reproductive rights to worry that Roe v. Wade will be overturned. And to advocate for a woman's right to choose, Twitter users are sharing their experiences with abortion using the hashtag #OneInFour.
#OneInFour began appearing on Twitter shortly before Trump announced Kavanaugh's nomination. The hashtag reflects the statistic from the Guttmacher Institute that one in four women will have an abortion by the time they are 45 years old. Executive Vice President of Planned Parenthood Dawn Laguens was among the first to tweet using the hashtag.
It's not clear if Kavanaugh would vote to overturn Roe v. Wade or not. As Vox pointed out, in his 2006 confirmation hearing for the D.C. District Court of Appeals he pledged to uphold the case as precedent, but as a Supreme Court justice, he would have the ability to overturn precedent if he chooses. And Kavanaugh did not say whether or not he agreed with the decision made in Roe v. Wade.
Regardless, tweets began pouring in, demonstrating just how many have benefited from access to safe and legal abortions.
NARAL President Ilyse Hogue shared her experience.
So did Cindi Leive, Editor-in-Chief of Glamour. 
And countless others shared their experiences, too.
The outpouring of #OneInFour tweets shows just how common abortion is and just how many people would be affected if Roe v. Wade was overturned. Everyone deserves the right to make decisions about their own bodies, families, and reproductive health. If you want to voice your support for Roe v. Wade, call your senators or representatives and let them know how you feel.