Harvey Weinstein is petitioning to get Ashley Judd's lawsuit thrown out for the most disturbing reason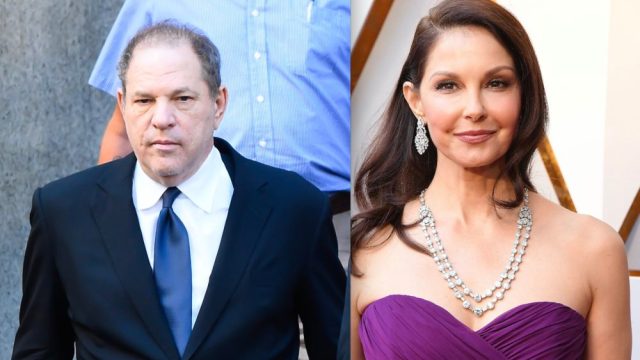 Although Harvey Weinstein was finally arrested for his predatory behavior, the legal fight against the disgraced media mogul is only beginning. Back in April, actress and #MeToo activist Ashley Judd sued Weinstein after Lord of the Rings director Peter Jackson revealed that Weinstein had blacklisted her from the franchise. And now, Weinstein's lawyers are attempting to have the suit thrown out — for some incredibly callous reasons.
According to The New York Times, Judd's attorneys filed the lawsuit in April in the Los Angeles Superior Court. Judd sued the former media mogul for both sexual harassment (he asked to give her a massage and also requested that she watch him shower during a business meeting in his hotel room) as well as defamation.
Variety reported that on July 17th, Weinstein's lawyers filed a motion to dismiss the suit, in part because they did not believe the harassment was "pervasive or severe."
"Weinstein's alleged unwanted sexual advances occurred on a single day and consisted of him asking to give Plaintiff a massage, asking her to help him pick out clothes, and asking her to watch him shower," attorneys Phyllis Kupferstein and Cynthia L. Zedalis wrote. "These allegations fall far short of meeting the 'pervasive or severe' required element."
They also claimed that Weinstein had every right to discourage Peter Jackson from hiring Judd after she rejected him, as that was his professional opinion.
"Plaintiff may dispute she was difficult to work with but, like beauty, the experience is in the eye of the beholder," Kupferstein and Zedalis wrote in the motion.
Additionally, the Los Angeles Times wrote that Weinstein's legal team claimed he and Judd had a "bargain" that would allow him to engage in sexual activity with her if she won an Oscar for a role in one of his movies. Judd's legal team dismissed this notion, saying that the alleged "bargain" was something the actress said to escape her harasser, not a sincere promise.
Judd's attorney, Theodore Boutrous, told The Hollywood Reporter in a statement that his team would oppose the motion.
"Mr. Weinstein's arguments seeking to escape the consequences of his despicable misconduct are not only baseless, they are offensive," his statement read in part.
Let's hope the courts see Weinstein's move for what it is — a thin and desperate attempt to escape justice. His claim is not only insulting to Judd, but to victims of sexual abuse everywhere. We sincerely hope Judd's lawsuit sees the light of day, and that Harvey Weinstein is forced to face his despicable actions.
If you or someone you know has experienced sexual harassment or assault, call the National Sexual Assault Telephone Hotline at 1-800-656-4673.