Harvey Weinstein is disputing Lupita Nyong'o's account, and Twitter's got ideas about why he's only coming for her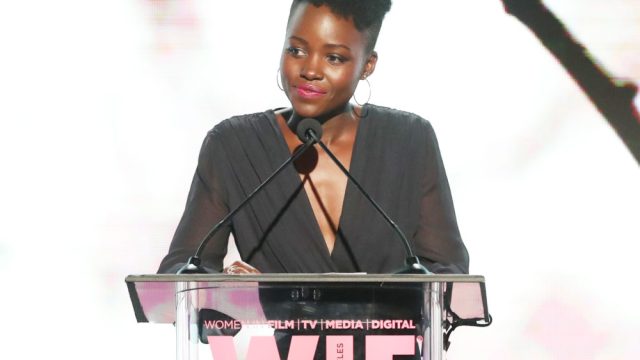 We've seen the name Harvey Weinstein in the news quite a bit these past few weeks, after several women publicly shared their stories of sexual assault and harassment at his hands. The most recent to add her voice to the choir was actress Lupita Nyong'o. However, Weinstein has since disputed her claims.
On Thursday, The New York Times published a lengthy op-ed penned by Nyong'o, in which she detailed her experiences with the now disgraced producer. Nyong'o wrote that while she was a student at the Yale School of Drama in 2011, Weinstein invited her to his home in Connecticut for a private screening of a film. Things took a disturbing turn when eventually, he asked her to go to a bedroom with him and offered her a massage.
"I thought he was joking at first. He was not, the actress wrote.
Nyong'o said she quickly attempted to flip the script and insisted on massaging him instead, so she could buy herself more time to find a way out. Weinstein agreed, but soon after tried to take off his pants. At this point, the actress quickly made her way towards the door.
Lupita Nyong'o's account brings the number of women accusing the producer of sexual assault and harassment to fifty.
But for some reason, Harvey Weinstein has only found the time to dispute Lupita Nyong'o's claims.
https://twitter.com/udfredirect/status/921520735771697157
According to a statement released by his rep, "Mr. Weinstein has a different recollection of the events, but believes Lupita is a brilliant actress and a major force for the industry. Last year, she sent a personal invitation to Mr. Weinstein to see her in her Broadway show 'Eclipsed'."
While we can't say for certain why Weinstein felt the need to discredit the one black woman among his accusers, Twitter sure seems to have some ideas.
From victim-blaming to implications of blatant racism, these users held nothing back.
false
https://twitter.com/udfredirect/status/921533428285235200
The struggle of black women in America is once again being highlighted. Dating all the way back to the days of slavery, black women have constantly suffered at the hands of white men in power. And since then, pop culture has continued to perpetuate this image of black women as "jezebels", hyper-sexualized temptresses, in an attempt to justify the systematic rape experienced by Black women throughout history.
In closing, Nyong'o wrote:
"That's why we don't speak up — for fear of suffering twice, and for fear of being labeled and characterized by our moment of powerlessness… [but] now that we are speaking, let us never shut up about this kind of thing.
And isn't that sort of what's happening here? Weinstein is attempting to discredit her, to blame her, to imply her story could never have happened the way she described since she did "personally invite him to her Broadway show" after the incident. As if to mean, the two must actually be friends.
Or perhaps Weinstein and his reps are just working their way through the growing list of accusers which includes Gwyneth Paltrow, Angelina Jolie, Kate Beckinsale, Rose McGowan, and Cara Delevingne — maybe he will question the validity of their stories next.
But we won't hold our breath.