This Harvard sorority is officially going gender-neutral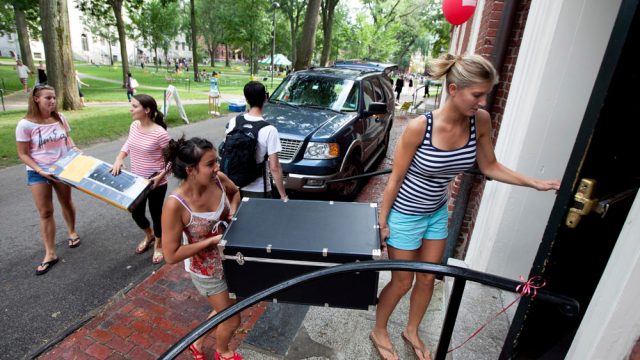 It's no secret that college Greek life tends to get a bad rap, with many arguing that it helps contribute to sexism, and even rape culture, on campus. But an increasing number of schools has been trying to change the system for the better, and on July 23rd, Harvard's Kappa Alpha Theta sorority announced that it is becoming gender-neutral.
The university's school paper, The Harvard Crimson, reported that, starting in the fall semester of 2018, Kappa Alpha Theta will cut ties with the national sorority and become "Theta Zeta Xi," a Greek organization that welcomes students of all genders.
Members of the previously all-female group voted unanimously to make the switch, according to the Crimson. The decision comes in the wake of a change to Harvard policy that will prevent anyone belonging to single-gender social groups — including Greek organizations — from holding campus leadership positions, becoming the captain of a sports team, or receiving fellowship endorsements from the college. The policy will officially be enacted in 2021.
The shift away from all-male or all-female spaces and orgs is intended to reduce sexism and unsafe spaces on campus.
Theta Zeta Xi CEO Rena Simkowitz told Teen Vogue that the group would work with campus offices like the Dean of Students to determine how to "balance our commitment to uphold our group's values and mission as a women's focused organization without having a specific gender identity be a criterion for membership."
Several Harvard organizations, including the sorority Kappa Kappa Gamma and the fraternities Kappa Sigma and Alpha Epsilon Pi, have already shifted to gender-neutral organizations.
Kappa Alpha Theta wasn't always in favor of becoming gender-neutral, though. The Boston Globe reported in December 2017 that three Harvard sororities, including Kappa Alpha Theta, had told the university that they would ignore the sanctions and continue to recruit only female members in the spring 2018 semester.
A representative for Theta Zeta Xi told Teen Vogue that the decision "ultimately reflects our commitment to supporting our members to take full advantage of the academic and leadership opportunities available to them as Harvard students, which we believe is central to our mission and would not be possible otherwise."
While we're sure the decision to go gender-neutral was complicated (especially considering the fact that many argue that the existence of all-female spaces are both important and empowering), the change will undoubtedly make the campus more welcoming to genderfluid and nonbinary students who don't identify as male or female, and this type of inclusivity is critical.