Harry Styles revealed what it's really like to have Taylor Swift write breakup songs about you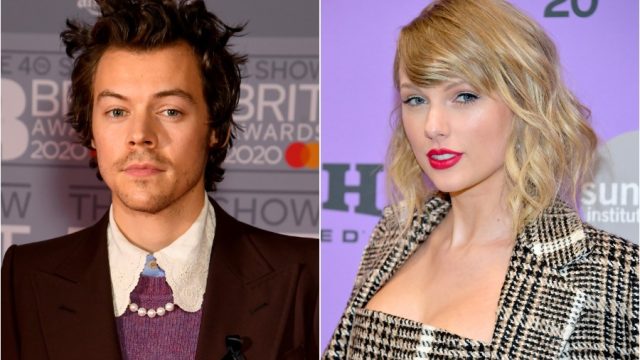 It's one thing if the person you're dating writes a song about you, plays it for you on their acoustic guitar in the comfort of your own couch while you try to figure out what to do with your face (how much eye contact is required in this scenario?), and then neither of you mentions this moment ever again. It's quite another if the person you're dating is Taylor Swift and those songs end up on a Grammy-winning album. But that's what happened to Harry Styles!
On Monday, March 2nd, Styles hopped on The Howard Stern Show to talk about lots of things—like his friendship with Stevie Nicks, accidentally biting off the tip of his tongue while tripping on magic mushrooms, and his thoughts on therapy, dating apps, and marriage—but what we're really here for is the Taylor Swift thing.
Turns out, Styles was cool with Swift's songs about him—flattered even.
When Stern asked the Fine Line singer how he feels when people write songs about him, Styles gave a generous reply: "I think it's, like, flattering. Even if the song isn't that flattering, you still spent time on it and ultimately, using Taylor as an example, she's a great songwriter. So they're good songs."
As a reminder, Styles and Swift dated briefly back in 2012. Even though their relationship only lasted a few months, it was clearly significant for both artists. Swift's songs "Style," "Out of the Woods," and "Wonderland," all of which appeared on her 2014 album 1989, were rumored to be about Styles. Three years later, Styles came out with "Two Ghosts" on his debut solo album—and with lyrics invoking blue eyes, red lips, and white tees, fans were pretty convinced it intentionally echoed Swift's allusions to the same images in "Style." Thus ends this class's close reading of pop lyrics.
As for his current relationship status, Styles confirmed that he's single.
He dryly joked that his singledom was what led to his terrifying mugging at knifepoint on Valentine's Day this year.
"Yes, I was robbed on Valentine's Day—that's what you get for being single these days!" he told Stern. "I should have had other plans."
Styles went into more detail about the robbery, which occurred when he was walking home from a friend's house in London. He told Stern that he was followed then approached by "a group of guys [with] their hoods up and their faces covered" who tried to get Styles to give them his phone.
"I thought about throwing it in the pond to just be like, 'Neither of us have it,'" Styles told Stern. "Then I thought, 'I don't want to piss them off.' There were, like, two cars coming, and I just felt an opportunity and I just sprinted and ran. I ran into the road and I tried to stop a car … [Then I] turned and ran toward the village where I live … I guess because they had some cash and stuff they ended up just turning around."
We're relieved that Styles escaped the mugging physically unharmed, and with his sense of humor firmly in check. So, hey, Harry (or Taylor), if you're out there: You can write a song about us whenever you want. We'd be cool with it.