Could this Harry Styles song *really* be about Taylor Swift?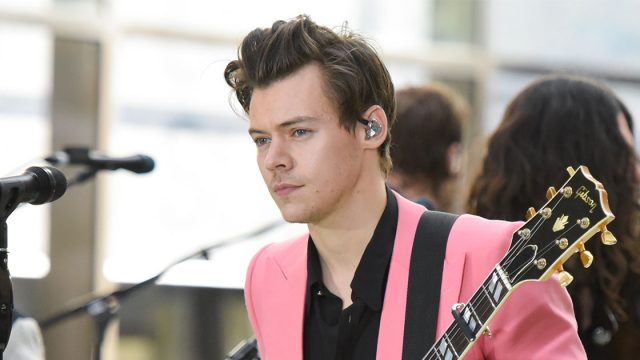 Harry Styles' first solo album drops Friday, and as we wait for it, some fans have begun speculating about whether one of his songs is about Taylor Swift.
When Harry announced his debut solo album and released its tracklist, fans on social media were quick to analyze the titles and guess which, if any, of the songs were about a certain Nashville singer. Of course, the track that people initially thought could be an ode to Haylor was "Ever Since New York." The song, people said, was a direct response to Taylor's "Welcome To New York." https://www.youtube.com/watch?v=sQXNIPMduGc
The singer has since played the track twice, once on his Saturday Night Live appearance, and then on the Today show (where he wore a rather dashing pink suit). Based on the song's lyrics, though, it's unclear whether the track is indeed about Swifty.
But that hasn't stopped speculation that some of Harry Styles' new music is about his relationship with Taylor Swift.
Yesterday, Apple Music premiered a trailer for a behind-the-scenes film that looks at how Harry wrote and recorded his album. In the trailer, fans got a sneak peek at the lyrics for another track, "Two Ghosts," and now fans are pretty sure *that* song will be about Taylor.
One eager fan shared a screenshot of the lyrics, with another uploading them to Tumblr.
false
If you're familiar with Taylor Swift's music then you'll recognize some of the same motifs, specifically references to red lips, blue eyes, and white t-shirts.
Mostly, those references appear in the track "Style," which for years fans have speculated is about Tay's relationship with the former One Direction singer.
https://www.youtube.com/watch?v=-CmadmM5cOk?feature=oembed
Despite fan speculation about who the songs are about, Harry has been pretty reticent to reveal too much about the meanings behind his upcoming new music. The singer did hint that there might be references to their high profile romance during his Rolling Stone interview but has since gone on record saying that, while the songs might be about one thing in particular, they're not necessarily who or what you think they're about.
Given that Harry Styles' eponymous debut album is out in just a few short days (OMG!!!!), we imagine that any speculation about whether the tracks are about any of the singer's supposed relationships (Larry, are you there?) will continue for a long, long time.