Harry Styles has explained why One Direction went on a break, and whether there could be a reunion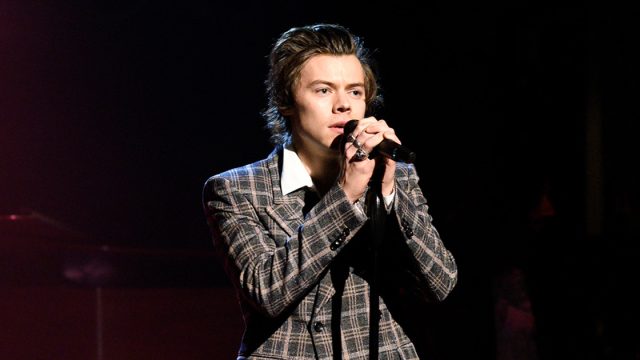 The enigmatic and elusive chanteur Harry Styles has opened up about the reasons why One Direction went on a break, and shared his thoughts about a potential reunion, too!
It's been a busy few weeks for Harry 'Harold' Styles. The singer teased the world with a mysterious video teaser, before launching his solo career proper with the Bowie-esque "Sign Of The Times." The singer has since shot the video (and become a meme in the process), announced his debut, self-titled album (which is out next month!), and performed "Sign Of The Times" and new song "Ever Since New York" on Saturday Night Live. Busy boy. https://www.youtube.com/watch?v=feyRL4lrWWk
Of course, being from one of the most popular boybands of all time, people are always curious about whether there could be a One Direction reunion, and now Harry Styles has given his two cents about the whole thing.
In a new interview with Rolling Stone magazine, of which Harry also graces the cover, the British singer spoke about how it was actually his decision to give the famous boyband a break.
"I didn't want to exhaust our fan base," he explained. "If you're shortsighted, you can think, 'Let's just keep touring,' but we all thought too much of the group than to let that happen. You realize you're exhausted and you don't want to drain people's belief in you."
To be honest, we totally get where Harry is coming from. Since their formation on The X Factor UK back in 2010, One Direction released five albums (!), and toured the world continuously. We know we'd be pretty darn exhausted after all that.
That doesn't mean, however, that Harry Styles is resistant to a 1D comeback.
"I love the band, and would never rule out anything in the future," he said. "The band changed my life, gave me everything."
While Harry's words are sure to send directioners around the world into a tizzy, the singer said during the interview that he wanted to focus on his solo music and express himself honestly, something that he'd never had the opportunity to do while in the band.
"I didn't want to write stories," he admitted. "I wanted to write my stories, things that happened to me. The number-one thing was I wanted to be honest. I hadn't done that before."
Given that it's just over a month until Harry Styles releases his album, we don't have too long to wait to find out just how honest he's been. However, from the songs we've heard so far, we're pretty sure it's going to be an emotional listen.
Harry Styles is available to pre-order now. "Sign Of The Times" is out now.