What Harry Styles has to say about teen girls is the definition of feminism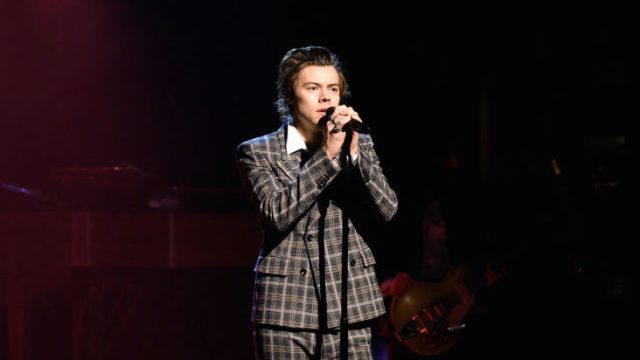 A new rock god has arisen from the ashes of a boyband's demise. In other words, former One Direction heartthrob Harry Styles recently embarked on his solo career and is drawing deserved attention. He released a poignant, Bowie-esque single, "Sign of the Times," which has already reached #1 on U.K. singles charts. And now, in an interview with Cameron Crowe for Rolling Stone, Styles' opinion of his teen girl fans is adding more fuel to our reignited love for him.
When Crowe inquired as to if Styles is concerned with selling himself to an older and perhaps more "mature" audience, Styles responded,
"Who's to say that young girls who like pop music – short for popular, right? – have worse musical taste than a 30-year-old hipster guy? That's not up to you to say."
In his Rolling Stone write-up, Crowe wrote that Styles grew animated when talking about his teenaged female fans. Styles continued,
"Music is something that's always changing. There's no goal posts. Young girls like the Beatles. You gonna tell me they're not serious? How can you say young girls don't get it? They're our future. Our future doctors, lawyers, mothers, presidents, they kind of keep the world going."
https://www.instagram.com/p/BTCjypqgqxX
Styles appreciates his female fanbase for sticking with him from his X Factor beginning, through his One Direction days, and now in his solo career.
"Teenage-girl fans – they don't lie," Styles told Crowe. "If they like you, they're there. They don't act 'too cool.' They like you, and they tell you. Which is sick."
As any feminist can tell you, young girls are our future. 2017 rock god Harry Styles understands that concept well and supports his young girl fans wholeheartedly. In return, we will support rock god, Harry Styles, in all of his future endeavors.