Harry Styles revealed that his new song, "Sign of the Times," has a depressing backstory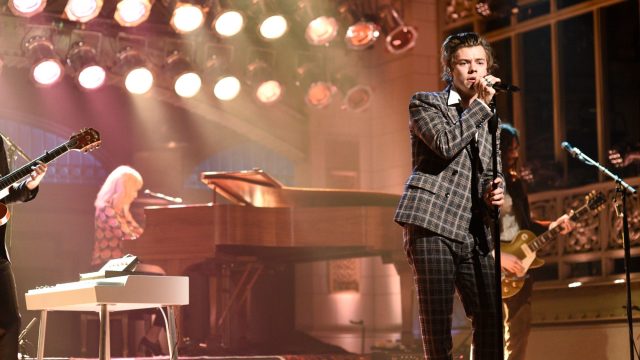 After debuting his first single as a solo artist, Harry Styles is very much so back on the music map. His single, "Sign of the Times," has already reached the #1 spot in several U.K. singles charts. However, in his interview with Cameron Crowe for Rolling Stone, Styles revealed that "Sign of the Times" has a super depressing backstory.
At face value, it's a song about living in an upset world and expresses the sullenness many are feeling at this point in time. But beneath the lyrics, Styles intended for "Sign of the Times" to have a deeper, and darker, meaning.
During his interview, Styles told Crowe,
"Most of the stuff that hurts me about what's going on at the moment is not politics, it's fundamentals. Equal rights. For everyone, all races, sexes, everything. ...  'Sign of the Times' came from 'This isn't the first time we've been in a hard time, and it's not going to be the last time."
That message comes across crystal clear via the lyrics in "Sign of the Times." But it's what Styles said after this that made our hearts hurt.
Styles continued,
"The song is written from a point of view as if a mother was giving birth to a child and there's a complication. The mother is told, 'The child is fine, but you're not going to make it.' The mother has five minutes to tell the child, 'Go forth and conquer.'"
If this storyline is played out in the music video, we better stock up on tissues ahead of time.
https://www.youtube.com/watch?v=z0GKGpObgPY?feature=oembed
Styles loves "Sign of the Times" so much that he wanted the album to go by the same name. That would have been okay with us. The piano ballad/Bowie-like anthem speaks to us — and to many — on a deep and poignant level.