Harry Styles joined Lizzo to perform "Juice," and he has that choreography DOWN
Can we get a big ya-ya-ee up in here? Harry Styles and Lizzo joined forces on stage last night, January 30th, at a SiriusXM and Pandora pre-Super Bowl concert in Miami Beach, and we don't know if we should blame it on the Goose or on the juice, but Styles had no problems getting loose—and we need some time to recover.
Styles, in his now-iconic grandpa gear—oversized trousers, loafers, and a sweater vest—looked like had just time-traveled from 1945 to join Lizzo, who wore a denim two-piece. The collaboration was unexpected yet wholeheartedly welcomed. Judging by the screaming going on in the audience, everyone felt the gravity of this mashup of epic proportions, especially considering Styles has been an official stan of Lizzo for months now.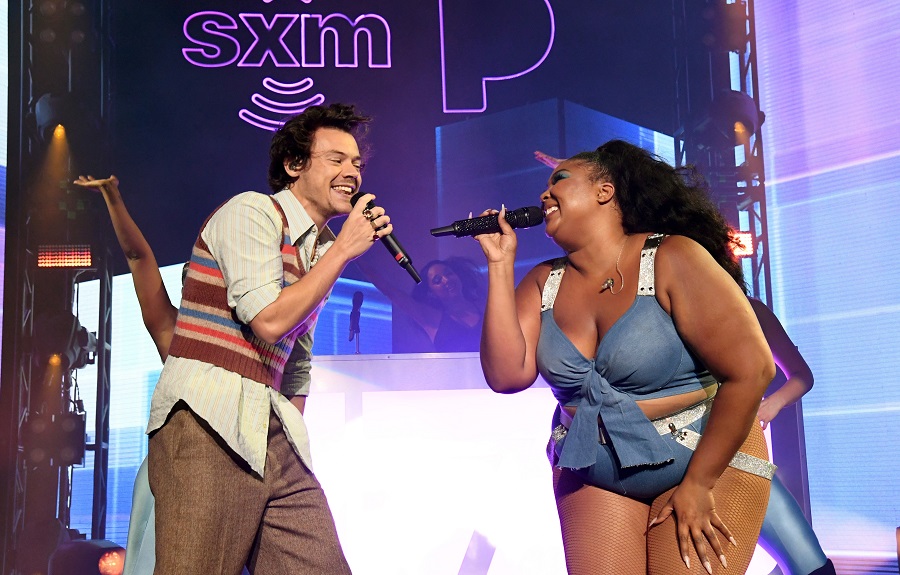 Back in December 2019, Styles performed a cover of Lizzo's "Juice" on a BBCRadio 1 Live Lounge appearance. It instantly went viral, and the Juice Queen herself even shared Styles' rendition on her social media accounts.
She then had the audacity to tease us by tweeting, "You know what this means right...?"
So, it was only a matter of time before Harry Styles and Lizzo gave us THIS:
https://twitter.com/udfredirect/status/1223106542381096967
Um, yeah. What is left to say?
Actually, we can think of a few things. This collab is perfect. It's legendary. It's worthy of all the positive praise. We need more Harry Styles and Lizzo, and we need it now. Do you hear us? NOW.
Sorry. We got a bit excited. Blame it on the juice (and Harry Styles' dance moves).