Twitter is bopping to Harry Styles' new single "Lights Up" — and just drop the album, Harry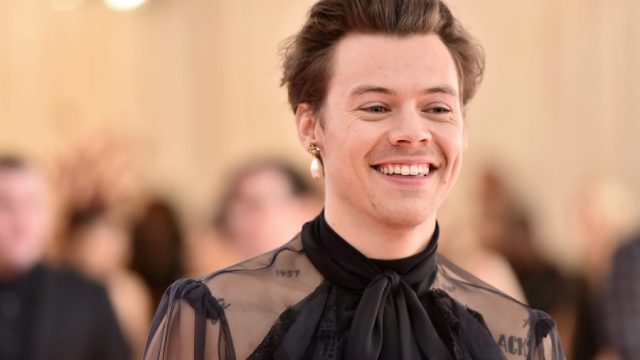 Harry Styles just dropped brand new music for the first time in nearly two years—and as expected, he did not disappoint. On Friday, October 11, the former One Direction member unveiled his newest single, "Lights Up," along with its accompanying music video, and needless to say, fans are almost too excited about what Styles has in store for his upcoming album.
Just like Styles promised in his Rolling Stone cover story earlier this year, the track has a psychedelic but soulful and sexy vibe, and features lyrics about being free. As he explained in his interview, his next album, reportedly called HS2, is "all about having sex and feeling sad."
As for the music video, it's probably the steamiest video you'll ever watch, and many fans are praising Styles for serving "bisexual energy." Plus, the 25-year-old dropped the track and video on National Coming Out Day, which just makes it that much more perfect.
"Lights Up" has already been dubbed a "bisexual anthem" the world needed.
false false false false
Of course, Styles has never confirmed if he's bi, nor does he share details about his romantic relationships. He told The Sun in 2017 that he doesn't feel the need to label his sexuality, adding that he'll only ever talk about his love life in his music.
In the "Lights Up" music video, Styles is shirtless and sweaty as he dances seductively with both men and women, all while singing "Shine, step into the light/ Shine, so bright sometimes/ Shine, I'm not ever going back."
Listen, people—it's hot and absolutely worth the watch:
Twitter has been having a collective meltdown since Styles first hinted that his new album was coming. He then sent them into a frenzy when he tweeted the word "Do" on October 5th, and now, the hype has peaked with the music video release.
Some Twitter users (ahem, us included) are upset they didn't get invited to the dance party…
false
false
…while others just can't believe how beautiful Styles is.
https://twitter.com/udfredirect/status/1182611189949296640
Harry Styles has proven once again that his talent has no limits. If we were betting types, we'd put on money on HS2 being his best record yet.