Harry Styles's fame didn't land him his "Dunkirk" role — because Christopher Nolan hardly knew who he was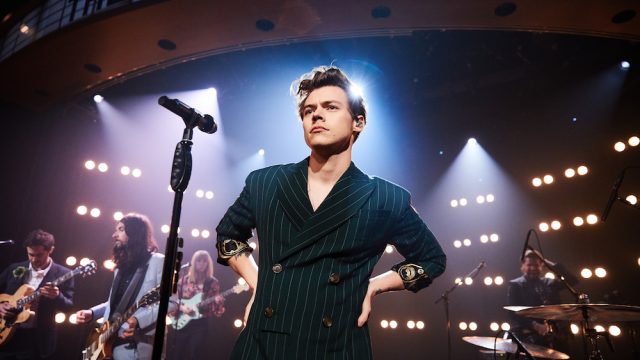 Imagine having your first four albums debut at #1 in the US, selling out worldwide stadiums and arenas in seconds, dating Kendall Jenner AND Taylor Swift, and still having someone not think you were… "that famous." Such is life for beloved former One Direction member, now solo act and blossoming Dunkirk star, Harry Styles (or Harold Edward Styles if you're a real one).
Not that famous?
The Dunkirk director, Christopher Nolan simply wasn't aware of megastar Harry Styles's immense fame. Yes, HARRY STYLES. According to The Hollywood Reporter, Nolan had heard of Styles, but he "[wasn't] that aware really of how famous Harry was."
Understandably, Nolan, who wrote The Dark Knight, Inception, and Interstellar, has more important things to do than obsess over the Holmes Chapel-born Brit. He is one of the most importer director/writers in Hollywood.
But has he never opened a magazine? Or turned on the radio? Or talked to another living person?
"I don't think I was that aware really of how famous Harry was," Nolan explained. "I mean, my daughter had talked about him. My kids talked about him, but I wasn't really that aware of it. So the truth is, I cast Harry because he fit the part wonderfully and truly earned a seat at the table."
It is cheering to know that darling Harry got his role in Dunkirk not for his fame, but for his acting chops. Clearly, he's had some practice since his guest spot on iCarly and his role as Marcel in One Direction's absolute bop, "Best Song Ever" (NEVER4GET Marcel). The 23-year-old lanky Aquarian is playing a 1940s British soldier trying to evacuate and survive Dunkirk, France. He has already been prominently featured in several trailers for the film which were well received on Twitter.
It seems Nolan was the only one unaware of exactly how bright Harry Styles's star shines.
Castmate Mark Rylance had a better estimate on Style's fame. His 11-year-old niece was elated that the actor was working with the "Sign of The Times" singer. Rylance may have won an Oscar and three Tonys, but it was nothing in her eyes compared to this.
"She was just more excited than anything I've ever done because I was going to be acting with Harry Styles. I went up in her estimation. I won the Harry!"
Sounds like a young woman who has her priorities straight! 11-years-old and she's got a leg up knowledge-wise on one of the most talented men in Hollywood!
We can't wait to see Dunkirk in theaters everywhere July 21.
Although we will mainly be cheering on the former baker/cat lover Harry Styles, we're also stoked to see Kenneth Branagh, Cillian Murphy, Tom Hardy, and Fionn Whitehead.
One last thing for Mr. Nolan and anyone else who just wasn't aware: One October, people made pilgrimages to lay flowers and candles at the sight where a very hungover Harry Styles vomited on the PCH. So yeah, he is THAT famous.