Two Harry Styles fans turned his concert into a giant rainbow to support the LGBTQ community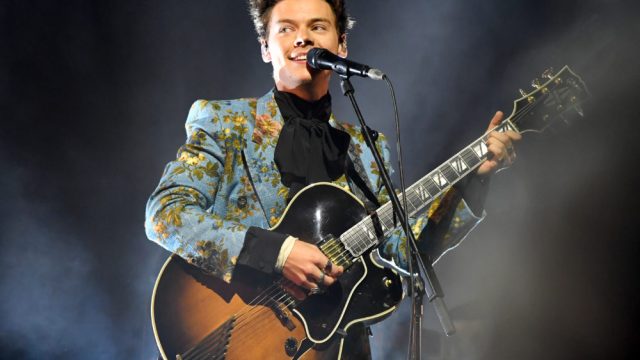 Usually, when fans attend concerts, they're treated to a surprise or two. Unexpected throwbacks, special encores, and surprise duets never fail to make concertgoers smile. But at Harry Styles' show at London's O2 Arena on Wednesday, April 11th, the fans were the ones who surprised him. Stylers Luna Riedel and Ksenia Kulikova organized a very special stunt, and it will actually bring you to tears: When Styles sang his song "Sweet Creature," the crowd lit the entire arena into a massive rainbow flag to support the LGBTQ community, and Styles, and his fanbase as a whole.
How did they pull it off? With a lot of planning, they distributed instructions to every single section of the O2 Arena. Fans were given colored filters to hold over their phone flashlights. Or, they could download an app that would turn the flashlight a certain color. The result? A larger-than-life rainbow made by Stylers, for Stylers.
"Ksenia and I basically met because of [Harry] and the other One Direction boys and discovered that we are going to the same concerts. After a while, we wanted to give something back to him as a thank you so we thought about doing a project," Riedel told Teen Vogue. "We chose to do a rainbow one as it shows acceptance. It wasn't only meant for LGBTQ+, but basically everyone wanting to be a part of our big family."
Back in January, Riedel and Kulikova announced Rainbow Project London on Twitter.
They got to work and made it happen.
Fans in every section of the O2 Arena received instructions about how to be part of the enormous rainbow flag.
false
Luna and Ksenia tweeted their appreciation for everyone who participated and said they hope to make it happen again.
What a beautiful statement of love and acceptance. We can't wait to see pictures of the next one!