11 "Harry Potter"-themed weddings that are the work of wizardry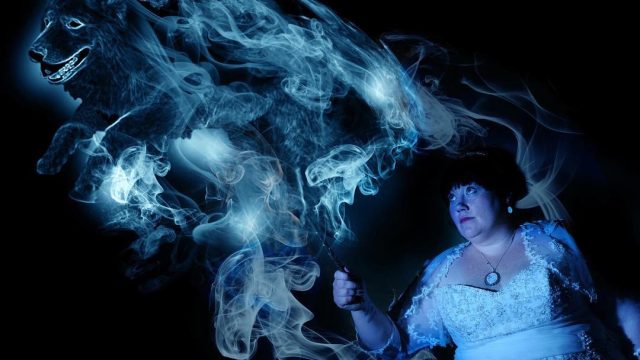 Engaged couples are going to extreme lengths to have the most creative and talked-about weddings EVER. That's why we've been seeing a ton of over-the-top, themed weddings all over our social media timelines. With this in mind (and knowing that we're also in the midst of celebrating the J.K. Rowling and Harry Potter's birthdays), we thought it'd only be right to share a few of our top #HarryPotterWedding-themed picks with you – just in case you need a little inspiration!
1. Just look at this awesome couple who celebrated their nuptials dressed in their Hogwarts' best.
https://www.instagram.com/p/BIkWhXhBaYA
2. This lovely bride paid tribute to her Platform 9 3/4 tattoo in her dreamy wedding photos!
3. Looking to add a little magic to your reception centerpieces? This retailer makes custom table numbers from actual Harry Potter book pages:
4. How cute (and enchanting!) is this couple's engagement photo?!
https://www.instagram.com/p/BFK-oNqqiZZ
5. We cannot stop thinking about this bewitching photo concept:
https://www.instagram.com/p/BHw6BQDBT9M
6. Dumbledore as your wedding officiant? Why not?!
https://www.instagram.com/p/BGl7K-xsgYB
7. What's a #HarryPotterWedding without the perfect venue? Looks just like the Great Hall to us!
https://www.instagram.com/p/BIfGRMhjUrS
8. YES to all of this!
9. Sometimes, all you need is a Gryffindor scarf or two – because a little magic can go a long way. 
10. Wedding favors that are pure perfection (if they don't fly away, that is):
https://www.instagram.com/p/BHA0NPfJXui
11. This wedding detail has our hearts under its spell:
Oh, how we just love the Harry Potter corner of the internet.