The footage from the new Harry Potter castle show is here, and it is spellbinding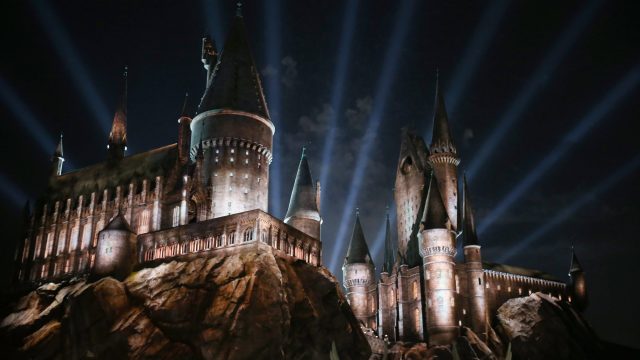 The Wizarding World of Harry Potter just got a bit more magical thanks to a brand new light show set to bring Hogwarts to life like never before!
Potter fans far and wide have been eagerly anticipating the arrival of Universal Studios' Nighttime Lights at Hogwarts, a brand new spectacle that's sure to leave you brimming with house pride. Now, we've finally got our first look at the light show, and it's just as enchanting as you might expect!
Thanks to YouTube user Benjamin Eck, fans can check out what's in store for the night time attraction right from the comfort of their own homes. The new show is bound to give you a heavy dose of nostalgia right from the get-go, thanks to the use of John Williams' iconic score of the first three Harry Potter films. https://www.youtube.com/watch?v=6xkLGYEt6I8
From there, fans are treated to a magical spectacle for the eyes as wisps of magic tangle their way up the turrets of the castle, coming together to pay tribute to each of Hogwarts' four houses in turn.
It's nice to see Gryffindor, Hufflepuff, Ravenclaw, and Slytherin each get a moment to shine, and we're sure fans will have a blast cheering for their respective houses when they take in the show for themselves!
As we previously reported, Nighttime Lights at Hogwarts is set to make its grand debut on June 23. Additionally, the new spectacle is set to occur multiple times throughout the  night, meaning you won't have to worry about missing the first show!
Fans who've already been lucky enough to visit the Wizarding World of Harry Potter can attest to how magical the theme park is. Even so, it's nice to see that Universal Studios has put such care into creating a night time event that's sure to add an extra bit of enchantment to everyone's visit!
We can't be the only ones itching to apparate over to Universal Studios to check out Nighttime Lights at Hogwarts in person for ourselves!