These Harry Potter Marauder's Map dinner sets will make for one magical dinner party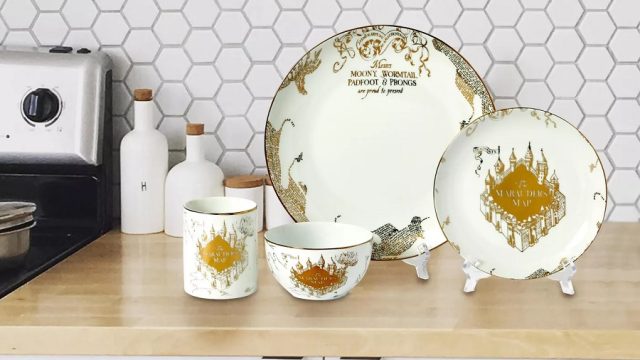 Any true Potterhead has dreamt of owning the Marauder's Map. First appearing in the third book and movie of the series, Harry Potter and the Prisoner of Azkaban, the magical map was given to Harry by Fred and George Weasley so that he could find secret passages in Hogwarts and sneak into the village of Hogsmede. Although the map is later used for more serious purposes than Harry getting a lollypop at Honeydukes, it's mainly a clever way of spying on everyone in Hogwarts. We've always wished we could have a map of our schools, offices, or homes, to spy on the people in our lives, but alas, we muggles don't have an equivalent to the Marauder's Map.
The next best thing we could find was this Marauder's Map porcelain dinner setting, perfect for the most magical of dinner parties. The 16-piece set includes a dinner plate, salad plate, bowl, and mug for four people, all etched with gold sketches and writing. The set is elegant and gives a clever nod to Harry Potter, which we always appreciate. While the Harry Potter Marauder's Map dinner set looks fancy enough for a feast in the Great Hall, even the Weasley family could afford it at the low price of about $30 per-personal dinner set, or $119.99 total.
Shop the dinner set below, and remember to say "I solemnly swear I am up to no good" before you begin dining.
Seven20 Harry Potter Marauder's Map 16-Piece Porcelain Dinnerware Set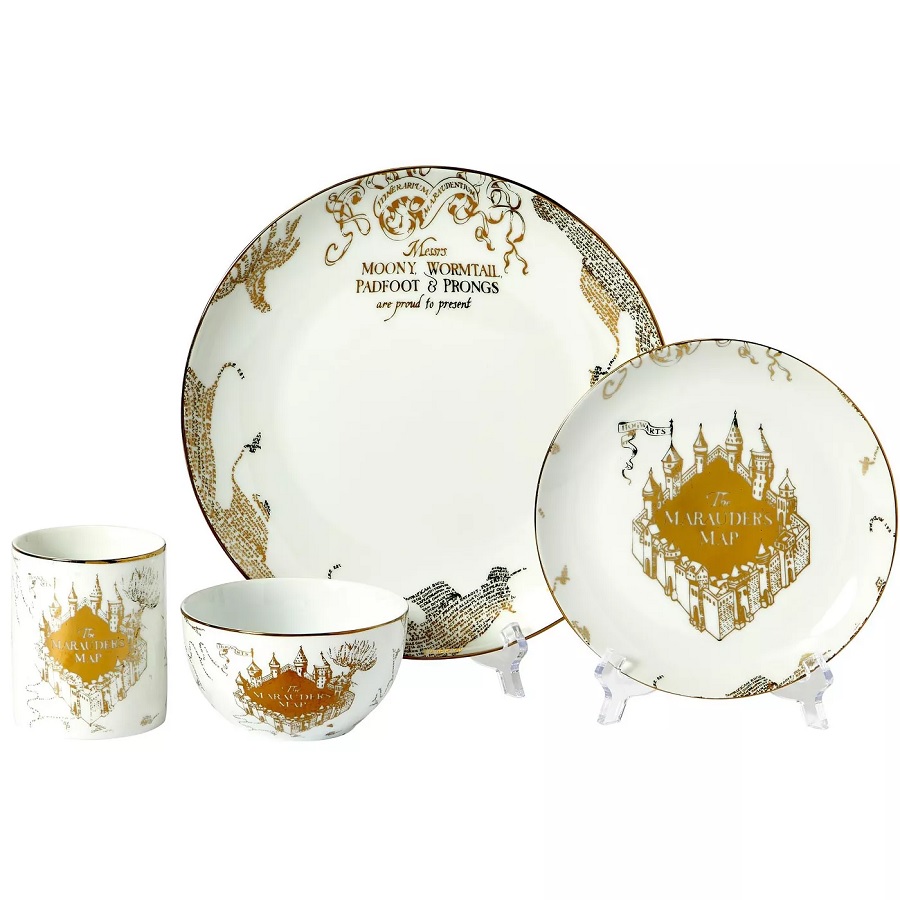 The large dinner plate features the names of the Marauder's Map creators: Moony, Wormtail, Padfoot, and Prongs (aka Remus Lupin, Peter Pettigrew, Sirius Black, and James Potter), while the salad plate, mug, and bowl are etched with the Marauder's Map symbol—Hogwarts castle—and the classic scroll writing.
Once you've finished eating, close out your meal by saying "mischief managed," and you might feel like you really just used the Marauder's Map yourself.