These "Harry Potter" sweaters are the stuff of our knitted Hogwarts dreams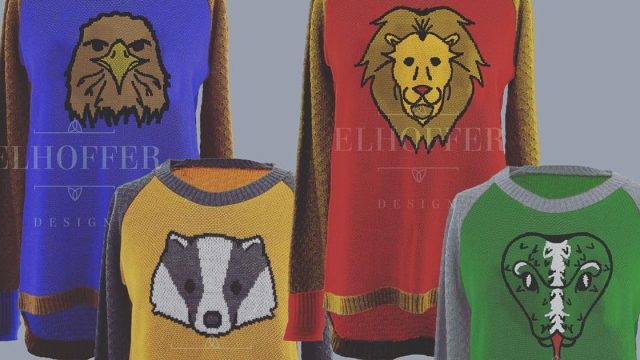 Fall is quickly approaching (okay, lol, no it's not 'cause it's still, like, 85 degrees outside but fine) and during the autumnal months we like to make sure that we're super warm and cozy. You know what else reminds us of fall? Harry Potter. We don't think that any autumn or winter would be complete without a full read-a-thon and binge watch of all the HP books and films. Perhaps because it always snows at Hogwarts (despite it never really snowing in the UK).
Anyway, enough persnickety remarks. What we mean is that we love fall (when it comes) and everything that goes along with it, including PSL, coats, scarves, gloves, and sweaters.
And we've just come across these Hogwarts house themed knitted sweaters and we're 100% obsessed with them.
Designed by Catherine Elhoffe from Elhoffer Design, the sweaters come in all the different shades of the Hogwarts houses, and are emblazoned with each houses mascot.
Here's Ravenclaw:
Here's Hufflepuff:
Here's Gryffindor:
And finally, here's Slytherin:
The sweaters are all priced at $50 and are available to pre-order from Elhoffer Design's Etsy store.
What's more, the sweaters come with these CUTE little thumb holes to help keep your hands warm.
Okay, we're gonna need one of EACH.
A self-professed "geek-inspired apparel designer," Elhoffer Design has even been tracking the sales of the sweaters Hogwarts house-points style.
It appears that Hufflepuff (!) are in the lead at the moment, which may surprise some of you (but not us because Hufflepuff 'till we die).
The sweaters come in sizes between extra small to 3XL and have an estimated ship date of mid-October. We're pretty sure that anything this cute will definitely sell out.
You can pre-order your own sweater from Etsy now.