Mark your calendars, "Harry Potter and the Cursed Child" *might* be coming to Broadway in 2017
Harry Potter and the Cursed Child is basically the new Hamilton: It's got rave reviews, tickets sell out almost instantly every time a new block is released, and respective creators J.K. Rowling and Lin-Manuel Miranda both have large, cozy places in our hearts. Lin even rapped about Harry Potter recently, proving that he's basically perfect.
Soon, they might also share places side by side on Broadway – it's rumored that Cursed Child will transfer to New York next summer.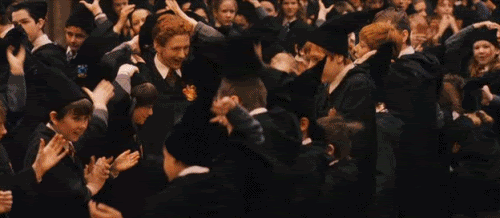 It will potentially open at the Al Hirschfeld theater, which currently houses the Tony-award winning musical Kinky Boots. In July, The New York Times reported that producers Sonia Friedman and Colin Callender were eyeing a Broadway run.
At the time Friedman said, "Harry Potter, the brand and the story, are as iconic over there as anywhere in the world, and, Colin and I being theater producers and Broadway producers, of course it's on our radar, but where, how, when and with whom, we have no idea.
If the rumors are true, those details are starting to fall into place. While much of what is succeeding on Broadway right now is musicals — especially those based on films  and/or starring a celebrity — Cursed Child is a play with a run time of 5 hours and 15 minutes (staged in two parts). The West End cast has no celebrities in it, and while one might attribute that to differing audience tastes in London versus New York, the Harry Potter franchise is wildly successful and will probably still smash box office records, despite being so different from other current offerings.
Since we know it's unlikely that Cursed Child will be made into a film, a Broadway transfer would also likely allow many more fans, who sadly can't apparate to the West End, to experience the magic. If only we could conjure up a Broadway spell right now!