This "Harry Potter" candle will tell you which Hogwarts house you're in when it melts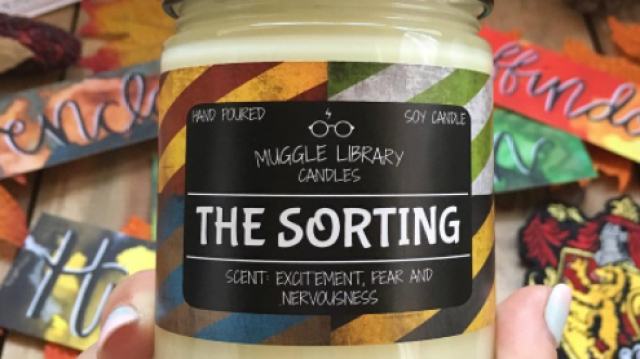 Many Harry Potter-heads are fairly certain they know which Hogwarts house they belong in, based on their personality traits (and personal desire). But others would prefer leaving their house selection up to fate, as if slipping on the Sorting Hat. For the latter, we have enchanting news: This Harry Potter candle will reveal your Hogwarts house as its wax melts.
When the candle arrives to your house, you'll notice its wax is white. But once you light the candle and it begins to melt, the wax will change color to become either red, green, blue, or yellow, revealing the house in which you belong.
The Sorting candle also emits a "lemony scent mixed with a musky combination of sandalwood, creamy vanilla, and patchouli," as the Muggle Library Candles Instagram post describes. Yum.
These candles are currently available for pre-order on the Muggle Library Candles Etsy page ($14.00). Due to the demand from self-declared witches and wizards, Muggle Library Candles is a bit backed up, but wants to ensure arrival before the holidays.
As of right now, Muggle Library is only selling its The Sorting candle on Etsy. But the brand has an incredible portfolio of literary-themed scents that we're dying to try.
The coffee and cinnamon-scented Book Boutique candle is number one on our list.
And Parseltongue, with its hints of "scent scales, forked tongue and essence of Nagini," is a solid second choice.
https://www.instagram.com/p/BX-6gzeHLD6
If you're chomping at the bit to get a genuine Sorting Hat experience, then The Sorting candle is a must-have. But don't blame us when you thought you were in Gryffindor only to find out you're actually in Slytherin. The candle doesn't lie.