Facebook is celebrating the 20th anniversary of "Harry Potter" with these magical features
If you're still figuring out the best way to celebrate the 20th anniversary of Harry Potter and the Sorcerer's Stone, head to Facebook right now.
In celebration of the book that started it all, the social-media site has created special Harry Potter-themed features — and they're really, really cool.
For instance, post a comment or a status about one of the four Hogwarts houses, and the words will turn the color of each respective house. PLUS, if you write in any of the names of the characters in the series, that text will also turn the color of the house that they were in.
As an added bonus, click on the words that have changed colors, and a wand will appear and cast a spell.
Sounds like some cool technical magic that even Professor Snape might approve of, if you ask us. And if you're feeling like you still need a littttle bit more of a Potter fix, head to Twitter where a new emoji in the shape of glasses and a thunderbolt shows up whenever you use #HarryPotter20.
J.K. Rowling has already tweeted out the emoji, accompanied by a very special message to Potter fans (because no one does Twitter better than J.K. Rowling).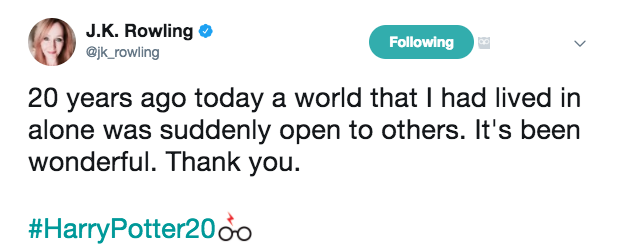 Excuse us while we go dab our eyes, and quietly lament never getting that Hogwarts acceptance letter all those many, many years ago.