Harry and Meghan just distanced themselves from William and Kate in a big way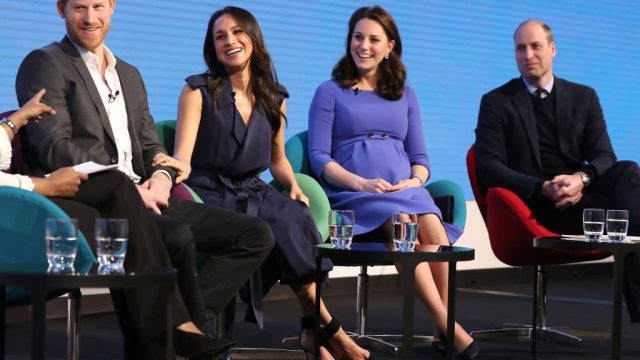 Prince Harry and Meghan Markle have cut the last remaining ties with Prince William and Kate Middleton. Well, sort of. The "Fab Four" are predicted to officially split in June when Harry and Meghan announce that they are leaving The Royal Foundation, their joint charity. This seems meaningful (and like there's tension beneath the surface)—which maybe there is. But honestly, their reason for leaving is probably a lot less problematic than we all think.
William and Harry co-founded The Royal Foundation, which caters to mental health, wildlife conservation, young people, and the armed forces community, in 2009. Kate stepped in when she married William in 2011, and Meghan did the same when she married Harry in 2018.
Just over a year ago, the two couples united on stage for a Royal Foundation Q&A event. To the masses, it seemed as though the foursome was about to become a combined charitable powerhouse.
But since moving further from William and Kate's estate at Kensington Palace and officially separating their royal offices, Harry and Meghan have also distanced themselves in their charity work.
"Meghan and Harry want to do things differently to William and Kate," a source told The Sun. "William is the future king and so is sometimes restricted in what he can do."
Even though the two couples have distanced themselves from each other, they will still most likely contribute to each other's charities while also working on their own.
We see it as more of a divide and conquer decision rather than a breaking up the band move. Harry has been his own man for several years now, and he probably feels like it's time to leave the nest and do his own thing with his new family. We can't blame him for wanting that.