'Harry & Meghan' Docuseries Director Claims the Palace Lied in Attempt to Discredit the Duke and Duchess of Sussex
Liz Garbus also details the "pearl-clutching" fascination people have with the Duke and Duchess.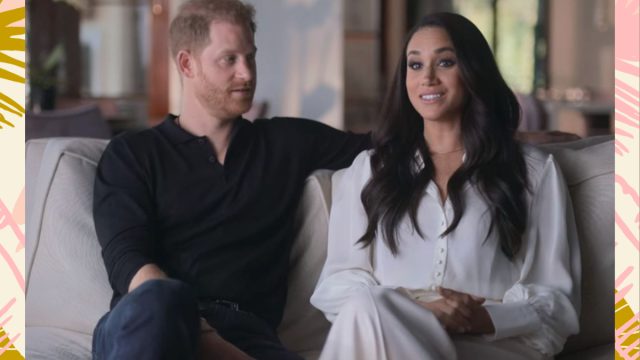 Director Liz Garbus had a firsthand look at the "alleged palace mind games" Prince Harry and Meghan Markle were once privy to while creating the Netflix docuseries Harry & Meghan. In a new interview with Vanity Fair, Garbus details the "surreal immersion exercise" of disparagement and hate she witnessed following the show's two-part release.
"For instance, Buckingham Palace said that we didn't reach out for comment [on the docuseries] when we did," Garbus told the outlet. "They did that to discredit us…and by discrediting us, they can discredit the content of the show."
At times, the Emmy-winning director explained, it felt "a little bit like Alice Through the Looking Glass."
The second strike came when The Sun published a hate-fueled essay about Meghan by British journalist Jeremy Clarkson. Coincidentally (or perhaps not), the piece went live the day after Netflix dropped volume 2 of Harry & Meghan, which documents how Meghan was torn apart and ridiculed by the British press. Also, conveniently, that same week Clarkson and Queen Consort Camilla were photographed at a luncheon together with fellow Harry-and-Meghan-naysayer Piers Morgan.
"That was an extreme example of the kind of coverage they've been getting. I certainly lived through it a bit," Garbus said.
RELATED: King Charles May Exclude Prince Harry and Meghan Markle From Balcony Coronation Celebration
Throughout Harry & Meghan, the couple touches on the great lengths the institution goes to to protect certain members of the royal family. The Duke and Duchess say they and their children were not part of that inner circle. Rather, they felt like they were served on a silver platter to the UK tabloids.
For that reason, the Duke and Duchess fought tooth and nail to make their love story the centerfold of the docuseries.
"Obviously, I knew walking in there was going to be extraordinary interest. Just being aware of the microscope of the film was a challenge," Garbus recalled, adding, "They certainly did see this documentary, and do see it, as very much their love story."
Volume one is very much a testament to the foundation of Harry and Meghan's relationship. Viewers were inundated with juicy tidbits about the early beginnings of the couple's secretive romance, including Harry's fake Instagram account and behind-the-scenes photos of their first trip together to Botswana. Meghan also admits she entered the relationship a little blind and was naive about what she was getting herself into.
"Their interest was very much in telling their love story from their point of view, as opposed to the love story as told by others, and to share their personal archive in order to have that look behind the curtain," Garbus explained.
Even with the fairy dust, Garbus claimed people still couldn't be happy for the couple and accept their story with open minds. They went out their way to find something to hate or pick apart.
"People are very happy to read everything about Harry and Meghan when it's somebody else writing about them," Garbus said. "But when Harry and Meghan want to tell their story in their own words, it suddenly becomes an issue."
No one is forcing you to sit-down and watch an eight-hour docuseries, the filmmaker argued. Nor will it be required school material down the road.
"It is your choice what you binge and what you don't binge. There have been more documentaries and books written about Harry and Meghan than Harry and Meghan have produced themselves," Garbus said.
She continued: "So I think it's an interesting kind of pearl-clutching that doesn't quite add up with the public's appetite for reading stuff about them from other people."
Volume one and two of Harry & Meghan can be streamed on Netflix. For an extensive look into Prince Harry's former life as a royal, fans can pick up a copy of his new memoir titled Spare, which is officially available wherever books are sold.
Emily is a NYC-based freelance entertainment and lifestyle writer — though, she'll never pass up the opportunity to talk about women's health and sports (she thrives during the Olympics).
Read more