This 94-year-old just became the oldest woman to ever finish a half-marathon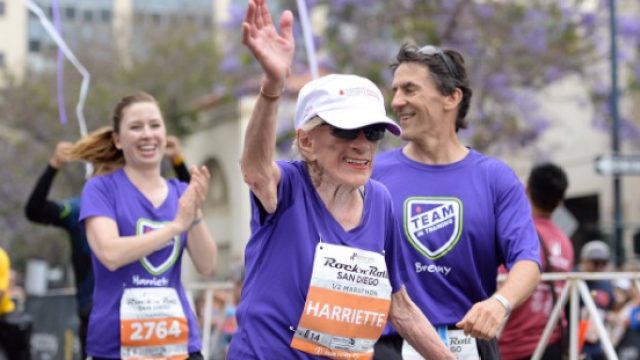 In news of the day that will completely wow you, a 94-year-old is the oldest person to run a half-marathon, and we are absolutely cheering our hearts out for her. Proving that age really is nothing but a number, Harriette Thompson completed the race, and she rocked gorgeous red lipstick while doing it — giving us all the inspiration we need for our Monday morning.
Thompson, a native of Charlotte, North Carolina, ran the Rock N' Roll San Diego Half Marathon this weekend, shattering the age-related record.
According to People.com, the two-time cancer survivor broke a previous record held by Gladys Burrill, who ran a half-marathon at 93 in 2012. Thompson ran a full marathon just two years ago (that's at 92 years old people!), and was reportedly hoping to do the same again this year, but opted for the half-marathon due to health issues.
She reportedly took up running at the age of 76, helping to raise over $100,000 for the Leukemia and Lymphoma Society. Her effort at the half-marathon this year has raised $15,000.
The former concert pianist, who has survived squamous cell carcinoma and oral cancer, has the best attitude for her health and fitness.
She told The Washington Post, "This year I really couldn't train too much because I had an operation in July for my leg…My training started several months ago, when I could start walking again. I did a couple 5Ks and [an] 8K…I'm scared I won't be able to last 13 miles, but I'll make a stab."
And make a stab she did, clocking an impressive pace of just over 17 minutes per mile on Sunday. As far as her overall health, she quipped, "I always say, I feel fine unless you want the details. I know I have limitations now I didn't have before. At age 94, I feel like I did when I was 16, but I can't move as fast. Overall, I feel fine."
We are so proud of this inspirational queen!