Don't worry, "Happy Death Day" knows it's a lot like "Groundhog Day"
Happy Death Day and Groundhog Day share a pretty obvious similarity: both follow characters living the same day over and over again. Although the prior departs from the original — its heroine, Tree (Jessica Rothe), is killed by a masked attacker each time her day repeats — the connection between the two films is undeniable.
Near the end of the film, Tree's love interest Carter (Israel Broussard) suggests the striking similarity between Tree's situation and Groundhog Day. Tree, ironically, has never heard of the film — but Rothe sure has.
"I loved it since childhood," Rothe told HelloGiggles. "It was one we would watch yearly. I'm a huge fan of Bill Murray's, like a massive fan. So I feel so honored that I got to step into the canon of work that has been born because of the film. "I think our film does a really good job exploring how terrifying it would be to be stuck in the same day, not only if you're murdered at the end of each day, but the horror and the fear of not being able to escape the situation."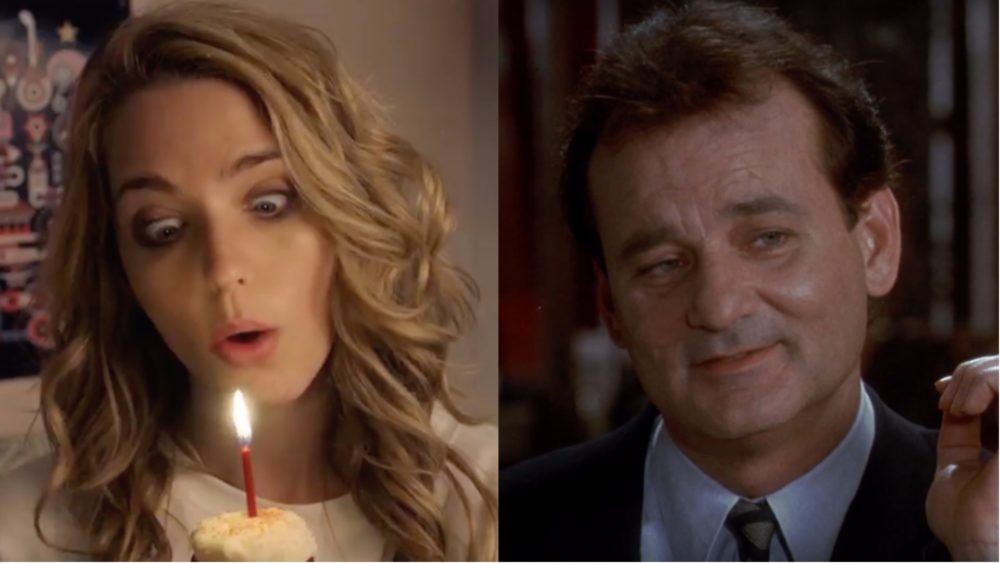 Rothe also believes the film is self-aware, about Groundhog Day and more.
"I think that the movie does a really good job of acknowledging the intelligence of its audience," Rothe explained. "[Like] the Groundhog Day reference at the end of the film, or so many times when Tree is in stereotypical 'horror scenario.' In other horror movies, similar characters would do stupid things. She either doesn't do them or does them, but while commenting on herself or on the situation."
She continued, "I think it's just a testament to the fact that audiences are really smart and they don't want to be pandered to. Even if some things are a little silly, but you wink at the audience just the right amount, I think people really respond to that."
Ruby Modine — who plays Tree's roommate Lori in the film — is also a big fan of the 1993 classic and happy about the reference.
She particularly appreciated Happy Death Day's unique take on Groundhog Day: the film doesn't just recreate that premise — but adds something new to the idea of repeating the same day.
"I'm one of those people who go like, 'You know, the film was so great. Why try to redo it?' But, [director Christopher Landon] didn't redo Groundhog Day. He did Groundhog Day with an amazing twist, through comedy that everybody can relate to. And, you know, there are some really beautiful scenes in the film as well."
Happy Death Day is currently in theaters. And like, we have to know…has Murray seen it?! If so, what does he think? These are the questions that keep us up at night.