This is what happened when we tried wearing the same perfumes as our fave celebs
Scent is a powerful thing. It can immediately trigger vivid flashbacks to times we may (or may not) want to remember. If you've ever experienced this type of nostalgic phenomenon, it can seem almost supernatural. This got us thinking — if scent has this kind of power, can it do other things, like transport us into the lives of our favorite celebrities?!? Okay, it probably doesn't possess THAT kind of magic, but at least we could get a smidge closer to stars like Kim Kardashian and Blake Lively by wearing the same types of perfumes they wear.
Thanks to fragrance subscription service Scentbird, we here at HelloGiggles got to pretend we were our favorite stars by using celebrity-favored perfumes for a week. Read on to see how our little fragrance experiment went!
Smelling like Emma Watson with DKNY Be Delicious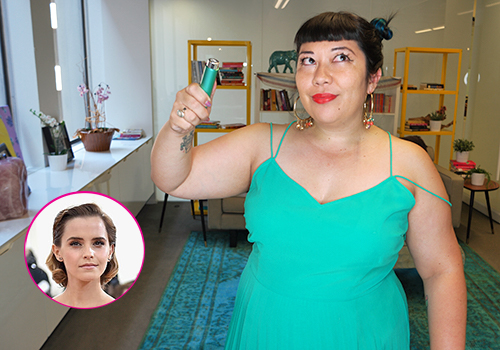 My go-to perfumes are usually candy-scented, and I'm really hesitant to try anything else. Coincidentally, I ran out of all my favorite perfumes by the time this experiment started so there was nothing else for me to turn to. When I first sprayed Emma Watson's scent, which was DKNY's Be Delicious, I was pleasantly surprised. THANK GAWD, because I would have not been able to deal if I hated the scent! My first impression was that it was really fresh though there are some obvious fruity notes (apple, is datchu?).  it's the type of scent that makes you feel awake — if that makes any sense — and it's really no-nonsense. I can see why a badass feminist actress like Emma Watson is into it.
— Marie, Staff Writer
Smelling like Taylor Swift with Juicy Couture Viva La Juicy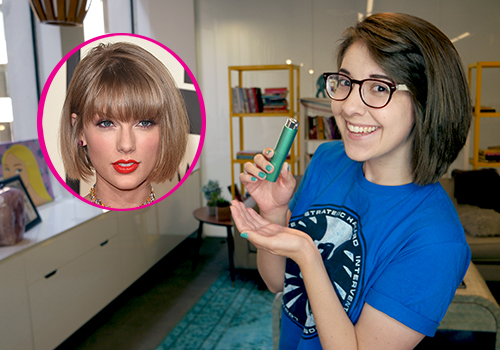 I wore Taylor Swift's perfume for a week and I didn't attract any Tom Hiddlestons, so that's kind of a bummer. But on a positive note, I actually really liked the scent. And it's not even something super high-end or super classy so I could easily go out and snag a bottle of this for myself later on. I just might. It was subtle enough to wear all the time no matter where I was going, and I even got a few compliments on it, too (just none of them came from Loki).
— Rachel, Staff Writer
Smelling like Kim Kardashian with Michael by Michael Kors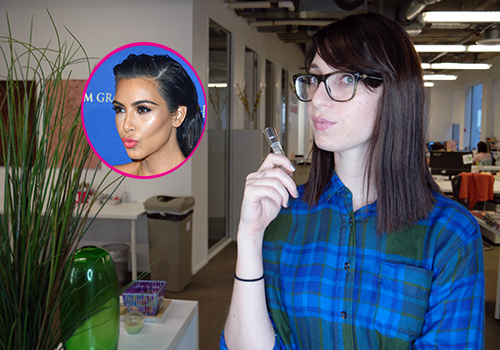 Kim Kardashian's perfume (Michael by Michael Kors) is much more floral than I would expect from her! I thought she would wear Tom Ford or BALMAIN, something intense and high profile and posh. I really love wearing Michael because it's kinda similar to Marc Jacobs' Daisy, which was MY JAM for like four years. It's not really a statement scent, just like, oh I spritzed myself with some daisy juice, NBD, scent. Overall, I'm a fan. Also, Rachel says I smell like a rich older woman, but I disagree! I think this perfume is pretty youthful!
— Gina, Senior Editor
Smelling like Gwyneth Paltrow with Tom Ford Black Orchid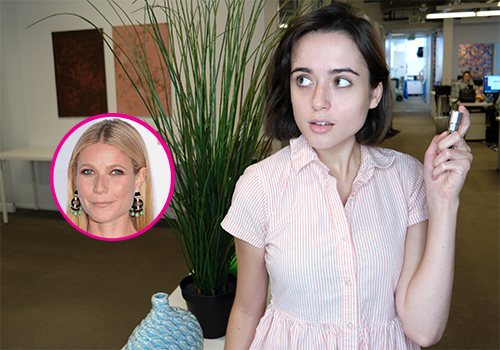 Remember how, in The Devil Wears Prada, there's a scene depicting Miranda Priestly/Meryl Streep walking up to her office? And as she click-clacks along, everyone begins screaming that SHE'S COMING? Well, I imagine it's like that at Goop – but Gwyneth's employees don't need to see her because they can smell her. In other words: this perfume is *~crazy strong~*. Over the course of our time together, it gave my co-worker an instant headache, reminded my friends of their perfumed grandmothers, and also wouldn't release its grasp on my inner wrists (even after I washed my hands several times, went for a swim, and took a shower!).
While I may not have felt like myself wearing this opulent fragrance, I definitely felt like someone who isn't afraid to cover their entire city in a cloud of Tom Ford – just by lightly spritzing themselves with eau de parfum.
— Anna, Staff Writer
Smelling like Blake Lively with DKNY Be Delicious Fresh Blossom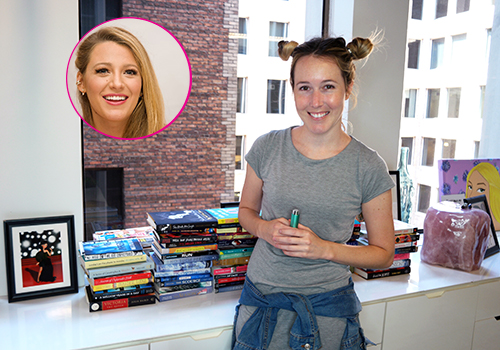 Even though the name of this fragrance suggests it's like, ~summery~,  it was actually very intense. Like, debuting a movie at Cannes, intense. I wore it to work a few days and realize that this fragrance is much better suited for like, a red carpet event. Actually, the second I sprayed it on myself, I was like, Oh, Blake Lively WOULD wear this. It's an incredible fragrance, but should probably be reserved for date-night and maybe a wedding?
— Madison, Senior Editor
Smelling like Ariana Grande with Viktor and Rolf Flowerbomb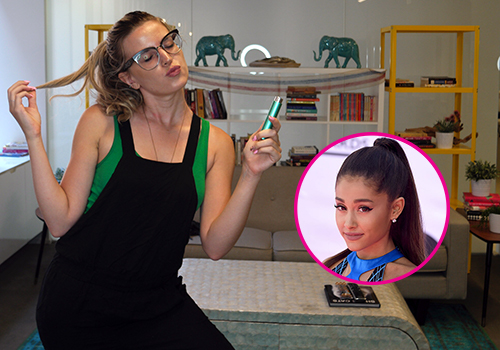 Okay, there are two factors that made me a biased perfume-tester this week. One, I used to wear Flower Bomb; In the last year I switched to a new fragrance because I felt like I'd out-grown it. And two, I am not a fan of Ariana Grande. Maybe I've read one too many articles about her yelling at fans or demanding to be carried like a baby, I don't know.
But after a week smelling like her, I've undergone a major identity crisis. So many people — my roommates, my co-workers, my boyfriend, cashiers at Whole Foods — have complimented my scent. This never happens to me. It caused my self-confidence to skyrocket, especially because recently I've been wearing natural deodorant and don't always feel the ~freshest~. Now I'm thinking of ditching my new, rose-centric perfume and going back to the super sweet bubblegum scent of Flower Bomb. What next? Am I going to start doing other Younger Me things: drinking cheap vodka, dating jerks, over-plucking my eyebrows? Ariana, you are a Dangerous Woman indeed.
Like getting back together with my ex-perfume wasn't a big enough change, I also listened to a couple of Ariana's recent songs and holy sh*t that girl can sing. "Into You" has become my new anthem. I sing it about my cat, about pizza, during meetings, and every time I'm in my car. I'm truly shocked how much wearing a different perfume made me (ugh I hate admitting this) happier. Flower Bomb, Ariana — why can't I quit you?
— Christina, Video Producer