What happened to this poor baby after he was kissed by a stranger will terrify you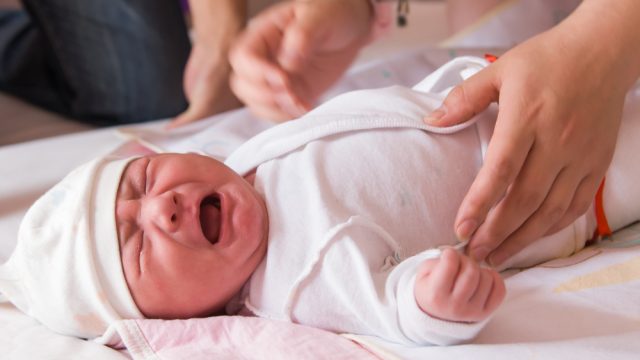 There's something about seeing a baby that transforms us into squealing, mushy messes. Who doesn't want to grab a hold of those little hands or take a whiff of their Johnson & Johnson-scented heads for a little pick-me-up?! However, there's one thing that can actually be dangerous to a little one that might not seem like a biggie but totally is — kissing — especially if you have the common cold virus, oral herpes.
Herpes isn't something to be ashamed of; lots of people have it and may not have flare-ups very often. While treatable, herpes is highly contagious and has no known cure so if you do have a flare-up, you might want to save those baby kisses (and even eating from the same utensil or drinking from the same cup) for another time.
A post was recently shared after a mother discovered her son was infected from someone who couldn't resist giving all those kisses. For a baby, herpes can be life-threatening, as you can see below.
The mom wrote, "This is what happens 2 babies when been in contact with a cold sore. Oliver now has the herpes virus and will have this for life. Think before you kiss a baby next time."
Diagnosed with oral herpes (HSV-1), baby Oliver spent four days on an IV drip in the hospital. It's reported he's now doing much better though. While Oliver is recovering, for some, the consequences are dire.
Posted two weeks ago, the photo and message already has 15,000 shares on Facebook. Commenters took to the post, messaging the mom with condolences and best wishes for the young boy. "Oh my God that's horrendous. …don't think people realise how dangerous herpes [are]!!" Facebook user Heidi De Caen wrote.
"Poor little man ? I've heard it can be quite dangerous for babies. Good job he's got u looking out for him. Hope it clears up quickly xxx," user Lucy Hockley said.
The moral of the story is DO NOT let anyone kiss your newborns mouth, even if they don't look like they have a cold sore — 85% of the population carry the virus. And if someone had a cold sore ask them to stay away until it has gone.
This painful reminder will hopefully help us all think twice before kissing a baby, or anyone, when infected with a virus.