What happened when I cut denim completely out of my wardrobe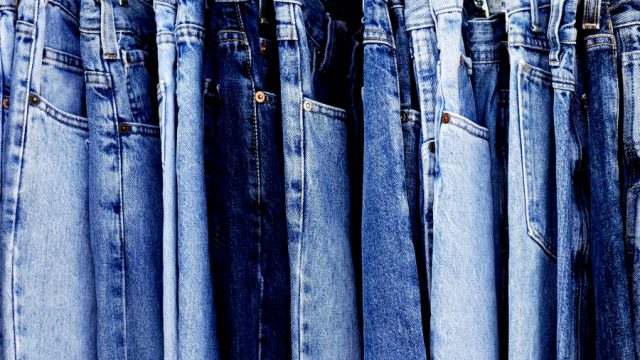 I can distinctly remember the moment, 6 years ago, when I decided to stop wearing denim. I was in a New York dressing room with my mom, who, after a lovely ladies lunch, said she would buy me a pair of jeans. There I was, 360-degree mirrors in all their glory, watching myself jump up and down, trying to literally squeeze my ass into a pair of skinny jeans. I remember having to keep on going up and up in sizing since everything at that time was so tight and sizing SO not in my favor. As almost any girl can relate, standing in a fitting room surrounded by a pile of jeans that don't fit, don't look good, and really don't make you feel good can get a gal down. It was at that moment that I vowed to stop wearing jeans.
Why was I subjecting myself to feeling like shit by wearing denim, in particular skinny jeans—which at the time was really all that was available? In my mind, the path forward was clear: Don't do the thing that makes you feel bad about yourself. And off I set, on my new jeans-free life!
Related article: It *is* possible to wear denim this summer without melting
While it was hard at first, cutting out denim really allowed me to explore my personal style.
Gone was the fallback outfit of jeans and a t-shirt. It also pushed me to go on what can only be described as a lifelong quest to find the perfect pant. Highlights (and still in heavy rotation) include a pair of black Acne wide-leg trousers, the J.Crew "Minnie" pant, and J Brand leather pants.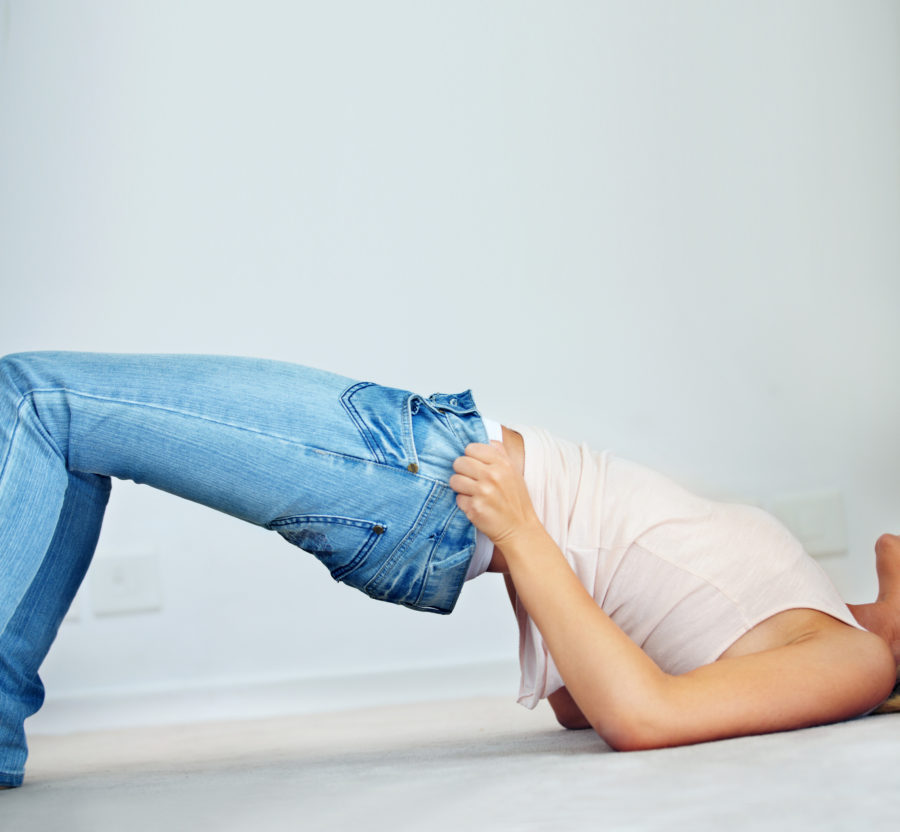 Related article: The 10 denim brands every fashion girl knows about
After a year in, I completely forgot what it was like to even consider putting on jeans in the morning.
I pitied my friends every time they had to walk into that changing room to try a pair on, and the subsequent $300 they spent. However, over the past year I started to notice a shift. The skinny jeans I had once loathed were on their way out, replaced with newer and more change-room-friendly styles. After almost six years of not buying a pair of jeans I bit the bullet and bought the now infamous Rachel Comey wide-leg jeans. It was like getting back together with an ex—I was cautiously optimistic. And while it felt good, I was aware that things could go south at any minute. But from there, doors started opening. Citizens of Humanity sent me a pair of their wide-leg jeans and my collection started to grow. The final turning point for me was my first pair of Re/Done's. Slipping into the already broken-in denim felt amazing, and instead of worrying about flashing the whole restaurant my underwear when I sat down, the high rise felt (and looked) amazing.
Now, I have an amazing denim collection that I love because it makes me feel good. The impossible has also happened—I am now the owner of a pair of skinny jeans. The girls over at AYR have created the perfect one, appropriately named "The Skinny."
Having denim back in my life has also caused my personal style to change.
Instead of tops to go with pants, I am now on the hunt for the perfect white t-shirt. I can't call it yet, but Re/Done's white "Boxy Tee" could very well be the winner. I forgot how easy it was to throw on a pair of jeans and a great t-shirt and run out the door. After being out of rotation for so long, denim has now become my uniform and there are tons to experiment with. Should you be on the hunt for the perfect off-white high-rise crop with a frayed hem, I would tell you to run, don't walk, and pick up Creatures of Comfort's Maison Pant. Only once I started to feel good in jeans did I start to add them back into my wardrobe. This was my personal experience, but I'm sure many of us can relate to trying out trends that don't make you feel your best. My advice is: If it doesn't feel good, then don't wear it. The thing about clothing is, you can always break up with something and then get back together. You might even be happier together the second time.
This article originally appeared in Coveteur by Stephanie Mark.