12 Hanukkah Movies and TV Episodes That'll Light Your Festive Spirit
From 'An American Tail' to 'Hitched for the Holidays.'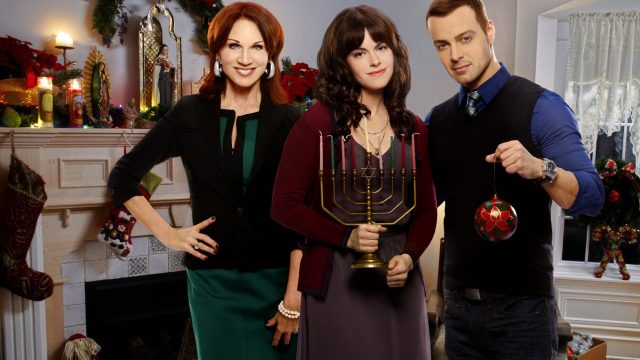 Pull out your favorite menorah and start prepping your family's latkes recipe—Hanukkah (aka the Festival of Lights) is beginning tomorrow, December 10th. For eight nights, people across the world celebrate the rededication of the Holy Temple in Jerusalem that occurred on 165 BCE by lighting their hanukkiyah (also known as the Hanukkah menorah) each night, eating latkes and jelly doughnuts, and watching Hanukkah movies and TV episodes with their loved ones.
But while the holiday might be looking different this year due to the pandemic, that doesn't mean you can't still enjoy the season. So to help get you in the festive spirit, we've rounded up the best Hanukkah movies and TV episodes you can watch, whether you're by yourself or with loved ones.
Best Hannukah movies
Eight Crazy Nights
If you love Adam Sandler's famous "The Hanukkah Song" from Saturday Night Live, then you're going to love his Hanukkah movie, Eight Crazy Nights, which was inspired by the song. This animated musical adventure is packed with crazy antics, lovable characters (the old man steals our hearts every time we watch it), and Sandler's one-of-a-kind humor. It's a must-watch this year.
Little Fockers
While Little Fockers is the third installment to the Meet the Parents franchise, it's packed with the same humor and mischief as the previous films. However, this time around the Fockers come together to celebrate Christmas and Hanukkah—and well, things get crazy. While the movie isn't a hit with the critics, it does have Barbra Streisand, so it's still a win.
The Night Before
Sure, these three childhood best friends want to crash a Christmas party on Christmas Eve in this film, but it's packed with Jewish humor thanks to Seth Rogen, who also happens to rock a Hanukkah sweater all night long. It's a fun film to watch when you want a break from the world (which is very needed right now).
An American Tail
Did you know that this movie is Steven Spielberg's take on the Jewish immigrant experience? In the animated film, the Mousekewitzes emigrate to America to protect themselves from the cats, where Fievel is eventually separated from his sweet family. It's a sad but joyful film that everyone needs to watch this holiday.
Full-Court Miracle
When you think of Hanukkah, you probably don't think of sports. However, in Full-Court Miracle, these two worlds collide. This beloved Disney Channel film is about a basketball player who plays on a Jewish basketball team that recruits a coach who's based on real-life University of Virginia Cavaliers' coach, Lamont Carr. It's a feel-good movie that will make you nostalgic for the early 2000s.
Hitched for the Holidays
If you're a fan of holiday Hallmark films, then you're going to love this Hanukkah movie Hitched for the Holidays. '90s star Joey Lawrence teams up with Schitt's Creek's Emily Hampshire to pretend to be together during the holidays, but—as you guessed it—they end up falling in love for real.
Best Hannukah TV episodes
Friends: The One with the Holiday Armadillo
When it's Ross' turn to have his son Ben during the holidays, he sees an opening to teach him about Hanukkah and his Jewish heritage. But things backfire when Ben is disappointed to learn Santa isn't coming. So like the great dad he is, Ross attempts to rent a Santa suit but ends up with the only costume available so close to Christmas—an armadillo suit. In the end he's able to bond with his son about their faith, and with the help of Chandler as Santa (and Joey as Superman, because obviously), he teaches Ben the story of Hanukkah.
The Nanny: Hanukkah Story
When Fran Fine wants something, she finds a way to get it. In her first holiday season married to Maxwell, she's excited to officially celebrate Hanukkah as a family, until he gets stuck in a snowstorm with Gracie and C.C. and she doesn't hear from them. They finally come home, marveling that their car only had enough gas for an hour, but it lasted for eight. A true Hanukkah miracle for the new family! Another miracle: any time we get to see Grandma Yetta on screen.
The Rugrats: A Rugrats Chanukah
This special has so many memorable lines, like Tommy's "A Maccababy's gotta do what a Maccababy's gotta do!" and Angelica's "Chh-an-ukah. You have to 'chh' when you say it." When Grandpa shares the story of the holiday with the babies, they re-enact it for themselves, imagining the past and searching for the "meany of Chanukah" (as opposed to the "meaning"). A Rugrats Chanukah was a staple in '90s TV, and its telling is heartfelt and totally magical.
Even Stevens: Heck of a Hanukkah
And now, for the closest thing we've ever had to a Jewish version of A Christmas Carol. In the Hanukkah episode of Even Stevens, Louis accidentally breaks his family's Hanukkah presents and promptly wishes he had never been born. A godmother-like figure appears and shows him just what that would look like.
The O.C.: The Best Chrismukkah Ever
Families have been celebrating both Christmas and Hanukkah for years, but in one of The O.C.'s most memorable episodes, the show put the hybrid term "Chrismukkah" on the map. There were candy canes. There were menorahs. There were stockings. There were latkes. There were even Yamaclauses (Santa hats in the shape of yarmulkes). In the immortal words of Seth Cohen, "Chrismukkah is un-ruinable. It's got twice the resistance of any normal holiday."
SNL's Hanukkah Bonanza
From Jon Lovitz' Hanukkah Harry to Adam Sandler's epic sing-along, nobody does this holiday better—at least not on TV.