We chatted with Hannah Simone from "New Girl" about cats, contests, and the future of Schmidt and Cece
When you're asked to judge a cute cat contest, you jump all over the opportunity. At least, that's what New Girl's Hannah Simone did, for the gaming app Shuffle Cats. The app, owned by the same company that owns Candy Crush (ever heard of it?) focuses around a bunch of wheeling and dealing kittens, all who know how to play a solid game of rummy.
While the app already features a colorful cast of characters, they held a "catsing" call for a brand new cat to join the team. Enter Simone, who not only loves cats, but admittedly plays the popular game during her downtime on set.
We got a chance to chat with Simone right after the competition, and if you guessed that she'd be feeling incredible after judging a bunch of adorable cats, you'd be correct.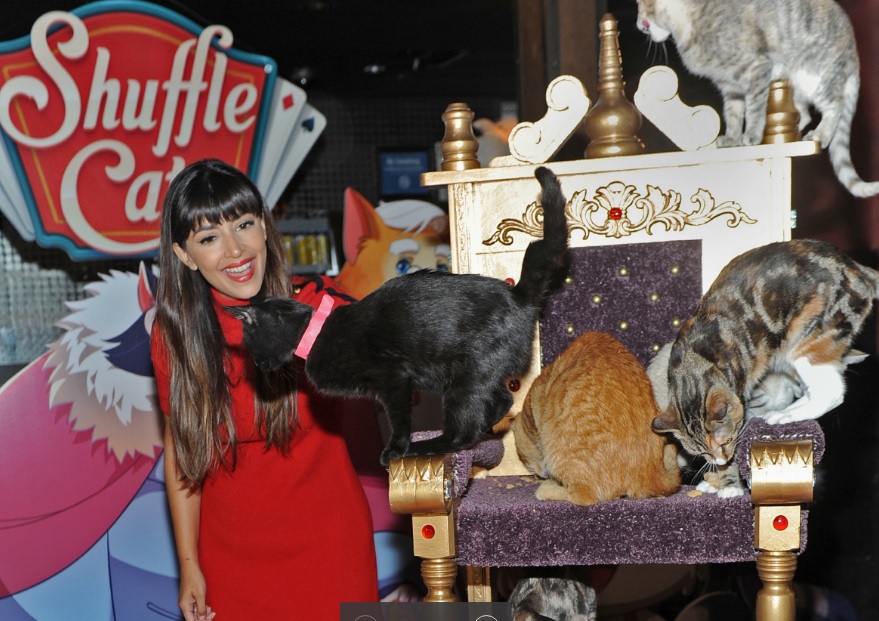 "This game is really perfect," Simone said, noting that she spends a lot of time on her phone playing it.
Not only is each game quick, but it's a great way to play cards with anonymous folks across the country. The fact that it's cat-related is also a bonus, especially for Simone — she is, after all, a big fan of felines.
https://www.youtube.com/watch?v=N14-HBSgWgI?feature=oembed
In fact, judging the contest isn't the only cat-related news that Simone had going on these past few weeks. Having just adopted her third cat, she finally bit the bullet and decided to create an Instagram account that was focused solely around her three furry housemates.
"I started out with one," Simone said. "Thirteen years ago I adopted Jacob. Then I moved to Toronto, and I found Franklin. He's just tiny, really small. I call him my perma-kitten."
Even sweeter, Simone embraces all of Franklin's special needs. Starved as a small kitten, he's also blind and has asthma, but according to his famous mom, is "one of the most sweet, loving, gentle animals."
A few weeks ago, little Alfie was added to the team.
The NKLA Pet Adoption Center in Los Angeles found him wandering the streets, and Simone decided to take him in. And that's partially what inspired the Instagram.
"Once you get a kitten, the natural thing you do is take a billion photos," Simone noted.
Thus, the account "havecatzwilltravel" was born, which has already racked up a bunch of fans. Even better, as Simone admitted that she often travels with her kitten companions, the adorable handle also carries a bit of truth.
Perhaps that was one of the reasons why she stood out as being a knowledgeable and passionate judge for the Shuffle Cats contest. Lovingly called "America's Next Shuffle Cat," one winner emerged from a small pool of finalists. This winner will eventually get to co-host Walter's Workshop, an in-game weekly event (and a high honor for a digitized cat.)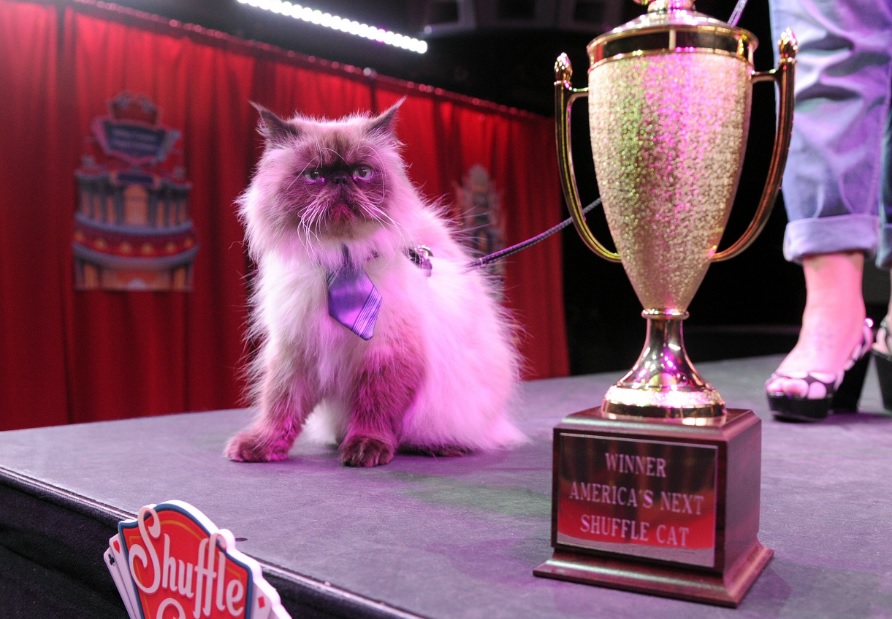 That winning cat turned out to be Wiley Coyote Super Genius, or for short, "Wiley." Simone liked him based on his spunk.
"It was a tough decision, they were all really different and had strong personalities," Simone admitted. "But Wiley Coyote was a senior citizen cat, who sometimes liked to escape and go on incredible adventures."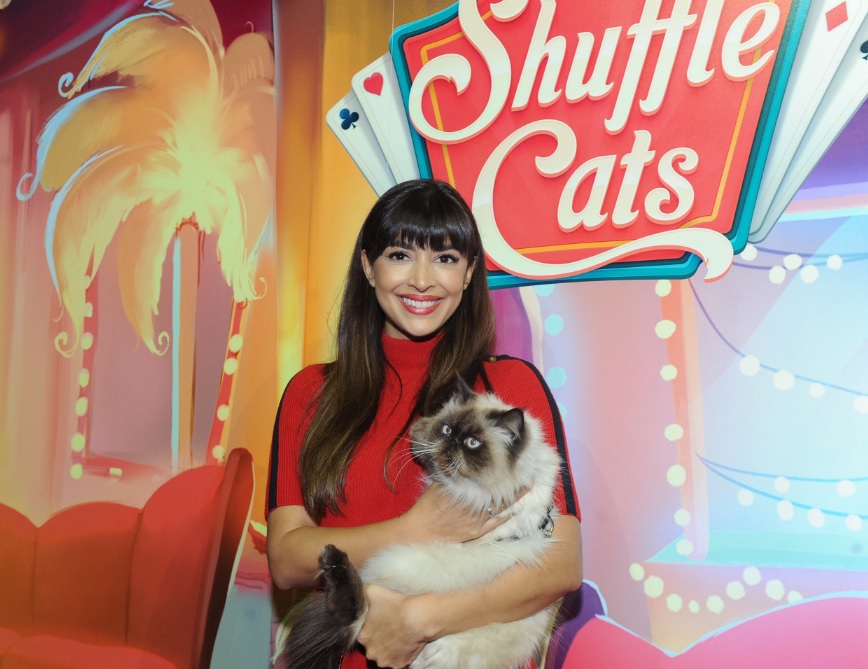 Wiley will be added into the game next year, so you might want to download it now, as to not miss this cutie's big debut.
But now that the contest is over, Simone can once again focus on New Girl. And of course, the one question we asked about the future of Cece Parekh (known best these days as Cece Schmidt) was one that she was pretty much expecting — now that she's married, settled, and episodes away from leaving loft-life for good, does she see a baby in her future?
"This question cracks me up. It's so great that the fans are so invested," she said with a laugh. "I don't know, because I have zero ability to make that happen, so I'm not sure if the writers are going to give us a baby. It makes me laugh so much. Uncle Nick and Uncle Winston? Can you imagine? And Jess, as an aunt to a baby? This baby would be raised by a band of clowns."
Speaking of the writers, Simone made sure to give them the props they deserve.
She credits the entire behind-the-scenes team for truly listening to the cast, and knowing their characters inside and out. Which is why, if she ever wanted to take a shot at directing, she'd feel comfortable doing so on the New Girl set. After all, co-stars Zooey Deschanel and Jake Johnson have already directed episodes — why not Hannah Simone?
"I think eventually I'd love to get into directing," Simone said, before a brief pause. "I don't know right now if that's what I want to do."
No matter what, having such a great relationship with them will always be a blessing for Simone.
"We have such a wonderfully supportive show," she mentioned. "They will support you and help you the entire way."
Regardless of where Cece and Schmidt go from here, we'll be watching. And, hey — when the show has a break, we can always occupy ourselves with a few rounds of Shuffle Cats.