Hannah Simone used to be mistaken for Kim Kardashian by the paparazzi, and we kinda see it
Sure, we'd all like to think we're being mistaken for movie stars and models as we bundle up in our fanciest and strut around SoHo, but let's face it, we're fooling nobody. That is, unless you're New Girl star Hannah Simone, who used to get mixed up with Kim Kardashian when she'd leave shops and restaurants in L.A.. Hannah, the dark haired beauty who plays Cece on New Girl, recalls being a newcomer to the acting scene in Los Angeles, eight or nine years ago. She wasn't on TV, she hadn't been in movies, but what she did do — was have the same fresh cut bangs as Kim K at the exact same time. Only in Hollywood could new bangs get you in so much trouble…
Even a few minutes in the life of a Kardashian is too much for some people (us, we mean us).
The 36-year-old looks back at the experience with a sort of endearing confusion. "I didn't know who Kim was," she tells The Wrap, after recalling a barrage of paparazzi screaming Kim's name while chasing after her.
"It [wasn't until] a friend of mine who was down the road was like — 'they think you're Kim Kardashian!'" that she got a grasp on what was going on.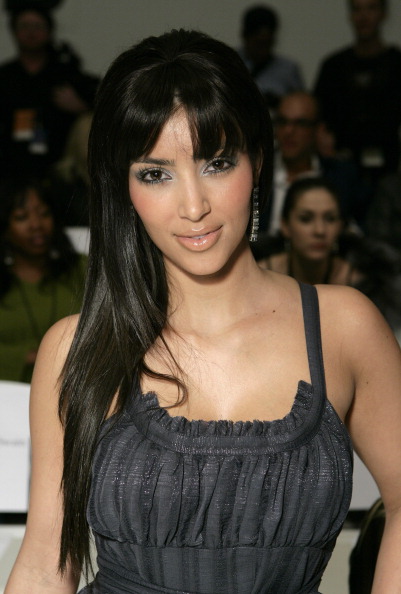 2007 Kim DID have Hannah's hair.
Simone, whose last few episodes of New Girl's sixth season air this month, is not interested in taking any time off from TV. Her new show, Kicking and Screaming, also on FOX, comes from the makers of Fear Factor and Wipeout, and features Simone as the host. Deadline explains, "the series drops unlikely pairs into a tropical jungle in Fiji, where they must overcome dangerous animals, raging rivers, hunger and extreme weather." The incentive? Money, of course! The show debuted this week and will mean frequent trips to Fiji for dear Hannah Simone. Poor thing!
On the heels of her feature Miss India America, in which Simone starred and executive produced, it seems it may be Kim Kardashian who gets mistaken for Hannah Simone sooner or later. You never know!