The luxe and low-end products an L.A.-based beauty writer swears by
Welcome to The Beauty Files, where HelloGiggles editors and contributors share what exactly they put on their faces, and why. We want to take you on this voyeuristic journey because we believe makeup means something different for every single person—applying makeup is a conscious, intimate decision we make almost every single day, and there's usually a method behind the madness. Join us every week as we spill the beans on beauty products, and feel free to submit your own Beauty Files. E-mail us at [email protected].
I'm an L.A.-based beauty writer who delights in sharing my favorite beauty products and practices with friends, family, or anyone who will lend an ear. My love of makeup and skin care goes back to my preteen days, when I'd beg my mom to take me to the newly opened Sephora or the Urban Decay counter in Nordstrom at Orange County's South Coast Plaza mall. There's something about swatching and smelling beauty products that has always been a thrilling experience to me.
These days I write from home, which means I'm either wearing gym clothes sans makeup (I try to work out every day) or I'm glammed up for a press event or other outing. Working in the beauty industry has introduced me to the best and the worst products out there, and it has also made me take care of my skin. But because I test so many products, my skin definitely rebels from time to time.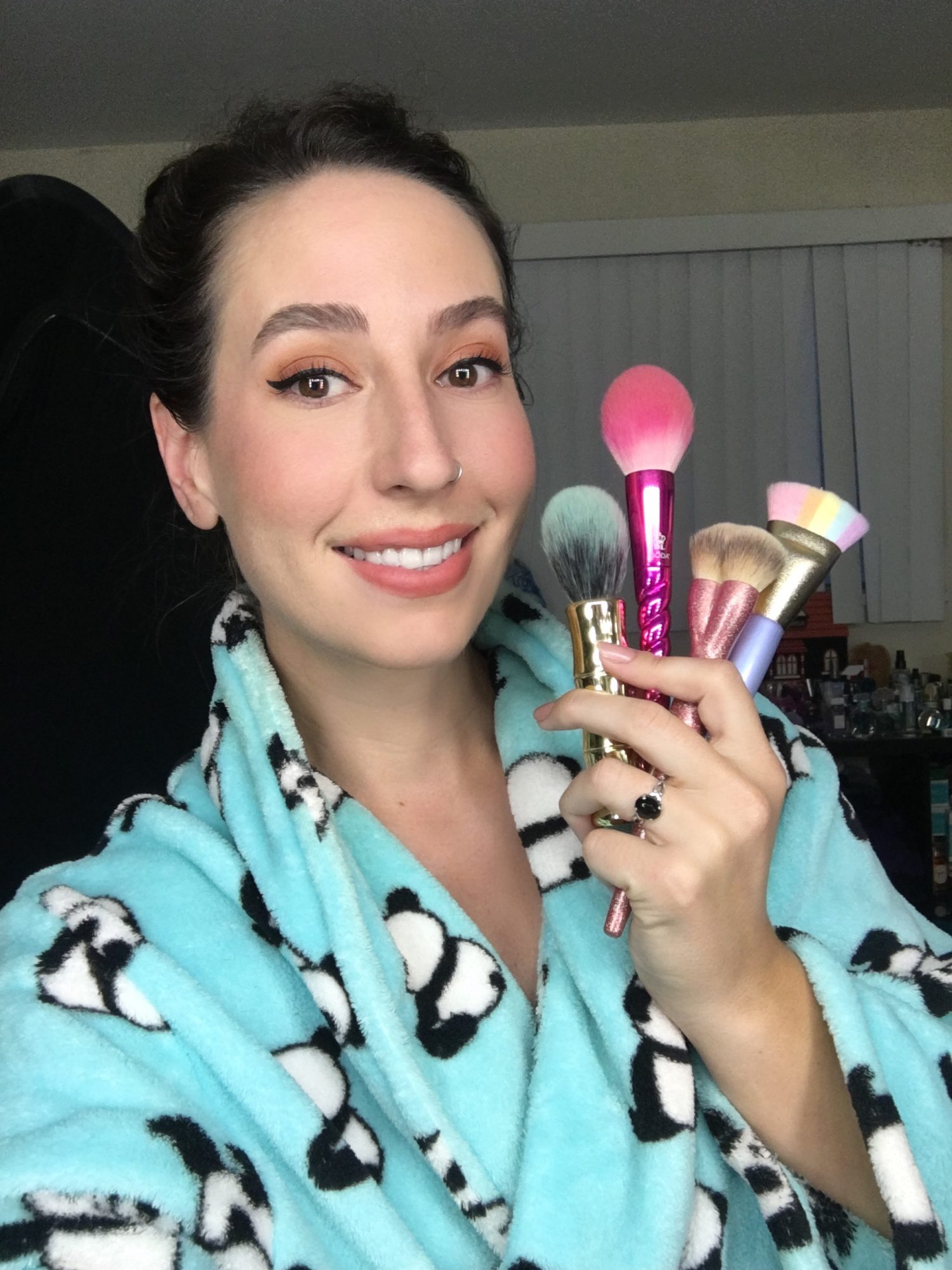 Follow me as I break down my routine and show you all of my go-tos and the products I keep returning to. I should note that I love pandas, ridiculously bright colors, anything coconut-scented, and Amy Winehouse.
6:00 a.m.—Wakey, wakey
My alarm goes off, and luckily, once I hear that dreaded sound, it's really tough for me to go back to sleep. I immediately think about all of the things I need to do today, starting with a workout. I love exercising in the morning, because it gives me the rest of the day to work. Plus, I only have to put makeup on once.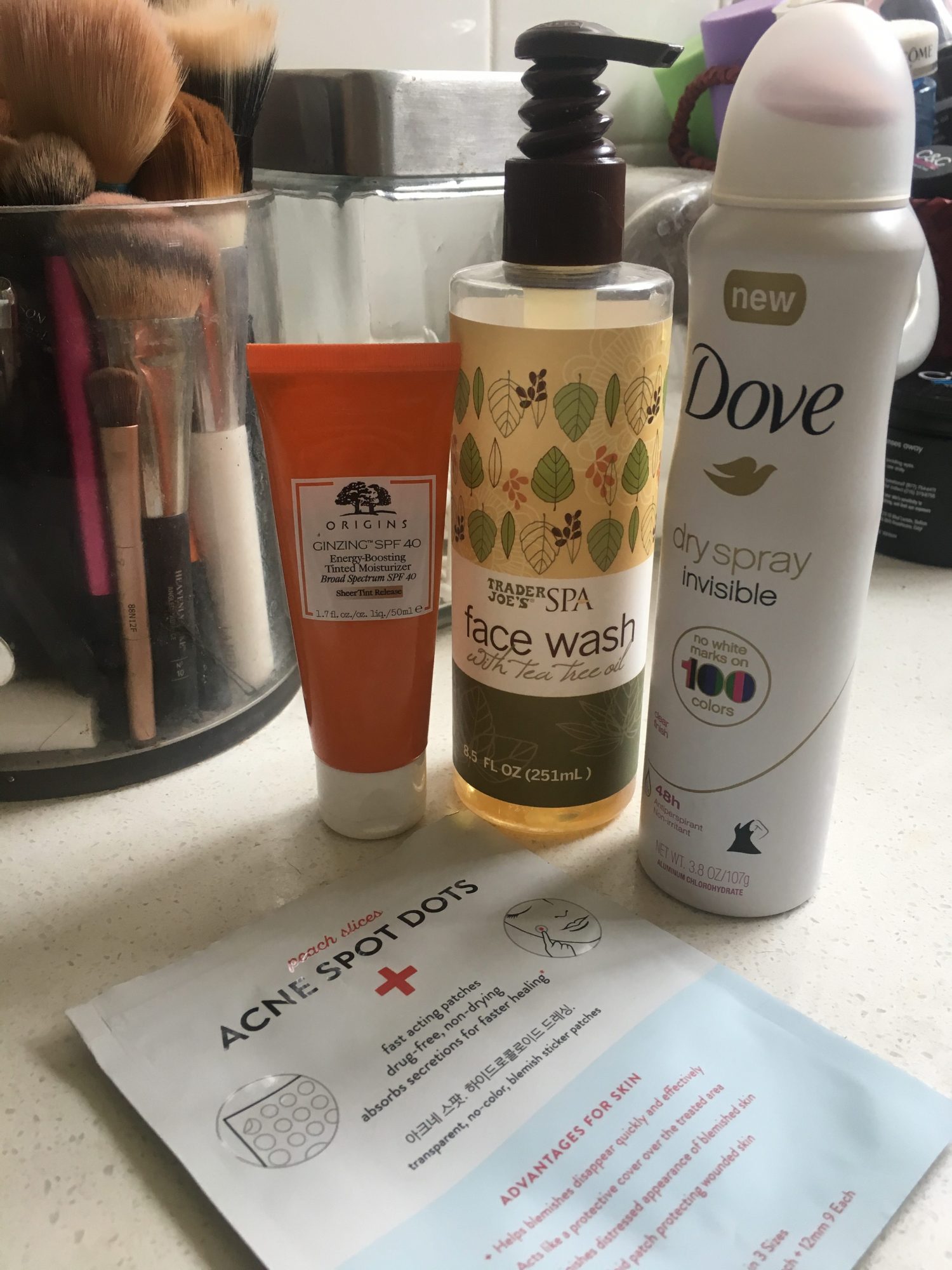 I lifted weights yesterday, so today I'm going to take a Flywheel class. I'm not a fan of doing cardio on my own, so 45 minutes of choreographed moves on a stationary bike and upbeat music makes this much more appealing. I hop out of bed and proceed to do some minimal skin prep. I pull off the Peach Slices Acne Spot Dots ($4.49), which work wonders at minimizing any unruly blemishes that showed up the night before. I have combination skin that tends to be more on the oily side, so I use Trader Joe's Spa Facewash ($5.99). It's gentle, it won't break me out, and I love the tingle (thanks to the tea tree oil), which instantly wakes me up.
I brush my teeth, spray on some Dove Refresh + Care Fresh Coconut Dry Shampoo ($4.89), and fix my hair into a somewhat presentable top knot. For my skin's sake, I prefer to not wear makeup when I work out, so I apply the Origins GinZing SPF 40 Energy-Boosting Tinted Moisturizer ($39), a cooling moisturizer that gives me sun protection and evens out my complexion (so it doesn't look as obvious that I just rolled out of bed). I spray on a little extra Dove Invisible Dry Spray Antiperspirant ($5.59), which keeps my underarms dry and smelling great throughout the workout. Next, I grab my thermos of coffee and hit the road.
8:00 a.m.–Shower time
After my exercise, I'm thoroughly drenched in sweat, but my body's full of endorphins so I'm feeling great. I eat a quick breakfast and hop into the shower. I wash my face with the Soap and Glory Face Soap & Clarity ($12)—another tingly, deep cleanser that gets down into my pores to remove the sweat and grime from the spin class. For several years, I've been obsessed with Aveeno's Daily Moisturizing Yogurt Body Wash ($6.99) and keep going back to it because it's super hydrating, doesn't break me out, and has a sweet (but not overpowering) vanilla scent.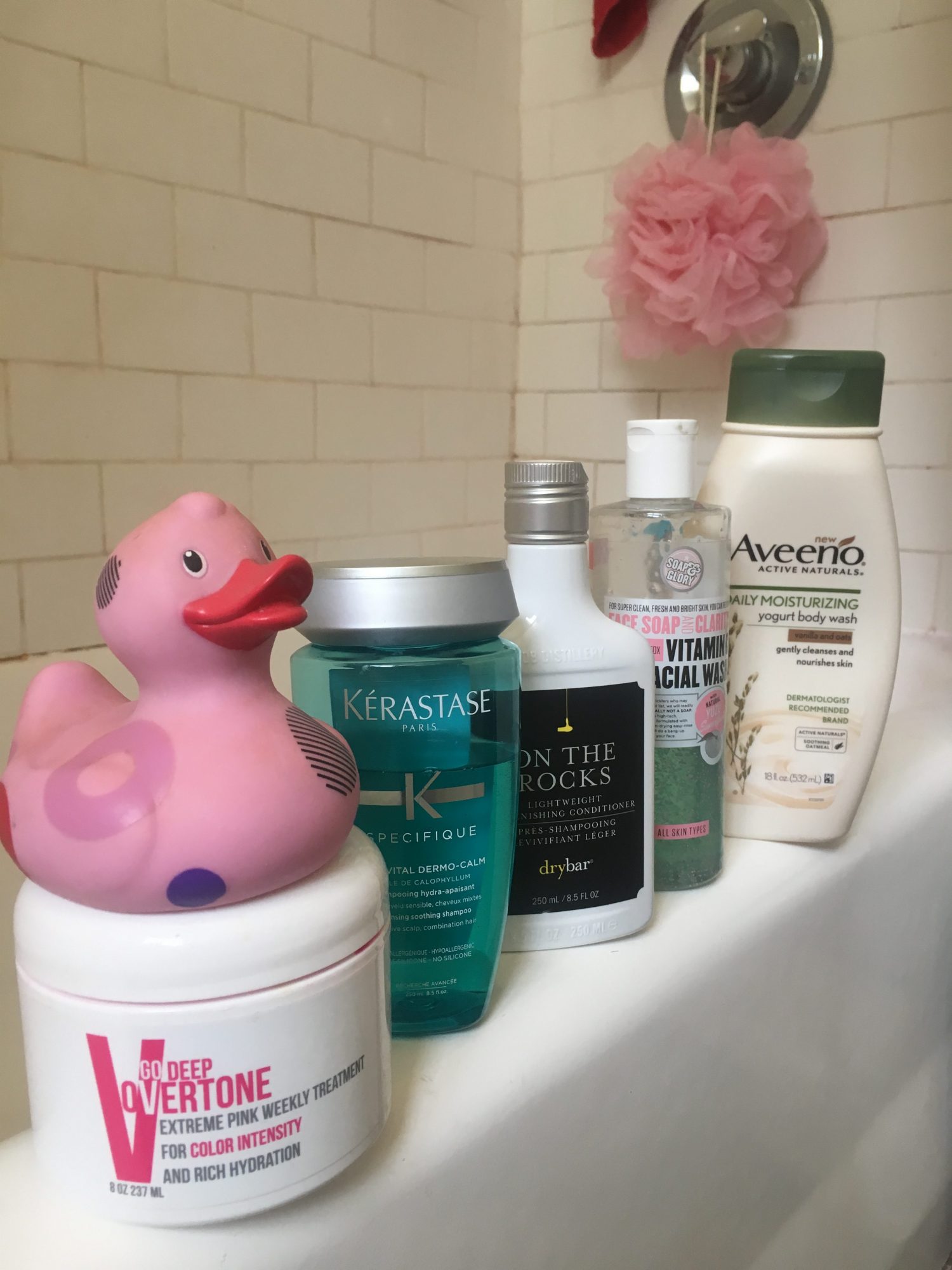 My face and body routine is pretty simple, but my hair is another story. It's super long, heavy (yet fine), and I dye the ends a vibrant magenta shade. Because of the color, I try to go a couple days between washing, so I frequently use dry shampoo. Lately, I've been using the Kerastase Specifique Shampoo For Sensitive Scalp ($33), because it washes away all of the product buildup at the scalp and it doesn't strip my color. For conditioner I use the Drybar On the Rocks Lightweight Replenishing Conditioner ($26). I'm obsessed with the smell and it doesn't weigh down my hair. I also use Overtone's Extreme Pink Deep Treatment Mask ($29), which deposits color into my ends and helps me go longer between touch-ups of my Lime Crime Unicorn Hair ($16) in Chocolate Cherry. After washing, I wrap my hair in an Aquis Lisse Luxe Hair Turban ($30). This significantly cuts down on dry time. I smooth on a little Sol de Janeiro Brazilian Bum Bum Cream ($45) because it makes my skin so soft and leaves behind a pretty, light-diffusing shimmer. Plus, it has a yummy fragrance.
8:30 a.m.—Taming the pouf
As I mentioned before, my hair takes work. I have textured, frizz-prone hair that hangs down to the middle of my back. When I wash it, I have two choices: French braid it or do an extensive combination of blow-drying and ironing it into smooth, loose waves. Because I have events to attend today, I'm going with the latter. I apply the Drybar 100 Proof Treatment Oil ($36) to my ends and blow dry my entire head with a BabylissPro Rapido Dryer ($189). It is the sports car of blow dryers because its motor was created by Ferrari. It weighs less than a pound and dries my whole head quickly. At this point, my hair will look like a poufy triangle, so I go over everything with Drybar's The Wrap Party Styling Wand ($165) to give myself some lived-in, beachy waves. I use a Cricket Friction-Free Mini Flat Iron (sold out) on my bangs because it's the perfect size for smoothing bangs without adding any ugly bends or creases. Then I flip my head over and generously spray the Oribe Dry Texturizing Spray ($46). I fluff it out to get the best volume, texture, and scent. I've been told many times how good my hair smells after using this product! Finally, I spray Tressemme's Beauty Full Volume Spray ($4.99) on a toothbrush, and apply it to the base of my bangs. One of my favorite stylists, Mark Townsend, taught me that trick—it will hold the bangs in place, while still allowing for natural movement.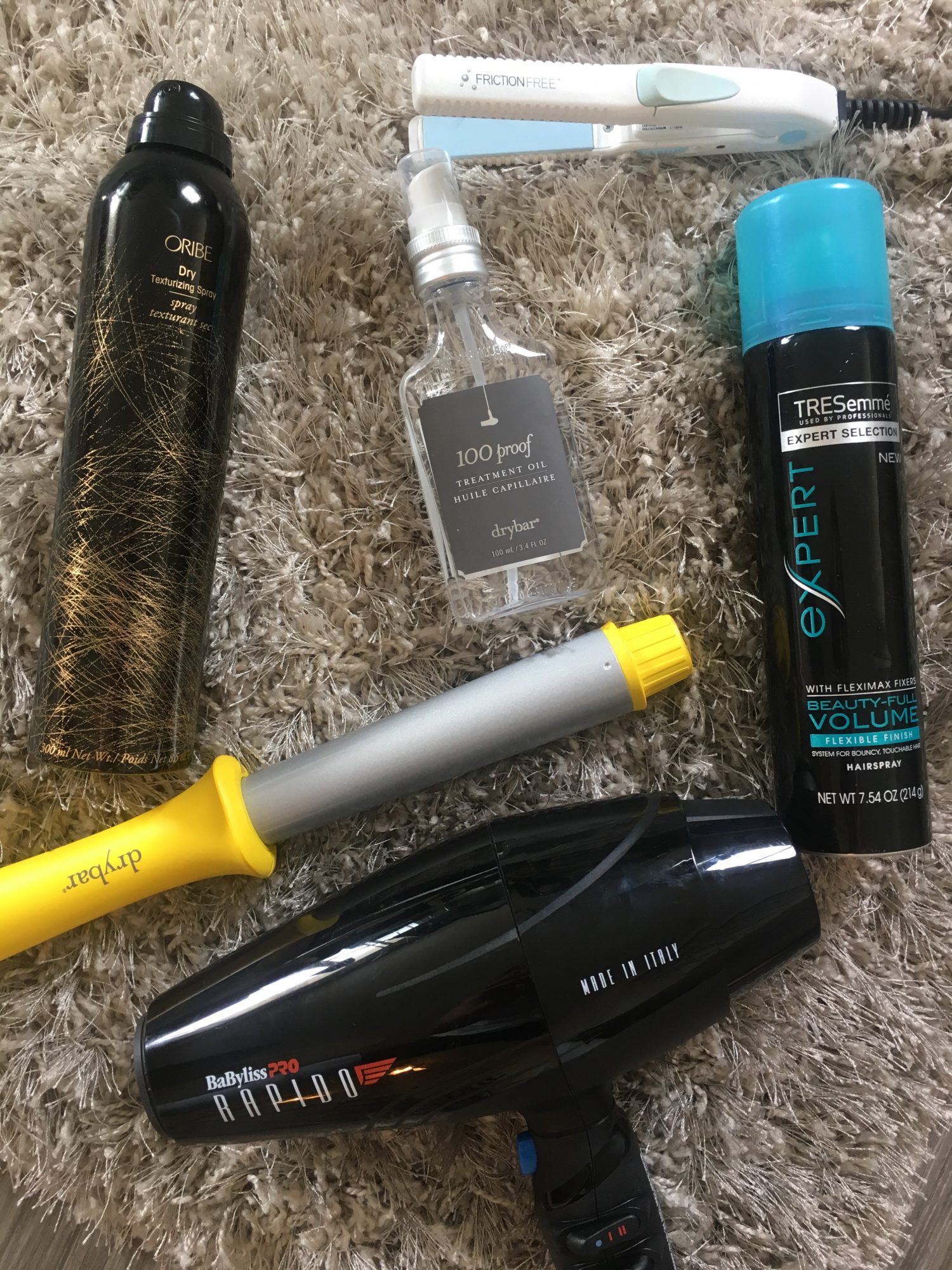 9:00 a.m.—Putting my best face forward
https://www.instagram.com/p/BYdw-JXHyT3
My vanity is my sanctuary—I created it about three years ago by repurposing an old desk and adding an Impressions Vanity Mirror ($479). Totally worth the investment, as it creates a colorful, creative space for me to enjoy putting on my makeup. For me, makeup is either full-face glam or a clean face with a bit of moisturizer. Since I'll be spending the day outside my apartment, I'll be going with the glam look. Because my skin is more on the oily side, I tend to use a moisturizing primer instead of a traditional moisturizer. I love the Too Faced Hangover Replenishing Face Primer ($34), because it's hydrating and smells like coconut. I also love Dr. Brandt's Pores No More Luminizer Primer ($38), which gives an ethereal glow, while also minimizing my pores. Next, I apply the IT Cosmetics Your Skin But Better CC Cream ($38) as my base. It covers everything and offers SPF 50 protection. For nighttime, I prefer to wear the Make Up For Ever Ultra HD Invisible Cover Foundation ($43). It's lightweight, buildable, and really gives you the perfect filter finish, especially if you are going to take lots of photos. To set my foundation, I use Urban Decay's All Nighter Waterproof Setting Powder ($34). It's like UD's iconic setting spray, but in powder form, which makes your makeup virtually sweat- and water-proof all day long.
Small (but necessary) details
Next, I sweep the Inika Baked Mineral Bronzer ($49) all over my face, neck, and décolletage. I apply the Sigma Blush Blush Cheek Palette ($39) in a custom blend of the shades to complement my outfit of the day. I spot conceal with Wander Beauty's Dualist Matte & Illuminating Concealer ($29). For my brows, I use the Benefit Gimme Brow + Volumizing Eyebrow Gel ($24). It adds natural-looking, voluminous fibers that coat my brows perfectly, and it even fills in my one tiny bald spot. Next, I line my upper waterline with the Proenza Schouler for Lancome Eye Kajal ($25) in black to really make my eyes stand out.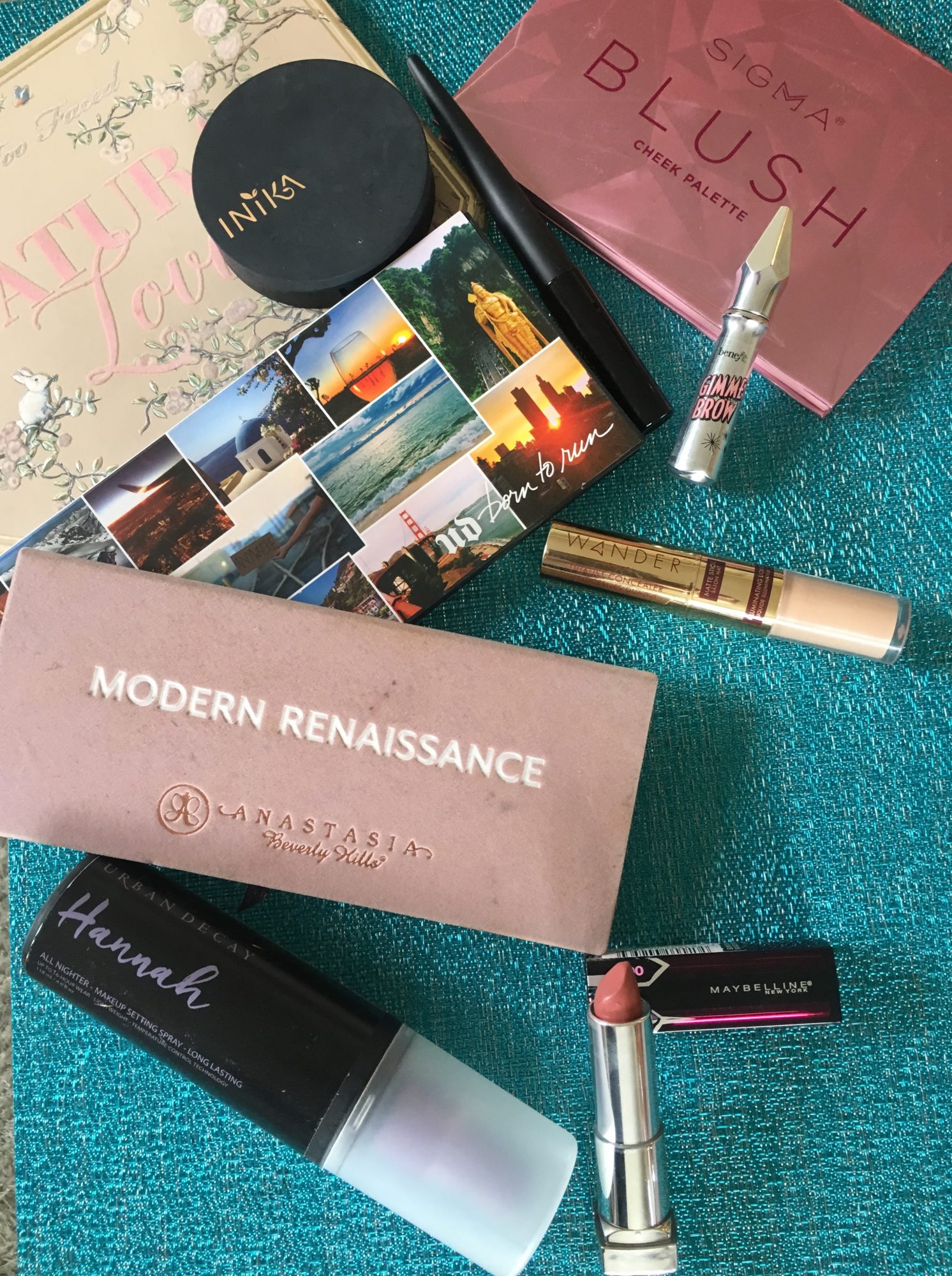 The eyes gotta have it
My favorite beauty look tends to be bold eyes with black winged liner and a neutral pout. Some of my favorite eyeshadow palettes include Anastasia Beverly Hills Modern Renaissance ($42), Urban Decay Born To Run Eyeshadow Palette ($49), and Too Faced Natural Love Ultimate Neutral Eyeshadow Palette (sold out). Today I'm using the Modern Renaissance Palette in shades Tempera (at the brow bone), Warm Taupe (on the lid), and Cypress Umber (to smoke out the corners). This creates the perfect nude, smokey eye.
Black liquid liner has been my thing since around age 13. One of my biggest beauty inspirations is Amy Winehouse (in the earlier years of her career.) I proceed to line my eyes with a big flick at the corners. My three favorite liners include Cle de Peau Beauty Intensifying Liquid Eyeliner ($55), Hourglass Voyeur Waterproof Liquid Liner ($34), and IT Cosmetics Superhero Liner ($24), which I'll be using today. The Superhero Liner has some of the most incredible staying power. Next, multiple coats of Too Faced's Better Than Sex Mascara ($24) gives me the volume and length of false lashes. Pro tip: the mascara gets even better as it ages. I start opening a new tube a couple weeks before I want to start using it as it thickens to the perfect consistency. I truly haven't found another formula that I love as much as this one.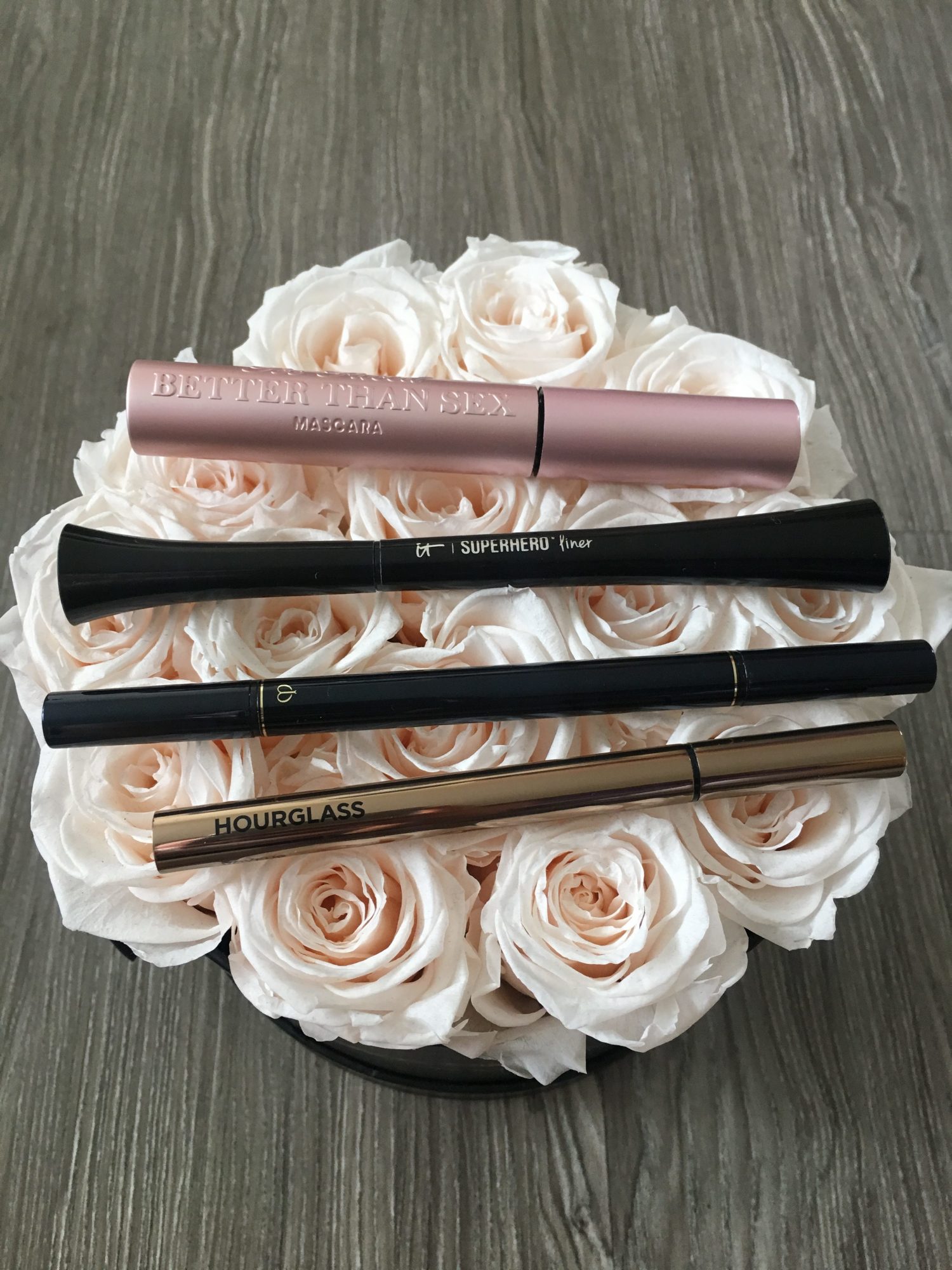 Seal the deal
For my lips, I tend to favor creamy or balmy formulas. I love Maybelline's Color Sensational Lipstick ($8.29), which comes in a variety of finishes and colors. Lastly, I apply a quick mist of Urban Decay's All Nighter Makeup Setting Spray ($32) to lock everything into place. I spritz the Atelier Cologne Clementine California ($75), which has a clean, sparkly citrus fragrance, grab my laptop, and I'm ready to go.
5:00 p.m.—A quick touch-up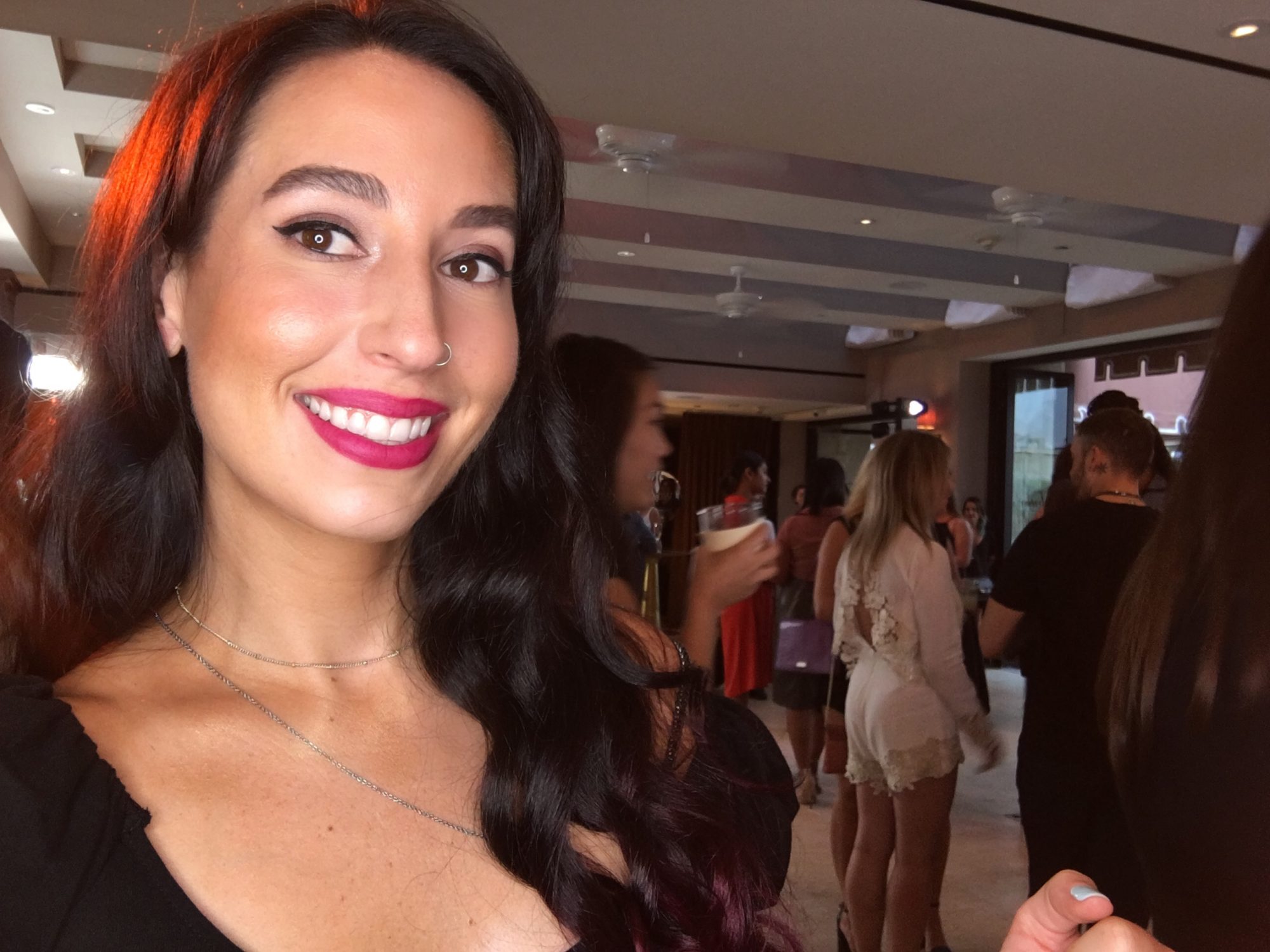 I've already attended a work lunch, done some writing at Starbucks, and dropped by a beauty event. I have one more event followed by dinner with some girlfriends tonight in Culver City. Since it's transitioning into nighttime, I'm going to add a bolder lip color, the Sisley Le Phyto Rouge ($57). It comes in a variety of gorgeous shades that are super creamy and buildable. I also keep Urban Decay's De-Slick Mattifying Powder ($34) in my purse to sop up any oil or shine at my t-zone. Lastly, I add a little Physicians Formula Butter Highlighter ($10.99) to my cheekbones and cupid's bow for extra sparkle.
9:30 p.m.—Deconstructing is hard work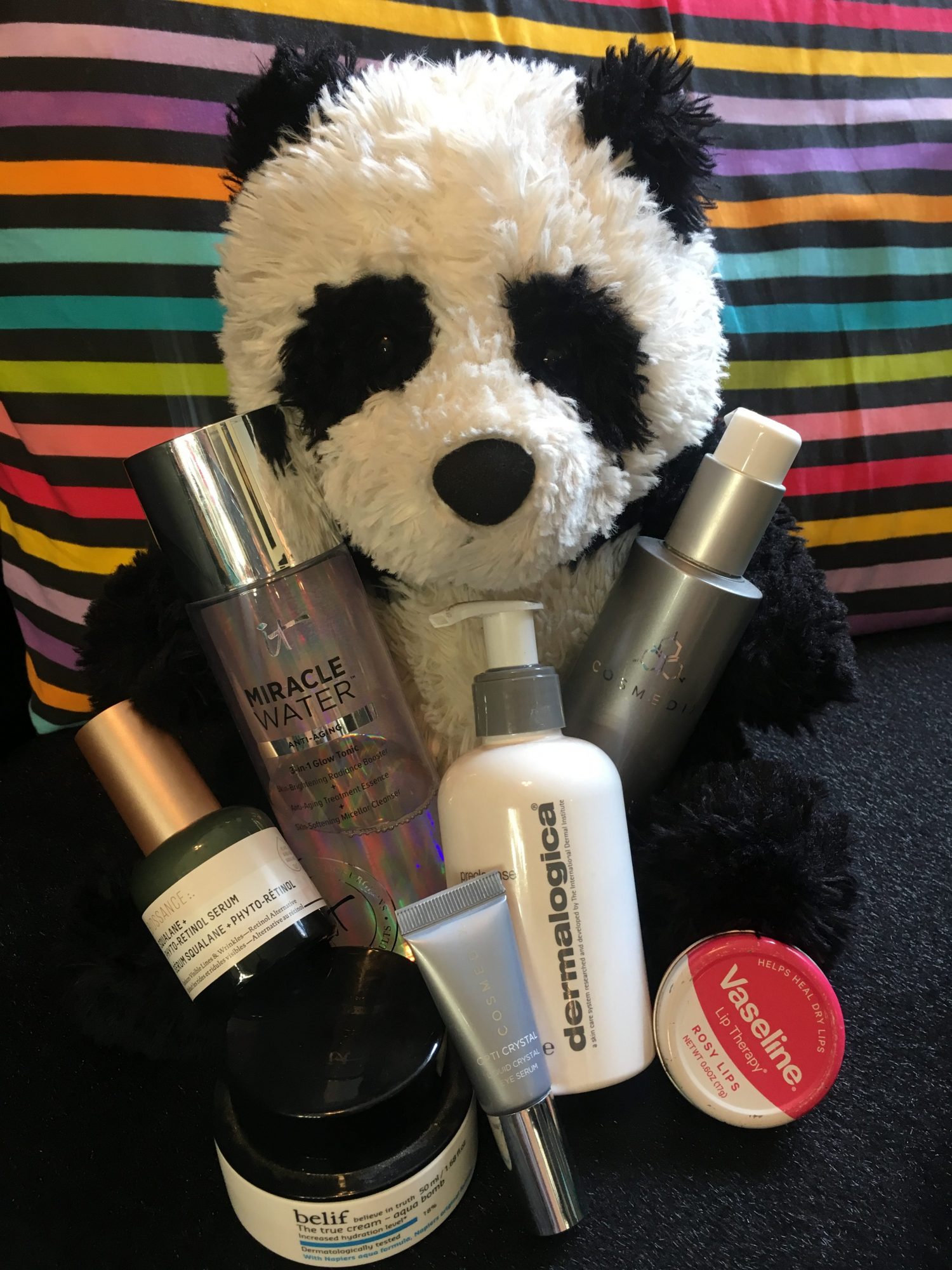 Finally home after a long day (with a full tummy) and I just want to watch The Office on Netflix and fall asleep. I've made it my mission to thoroughly wash off my makeup every night before bed. I start with Dermalogica PreCleanse ($45) to melt away my dramatic eye makeup. I follow that with the Cosmedix Purity Clean ($39), which is an exfoliating cleanser that deep cleans and removes all of the pore-clogging makeup and oil. Next, I use the IT Cosmetics Miracle Water $38) on a cotton pad to further cleanse and tone my skin, followed by Biossance's Squalane + Phyto-Retinol Serum ($78) and Belif's The True Cream Aqua Bomb ($38). I love this combo for its lightweight hydration and skin-smoothing properties. I finish by dabbing the Cosmedix Opti-Crystal ($95) under my eyes and my fave lip balm of all time, the Vaseline Rosy Lips ($4.29).
With my face properly situated for sleep, I'm ready to hop into bed and watch a little TV. After another (fingers crossed) eight hours of beauty sleep, I'll be ready to do it all over again tomorrow.
Indulge in beauty-themed voyeurism by reading all of our past Beauty Files, here.