Miley Cyrus's "Hannah Montana" character almost had a *slightly* different name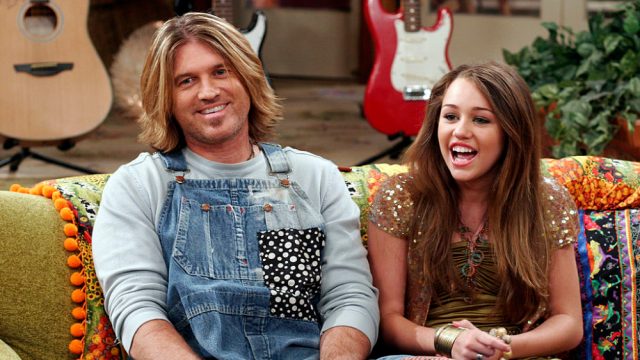 Listen up, Disney Channel devotees. We just found out that Hannah Montana (Miley Cyrus), aka everyone's favorite teen-queen singing sensation, pretty much had ANOTHER secret identity — and this one is super unexpected.
In an interview with People, Billy Ray Cyrus revealed that Miley Stewart (the girl behind the pop star) was actually supposed to be named Kylie.
Whaaaaaat?!
Basically, Cyrus's Hannah Montana character was written as Kylie in the pilot, but her dad couldn't quite nail down the name.
"Hannah Montana was originally written about Kylie, and...up until the day we started filming the pilot, it was still Kylie," Cyrus explained. "But I kept saying 'Miley,' and by the third time into it somebody stopped and said 'Wait a minute, everybody, script change...Kylie is now Miley.'"
It was as simple as that! And we are SO glad they made that change because we just can't wrap our heads around Miley as Kylie — and neither could Billy Ray Cyrus.
"I think looking back at it, that was quintessential to who Hannah Montana was because what it did was open up a door to the real [Miley]," he said.
Cyrus went on to express pure, dad pride about his daughter, and it makes us want to jump back to Seaview all over again.
"She's such an open book. There's really not a lot of misconception in some ways because she's been very open," he said. "She's so real. If she's doing a scene on Saturday Night Live or being Miley in the kitchen or at her house or Carpool Karaoke, she's just so undeniably Miley — there's only one Miley."
Soooo, basically she's the best of ALL worlds (…nailed it).