The internet is (reasonably) mad at this couple's Handmaid's Tale-themed wedding photos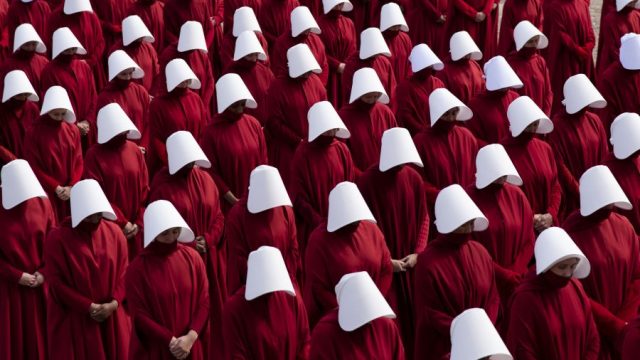 Ah, weddings—a time to celebrate two people choosing to commit themselves to a life together built on love, trust, and a dystopian society that enslaves women and murders anyone who speaks out against it. That's what the institution of marriage is all about, right? Right? A pair of newlyweds took a photo of themselves kissing surrounded by a wedding party dressed like the iconic red-cloaked women from The Handmaid's Tale, and the internet is rightfully pissed off.
If you're unfamiliar with the premise of the famous Margaret Atwood novel and the eponymous award-winning Hulu show, The Handmaid's Tale takes place in a futuristic America where, due to declining fertility rates (and, you know, the patriarchy), a radical religious group orchestrates a devastating coup against the U.S. government.
The aftermath of the coup results in fertile women being forced into homes where they serve as "handmaids" and are majorly oppressed, forced to wear the handmaid's uniform and birth children for their captors. Anyone who is caught scheming against the new world order is killed and strung up on a wall very much like the one in the wedding photo in question.
That all sounds like a wholesome, beautiful foundation for newlyweds Kendra and Torsten to build a marriage on, no?
https://twitter.com/udfredirect/status/1179754637961895936
The wedding photo, posted on Twitter on October 3rd, quickly went viral. Needless to say, people were shocked and concerned that the couple would want that kind of negative imagery anywhere near their wedding.
false
Some did try to find the (disturbing) humor in the situation.
https://twitter.com/udfredirect/status/1179813606956965888
The photographer, Van Daele & Russel, who originally posted the photo to Facebook, wrote in the caption, "Most of [The Handmaid's Tale] is filmed in Cambridge…it only seemed fitting for there to be some handmaids…along the 'hanging wall' in Race Mill Park."
Later, after the "WTF" comments started pouring in, the photographer responded to commenters stating that this had been the intent all along—to outrage people and get the conversation started.
"Mission: accomplished!" Van Daele & Russel responded to one concerned commenter. "WHY exactly are you offended? Have you asked yourself? And what are you actively doing about it IN THE REAL WORLD?" false
Um, interesting.
And FYI: The photo has since been removed from the photographer's Facebook page. So, feel free to draw your own conclusions about the photoshoot and corresponding response.
https://twitter.com/udfredirect/status/1179846011822325760
No word from the bride or groom about their rationale for the controversial choice. But hey, if they want to take a book or two on their honeymoon, we recommend The Testaments, the sequel to the Handmaid's Tale that just dropped a few weeks ago.