Here's what we can expect from Handmaid's Tale Season 3 — for starters, more of the resistance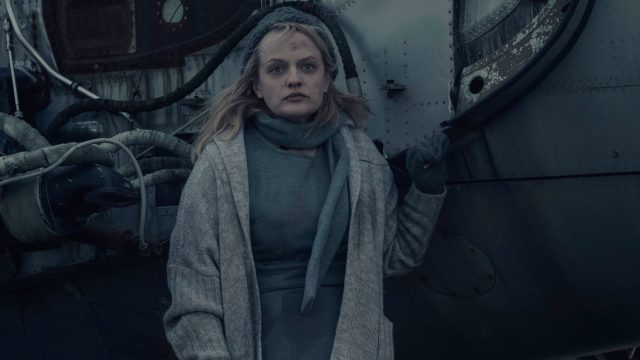 Generally speaking, Season 2 of The Handmaid's Tale was downright bleak and at times difficult to stomach. Considering the first season adapted Margaret Atwood's dystopian tale in its entirety, going into Season 2, fans could only hope that things would improve for Offred, aka June (Elisabeth Moss) and her fellow handmaids.
However, all hopes were quickly dashed as Season 2 made it very clear that things were going to get a lot worse before Gilead finally crumbles. Throughout the second season, viewers saw June recaptured and sent back to the Waterfords to have her baby, Nick (Max Minghella) was forced to marry a teen bride — who had a tragic end herself — and Emily (Alexis Bledel) briefly spent time in the radiation-filled wasteland known as the Colonies. It was…a lot.
The season finale, however, signaled that hope may finally be on the horizon…and according to executive producer Warren Littlefield, it is.
In the season finale, Emily's odd new commander helped her flee Gilead with June and Nick's newborn daughter. June, meanwhile, decided at the last second to stay in Gilead in search for her other daughter, Hannah, who she briefly reunited with earlier in the season. While things are still pretty bleak in Gilead, it appears the fight is (finally) imminent. In a new interview with The Hollywood Reporter, Littlefield teased a more resistance-heavy third season.
"I think we'll get to go to another place for year three, which is the resistance, the fight,"he said. "June has had to battle for survival, and I think it leaves us in a place where she's able to look beyond herself, beyond the battle for her unborn child in year two, and for Hannah. It feels like it takes us to a bigger place."
Littlefield added, "I think it is about the fight, and I think that [fight] takes many, many forms, as does citizenship and the privilege of citizenship. I think we're thematically very much on track. And I think the journey has been earned, and I think we're ready to hit the next dimension — and that's one where I think there's a sense of June as a warrior and rising." 
Considering how beat down June and the other handmaids have been over the last two seasons, it would be incredibly refreshing to see them rise up and take a stand without being immediately crushed by the patriarchal Gilead. Considering Canada severed diplomatic ties with Gilead in Season 2, it would be so nice to see the Canadian government back the Mayday movement and prepare for all-out war.
Season 3 of The Handmaid's Tale will likely air sometime in 2019 on Hulu.