Offred is quite literally like "eff everything" in the new teaser for "Handmaid's Tale" Season 2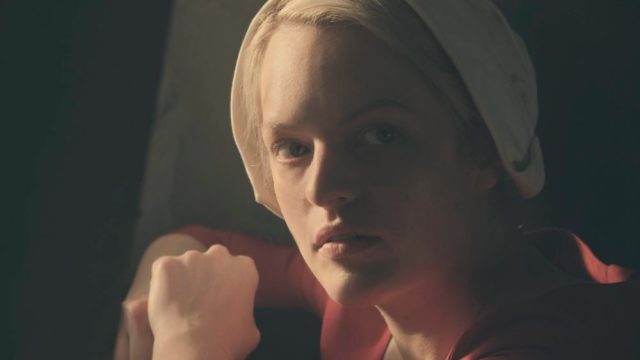 Just in time for International Women's Day, Hulu released an ominous new teaser for Season 2 of The Handmaid's Tale and Offred is ready to burn the patriarchy — and Gilead — to the ground.
When the series returns with its second season, it's heading into entirely new territory, surpassing the events depicted in Margaret Atwood's famous novel of the same name. While the Handmaid's Tale teaser trailer is devoid of any major plot details, it gives us brief glimpses of our favorite — and least favorite — characters, including the Waterfords continuing their reign of terror, Janine (Madeline Brewer) working in The Colonies, and Aunt Lydia (Ann Dowd) stoically looking on, as always.
Meanwhile, the Handmaid's Tale teaser gives us a first look at the return of Emily, whose fate was unknown at the end of the season — although Alexis Bledel's promotion to series regular assured fans we hadn't seen the last of the former handmaid/resistance fighter. We also get a glimpse at a newly escaped Moira (Samira Wiley), who reunited with Offred's husband Luke (O. T. Fagbenle) at the end of Season 1.
"Wear the red dress. Wear the wings. Shut your mouth," Offred (Elisabeth Moss) eerily recites throughout the montage. "Be a good girl. Roll over and spread your legs. Yes, Ma'am. May the lord open. Seriously? What the actual f—"
https://www.youtube.com/watch?v=Sg_Gmb0ntfw?feature=oembed
While Season 2 of the Emmy and Golden Globe-winning Hulu series is being largely kept under wraps, one of the major plots will follow Offred's advancing pregnancy as she attempts to flee Gilead for good. The series is also set to explore places outside Gilead, such as The Colonies, the wasteland where convicts are sent to work, as well as Canada, where Moira and Luke have sought refuge. Meanwhile the resistance movement is looming and if the photos released to Entertainment Weekly are any indication, not everyone is going to survive The Handmaid's Tale Season 2.
Season 2 will also see Cherry Jones, Clea DuVall, and Marisa Tomei join the cast in guest roles. The Handmaid's Tale returns on April 25th.