This handmade skirt helps me find the joy in imperfection
Hey you, reader. We started a column called Hey, Where'd You Get That, because the staff and contributor network of HelloGiggles has an eclectic style — no human dresses the same, or frequents the same stores. And rather than get hung up on labels and brands and trends, we want to talk about the way clothes make us FEEL. There is so much emotion tied to the way we dress, and we want to share that intimate style narrative with you. Wanna submit your #OOTD story? E-mail us at [email protected]!
When I'm at my most anxious, I don't remember what it means to "be myself." I try to imagine this self, maybe a small but glowing kernel overshadowed by my totally baseless sense of impending doom. This might sound silly, but when I wear this outfit — crop top, handmade skirt, and ankle-strap heels that actually fit my wide feet — I can see myself a little more clearly.
Clothes can be so intertwined with identity, and I struggled to make sense of both for a long time. Growing up, I was always the new kid, and a shy one, too. When I met adults, they'd often say things like, "You must be really good at adjusting and making new friends." My family moved seven times before I finished high school, staying in four of those places for two years or less. If anything, the more we moved, the worse I became at adjusting, each time resisting more, taking longer to lay deeper roots.
Once I finally acclimated to a new place, I'd have to do it all over again.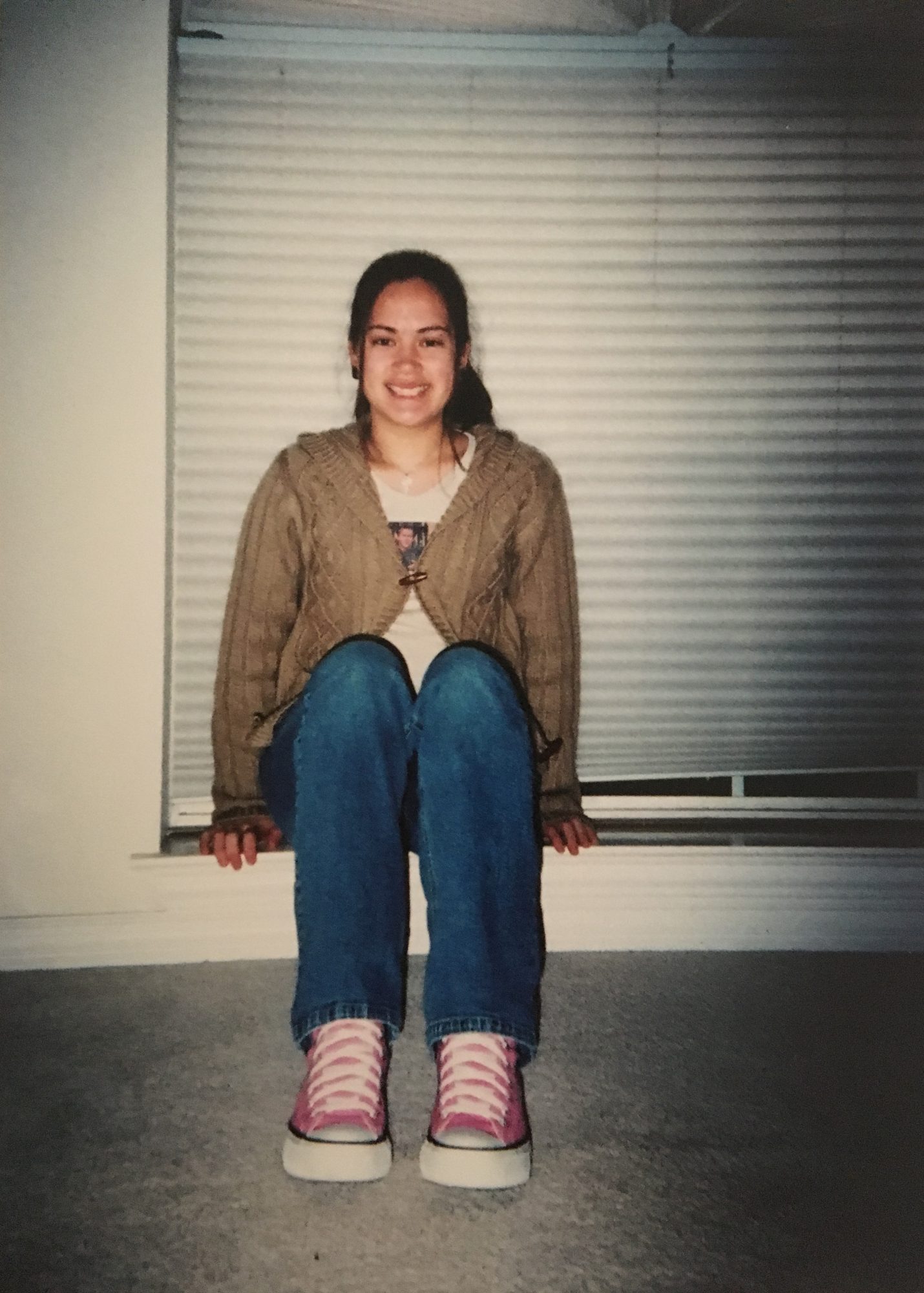 Each year, going to the mall with my mom for back-to-school shopping felt like an exercise in futile optimism: Maybe this time I'd use our limited budget on the right things, and when I put them on and went to school, I'd feel comfortable in my skin. I'd seen She's All That and The Princess Diaries, and confidence often seemed just an outfit away.
"Don't you want to wait and see what the other kids are wearing?" my mom would ask, but I never wanted to wait. When I started classes and inevitably felt awkward, it was easy to blame too-loose jeans or a too-pink sweater. At the same time, I felt a stubborn resistance to assimilate, a loyalty to a place I'd only lived in for a short time that already I was forgetting. When I moved from the Seattle suburbs to Texas the summer I turned 12, I taped postcards of Seattle along the tops of my walls (where they kept my Freddie Prinze Jr. posters company) and ironed a photo of the Space Needle onto a T-shirt, my middle school way of making myself different on purpose, rather than by default.
In Texas, I learned to wear Doc Martens sandals, decorate T-shirts with puffy paint for spirit days, and use a denim jacket or sports bra to stabilize my mum, the giant combination of artificial flower, ribbon, and hot glue our dates were supposed to give us on homecoming day.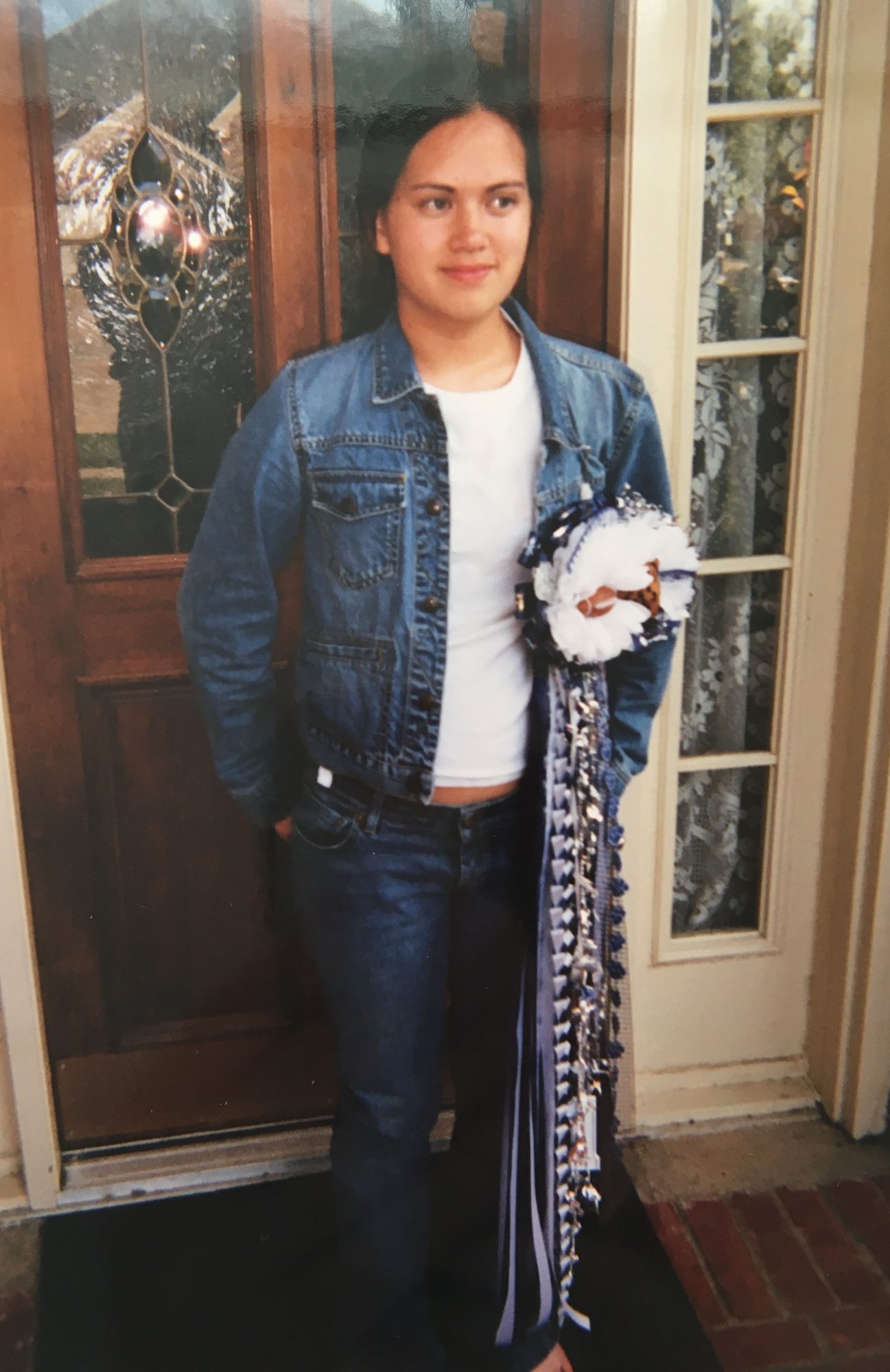 Four years later, my family moved to Southern California, where, after one lonely year, I found a close group of friends and an unofficial policy of wearing only things that would let me plop down onto the sand on a moment's notice. We felt sorry for the girl who wouldn't wade into the water because she thought the salt might ruin her jeans. With our little spending money, we'd walk to the small local mall and I'd buy random things from the sale racks, mostly tank tops I couldn't figure out how to pair with any bra and skirts that clashed with everything.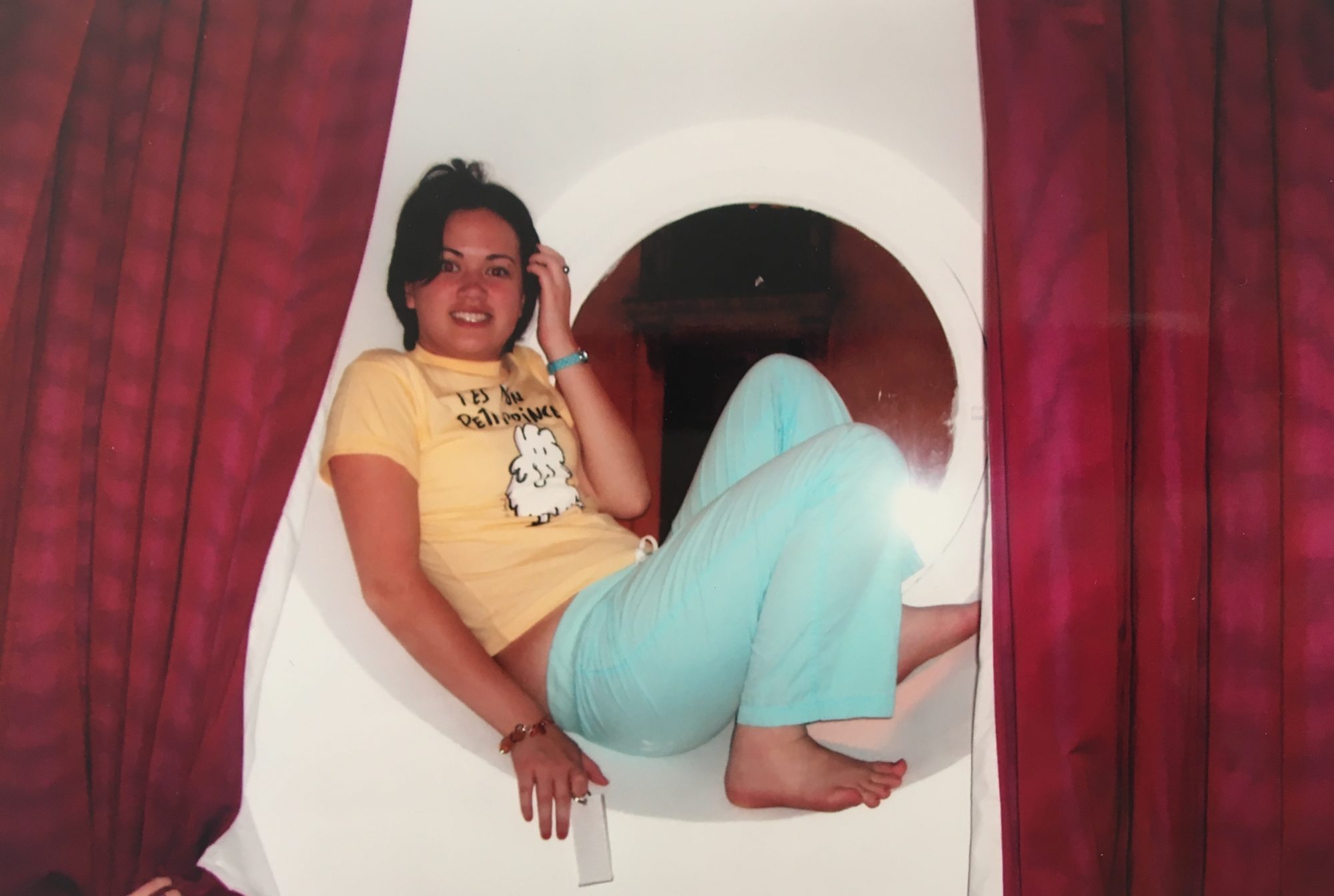 Through college, shopping still felt like a resource management game I couldn't master, and as much as I liked clothes and makeup, I felt self-conscious about it, like I might out myself — to all the serious academics, fleece-wearing outdoorsy people, and wealthy New Englanders in their pearls and duck boots — as frivolous.
Under this anxiety was always the bigger question of how to be good enough.
Just like moving many times throughout childhood, being mixed-race (half Japanese and half white) often elicits a reaction of, "You must be able to fit in anywhere." This racial chameleon fantasy has never felt true for me either. Wherever I go, I feel a little lacking — too white, too different, too awkward to manage code-switching in a way that feels both fluent and honest.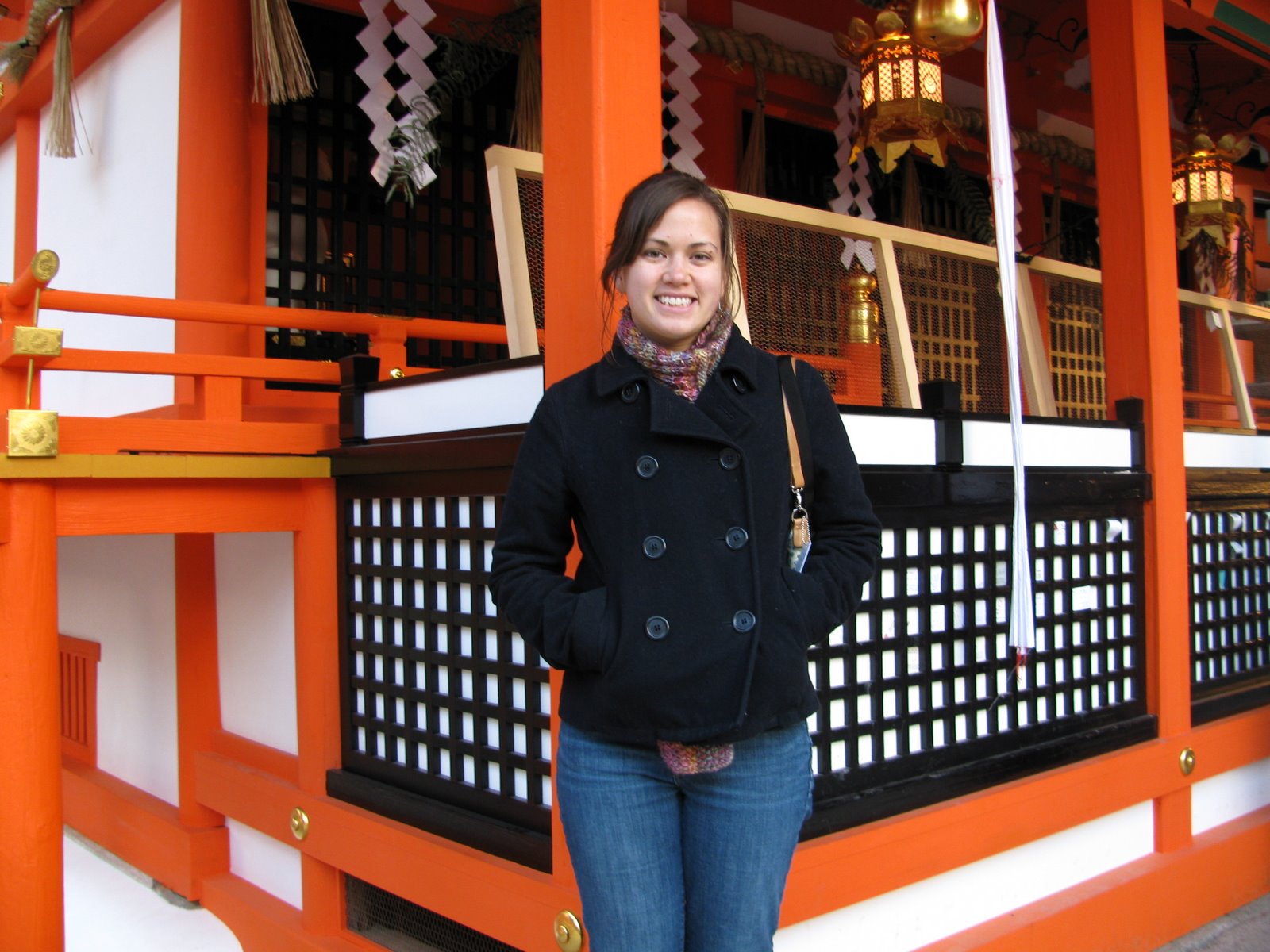 In the years after college, I worked a series of jobs in which I felt like the interloper in a more stable world. In all of them, I struggled to strike the right balance — invested enough to be helpful and friendly, independent enough to keep my voice and long-term goals alive. Often I came home, ambition drained, with enough mental energy only for Netflix and internet rabbit holes. That's how I found style blogs.
My favorites bloggers, like What Would A Nerd Wear and "E" from Academichic, documented their daily outfits, built with basic clothes from stores like Target and Old Navy. Soon, I started experimenting: I belted a lot of cardigans, flirted with chunky statement necklaces, tried (but never finished) capsule wardrobe challenges, and for a while (inspired by one blogger who admitted to a serious shopping addiction) used a Google spreadsheet to track all the clothes I bought, wore, and wanted. When anxious, I'd go to the mall alone, try on a bunch of clothes, and buy the ones I liked without much thought about how I'd wear them or whether they were a good use of money for a person with looming student loan debt. A new Madewell dress seemed to hold all this possibility for a new version of myself, more capable, confident, and free.
Meanwhile, I'd started sewing and getting more into knitting, which my mom taught me as a kid but I'd only ever used to make scarves. My first attempts were pretty crude: a boxy dress made out of stiff quilting cotton, a skirt with a poorly inserted zipper that stuck out, upturned, like a duck tail. But as I got a little better, I found that the glow of promise lasted longer with handmade clothes: Because I put all the effort in, chose the fabric, took the measurements, I was more willing to forgive — and even love — imperfection. The process of making, so much more absorbing and time-consuming than buying, slowed my racing thoughts, and eventually it slowed my hunger for newness, too.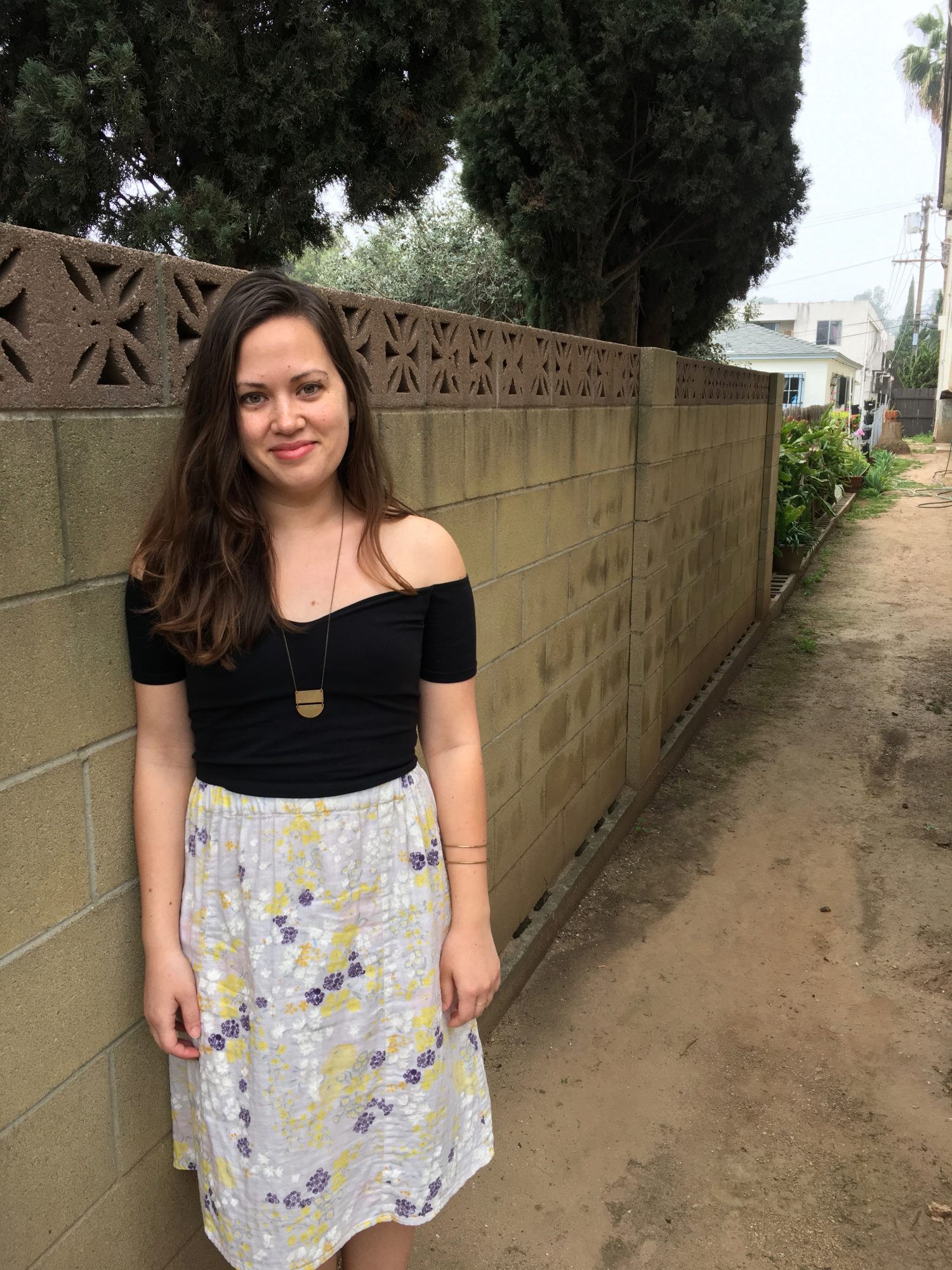 Ironically, this skirt is one of the simplest things I've made (it's really just the rescued bottom of a failed dress, with an elastic waistband sewn in), but the floral print (made by Nani Iro, my favorite Japanese fabric company), the length, and the shape make me feel pretty and carefree. The top, which I didn't make, is the antithesis of the shapeless sweatshirt dress I wear on sad winter days. It hides nothing, including the fabric of my favorite skirts. These shoes, because I have my mom's wide feet (which she sometimes looks at and says, "I'm sorry"), are the first I've ever owned that I love both looking at and wearing. I found them on a solo day trip during a momentous summer, between my first college reunion and my first major story as a freelance writer. Somehow their many colors go with everything I own. The necklace and cuff don't have much of a story, except that I love them enough to wear them over and over without restlessness or apology.
I've worn this exact outfit more times than I can count, and I have similar variations I like almost as much. After years of chasing transformation, I've finally found something that makes me feel like me. Still, it took me a year to start writing this column, because I kept holding out for a more perfect outfit (maybe one with more impressive handmade pieces), or a more perfect version of my body. But I'm tired of waiting for perfection, when joy has been with me all along.
You can find my handmade clothes on Instagram @miagabb.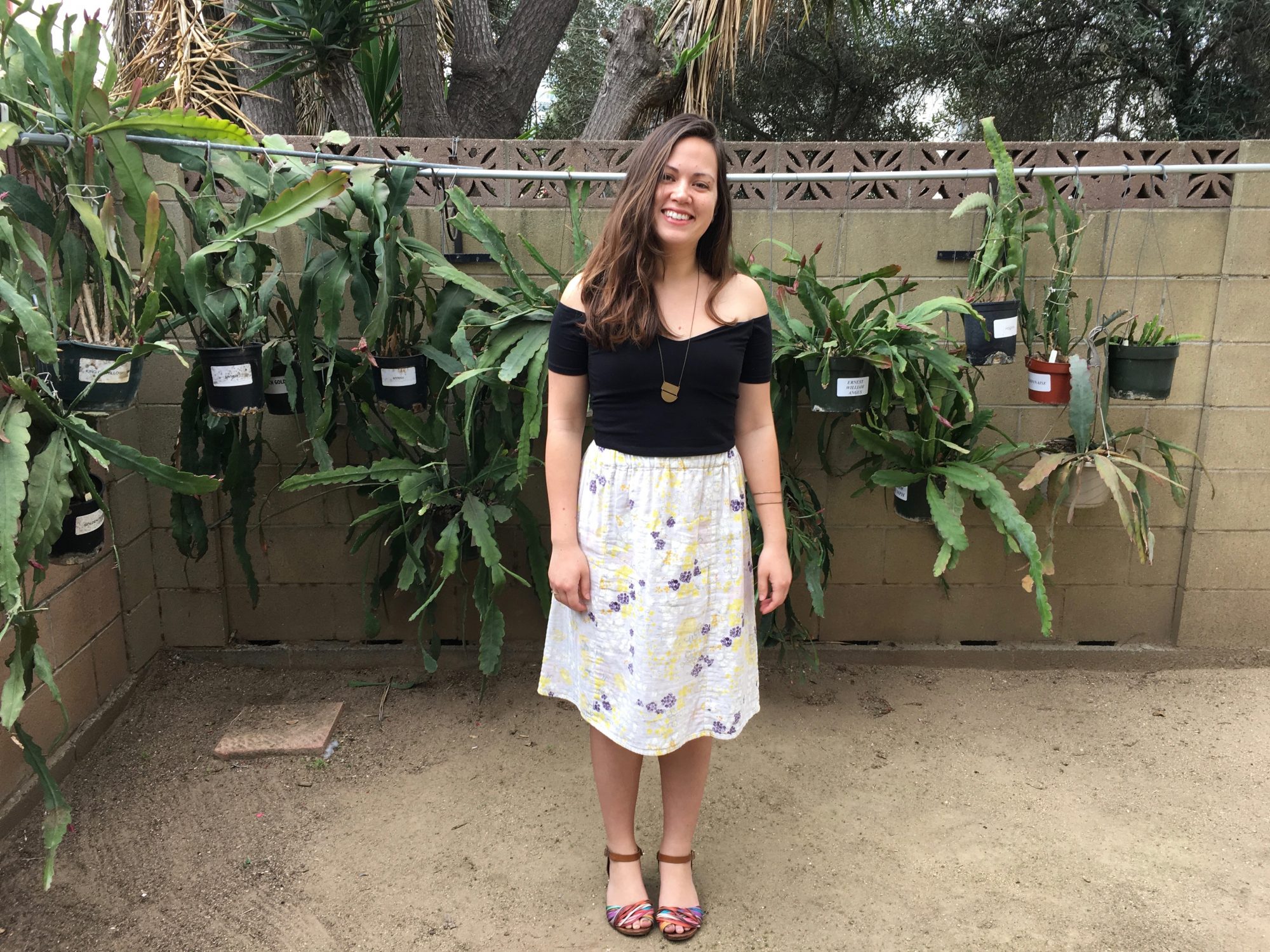 Buy a variation of the look here:
ASOS Off Shoulder Crop Top, $13
Modcloth Ikebana for All A-Line Midi Skirt, $65 (or if you want to sew your own Nani Iro skirt, you can find their fabric at Miss Matatabi)
Franco Sarto Deirdra Sandals, $89 (available in wide, in case you have feet like mine)
Rare Bird Hammered Half Moon Rainbow Necklace, $38+