People are handing out pizza to voters in long poll lines, not all heroes wear capes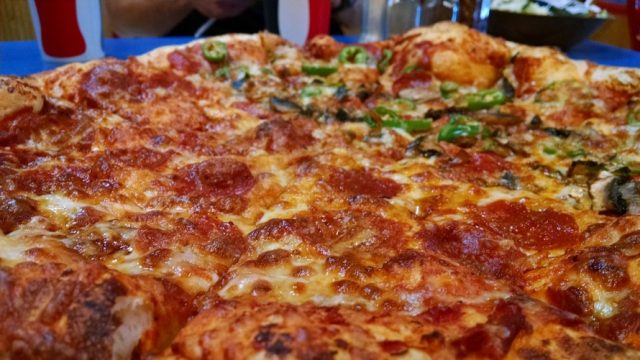 Long lines at the polls are an amazing indication that more people than ever are exercising their right to vote on November 8th. In an effort to make sure voters don't go hungry while they wait to to perform their civic duty, people are handing out pizza to voters in long poll lines.
The grassroots effort, called Pizza to the Polls, allows citizens to connect with hungry voters as they wait in line to vote in this historic election. You can easily donate to Pizza to the Polls online, and the team will do the rest of the work by delivering food to polling stations where people are experiencing long wait times.
"Send us reports of long lines and we'll send in the delicious reinforcements," the website states. Voters in long lines can alert Pizza to the Polls by submitting information on the site itself, or by tweeting at the @Pizzatothepolls Twitter account.
After the initiative's launch on Sunday, nearly $18,000 has been raised and 273 pizzas have been ordered. Pizza to the Polls' twitter account is currently providing updates on where those pies are being delivered.
false
If pizza isn't your jam, don't fret — voters in East Hollywood have received breakfast burritos and bagels, and bagels are also being delivered to some polling stations in Philadelphia.
Prior to the Pizza to the Polls initative, the team behind the effort ran a politically-themed Twitter account called TrumpHands Pac. The PAC's treasurer Scott Duncombe explained that they've chosen to engage in a "friendlier effort" this time, as reported by TIME.
"I felt the joy of handing people, in line or volunteering, a pizza, Ducombe explained. "It's for everyone who's there: voters, poll workers, volunteers. We're just trying to bring a little bit of joy to people waiting to vote.
https://www.instagram.com/p/BMhmaIYDstT
The fact that an anti-Trump account has chosen to use their platform to support all voters in long lines is further proof that #LoveTrumpsHate and we are indeed stronger together — and, personally, I can't think of a better way to unite the American people than by giving them some much-needed pizza while they wait to cast their votes.