"Hamilton" just got ~ all ~ the Tony Award nominations
Time to party like it's 1789! Hamilton, the stellar hip hop musical about our nation's Founding Fathers, is officially shattering all kinds of Broadway records. This morning, Hamilton garnered a whopping 16 nominations — which topped the previous record-holders of The Producers and Billy Elliott by one — for the 70th annual Tony Awards, according to Playbill. Anyone who has seen the show or even listened to the soundtrack knows why!
Hamilton, written by and starring Lin-Manuel Miranda, was nominated not only for acting categories, but for writing, directing, and design. In fact, in some categories, there were multiple Hamilton members chosen — including, notably, Best Performance by an Actor in a Leading Role in a Musical, for which Lin-Manuel (who plays Alexander Hamilton) and Leslie Odom Jr. (Aaron Burr) were nominated. Now there's going to be a real-life rivalry for these two!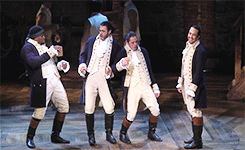 Hamilton was also nominated for one of the most prestigious categories for a Broadway show — Best New Musical — along with Bright Star, School of Rock: The Musical, Shuffle Along, and Waitress. If the Hamilton wins more than 12 of its nominated awards, it will break a new record — right now The Producers is the musical that holds the most wins.  
Hamilton fans — including celebs, because this show has captured the hearts of us all — are PUMPED, to say the least.
Read the full list of nominations here. Congrats all around for the cast and crew of Hamilton!