Disney+ just dropped the first trailer for Hamilton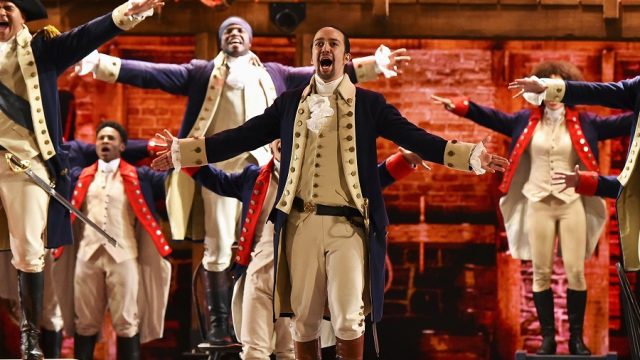 Update, June 22nd, 2020, 9:31 a.m. ET: Just you wait, just you wait: There is less than two weeks before the Hamilton musical movie arrives on Disney+. To tide you over, Disney released the first trailer, and let's just say we are definitely satisfied by what we are seeing.
"Ladies and gentlemen, welcome to the show," the trailer opens before it leads into a medley of some of the Broadway musical's most famous songs. We get quick glimpses of star Lin-Manuel Miranda, Leslie Odom, Jr., Daveed Diggs, Phillipa Soo, and others on stage.  The whole trailer is only one minute long, but it has us so excited for the movie's streaming release on July 4th, fittingly.
Check out the Hamilton trailer below:
The movie is a filmed version of a performance from New York City's Richard Rodgers Theatre in 2016. If you never got to see the Tony Award-winning show IRL (or even if you did) now's your chance to experience it from your home.
Original post, May 12th, 2020: Hamilton heads, you have been blessed. Disney Executive Chairman Robert Iger announced this morning, May 12th, that Disney is moving forward the release of the filmed version of Broadway's Hamilton. Now, instead of a theatrical release in October 2021, Iger moved "Hamifilm" over to Disney+ and pushed the release date up to July 3rd, 2020. Happy almost-birthday America, indeed.
"We're thrilled to bring the extraordinary @HamiltonMusical to #DisneyPlus on July 3," Iger tweeted earlier this morning. "In this very difficult time, this story of leadership, tenacity, hope, love & the power of people to unite against adversity is both relevant and inspiring."
He thanked Hamilton creator and star Lin-Manuel Miranda, who shared the good news over on his Twitter feed as well. He wrote, "It's only a matter of time…Our Hamilton film. THIS July 3rd. On Disney+."
Miranda used the hashtag #Hamifilm, which is genius, of course.
Hamilton—the original story of founding father Alexander Hamilton set to a hip-hop-inspired score—took home 11 Tony Awards in 2016 and won the Pulitzer Prize for Drama that same year. The film set to be released was filmed just two weeks before the original cast, which includes Miranda, left the show.
"We are thrilled to bring this phenomenon to Disney+ on the eve of Independence Day," Iger said via a press release, per Deadline, "and we have the brilliant Lin-Manuel Miranda and the team behind Hamilton to thank for allowing us to do so more than a year before planned."
Mark your calendars, theater lovers. You're finally going to get your shot to see Hamilton and its original cast do their thing.