The cast of "Hamilton" sent Mike Pence a seriously inspiring message and blew us all away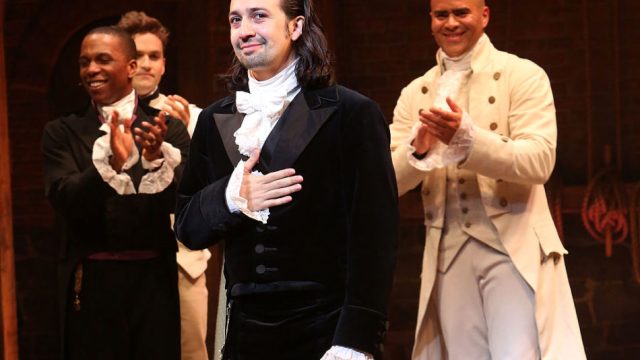 Broadway phenomenon Hamilton has been steadily viral for the past couple of years for some A+ reasons: The songs are out-of-this-world good. The musical has changed the face of Broadway forever (and for the better). Lin-Manuel Miranda is a golden god. The list goes on. Last night, though, Hamilton went viral for a new reason: the cast had a message for VP-elect Mike Pence.
At curtain call, actor Brandon Victor Dixon read a statement to Pence on behalf of Team Hamilton:
"We have a message for you, sir. We hope that you will hear us out, he said. "Vice President-elect Pence, we welcome you, and we truly thank you for joining us here at Hamilton: An American Musical. We really do. We, sir, we are the diverse America who are alarmed and anxious that your new administration will not protect us, our planet, our children, our parents, or defend us and uphold our inalienable rights, sir. But we truly hope this show has inspired you to uphold our American values and to work on behalf of all of us, all of us. … We truly thank you for sharing this show — this wonderful American story told by a diverse group of men, women, of different colors, creeds, and orientations.
As Enterainment Weekly reports, VP-elect Mike Pence was booed when he took his seat at the Richard Rogers Theater last night. false
You can hear booing in the video the Hamilton Twitter account posted of Dixon's speech..
However, when Dixon heard the booing, his response was "There's no need to boo, ladies and gentlemen, there's nothing to boo here, we're all just sharing a story of love," and then he launched into the speech above
Unfortunately, President-elect Donald Trump does not appear to have absorbed the Hamilton cast's message of love and hope. This is what he tweeted today:
https://twitter.com/udfredirect/status/799972624713420804
https://twitter.com/udfredirect/status/799974635274194947
Brandon Victor Dixon's response to President Elect Trump's tweets was equally as classy as his delivery of the curtain call message.
We applaud Team Hamilton for standing up for the love and light they believe in. They didn't miss their shot. History is happening in Manhattan, people.